NAYS Recommends Standards for Youth Sports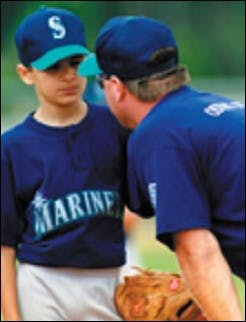 The headline on the front page of the Chicago Daily Herald read "Recess Dropped in Quest for More Class Time" - somewhat dispiriting news to the 50 or so parks and recreation professionals gathered in Chicago that June morning for a two-day, by-invitation-only brainstorming session. Their mission: to put the fun back into kids' sports programs.
While not directly impacting such programs, the pending loss of morning and afternoon recesses at Glen Ellyn (Ill.) District 41 elementary schools represented another missed opportunity to encourage kids to practice good sportsmanship - a character trait many young people and their parents sorely lack these days. Consider the recent incident in which a youth soccer player in Cleveland fractured a goalie's cheekbone with a kick to the face, leaving the downed player convulsing and unconscious. Or the one in which a father in North Palm Beach, Fla., pointed a laser-sighted Glock pistol at a Little League coach in front of his six-year-old son and a dozen other players.
That's why the National Summit on Raising Community Standards in Children's Sports brought together some of the nation's most concerned and proactive leaders in the field to develop recommended community guidelines for all youth sports programs - effectively changing the culture of youth sports through reform, education and accountability.
Delegates at the summit, sponsored by the National Alliance for Youth Sports, shared personal experiences and identified key areas to be addressed in the recommended standards, which NAYS is expected to distribute free to municipalities this month. According to early reports, the guidelines (not mandates) will suggest that all communities:
1. Adhere to the philosophy that youth sports should be safe, positive and devoid of parental misbehavior.
2. Eliminate political influences surrounding youth sports.
3. Hire a trained and knowledgeable supervisor to oversee youth sports programs.
4. Train volunteer parents who use public and private facilities to organize youth sports, and then hold them accountable for their programs.
5. Educate parents who also coach youth sports, and hold them to a strict behavior code.
6. Enroll parents in an orientation program that will educate them about how they should conduct themselves in the stands and with coaches and players.
"It was helpful to learn that everybody has the same problems," says delegate Leslie Mundt, program coordinator of the Tualatin Hills Athletic Center, which is owned and operated by the Tualatin Hills Park and Recreation District in Beaverton, Ore. "We tend to think in our own little world that we're the only ones having troubles. But we're not. And if we can give groups the necessary components to train coaches and parents, then we're doing what needs to be done."
Indeed, while NAYS offers a variety of training programs, Mundt admits they can be costly. That's why she's spearheading the Oregon Alliance for Youth Sports, a group established earlier this year to provide youth sports administrators with options for performing background checks on potential coaches and to train coaches and parents. A statewide meeting for administrators is slated for next month, during which details of various programs - those sponsored by NAYS, as well as others - will be presented. "Having the standards in our hands is going to make the meeting that much more powerful," Mundt says.
Meanwhile, a bill that would allow youth sports administrators the legal authority to disqualify an adult from a coaching or supervisory role under certain circumstances was on Oregon Gov. John Kitzhaber's desk at press time.
More good news: Officials at Glen Ellyn District 41 have rethought their decision to cancel two of three daily recesses, citing the need for more parental involvement in such a major decision.