A Veteran AD Guides a New School Through Its First Year of Competition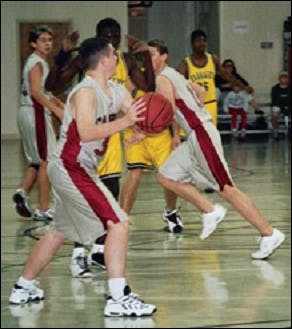 Less than three months before Clearwater, Fla.'s Calvary Christian High opened its doors in August 2000, Dave Bintz began his new job as athletic director at the school, which saw its first-year enrollment top out at 40 ninth and 10th graders. "When I was hired last June, they gave me a desk, a chair and a stack of blank paper and said, 'Go start an athletic department,' " Bintz says today, his desk now sufficiently cluttered. "I literally began from scratch."
By recruiting about 80 percent of the student body (only 32 kids) to participate in seven sports, Bintz was able to compile a respectable 41-43-2 record - including a 20-5 mark set by the boys' basketball team. Eight student-athletes were even three-sport players.
But this story isn't about wins and losses, although Bintz often took into account the athletic ability of competing schools when scheduling opponents. No, this story is about the challenges, the fears and the triumphs of building an athletic program from the ground up; of practicing and competing in a tile-floor gymnasium equipped only with folding chairs along the sidelines and two sets of three-row bleachers at each end; and of giving young people their first opportunity to play organized sports and forge indelible friendships.
"The kids knew that Calvary Christian would be a small school with lots of close-knit teams, and I think that drew them in," Bintz says.
Bintz's professional history in high school sports can be traced back to the mid-1970s, when he took a series of athletic director posts at three small, startup Christian schools - one in Virginia, one in Pennsylvania and one in New Jersey. In 1989, he moved to St. Petersburg, Fla., to coach boys' basketball and teach physical education at Northside Christian School, located about a 30-minute drive from where Calvary Baptist Church would eventually convert the second floor of an old office building into a series of high school classrooms.
Bintz wanted to get back into athletic administration, and when the Calvary Christian post came up, he jumped at the opportunity. The job was part-time last year, as Bintz (no longer coaching at Northside) taught the first five periods of physical education at that school and then spent the remainder of his day at Calvary. This year, Bintz's contract with Northside has expired, so he will serve both as Calvary's part-time high school athletic director and part-time church maintenance man. His AD job is slated to become a full-time position during the 2002-03 school year. "As a Christian, I feel the Lord directs my path," Bintz says. "I can do maintenance work for a year. That's no big deal to me. The hardest challenge was having divided loyalties. I was the former basketball coach at Northside and still had to be there to teach, in order to keep food on the table. But I was also at another school, where my heart was."
Once Bintz took on his daunting assignment at Calvary, among his first duties was determining which sports programs to establish. Based on responses to athletics-participation questionnaires distributed during student registration, he settled on boys' and girls' basketball, boys' soccer, volleyball, baseball, coed golf and cheerleading. Most team rosters topped out in the single digits.
Then Bintz ordered uniforms and lined up a 20-game schedule for girls' basketball, even though only four students eventually tried out. "I should have gotten girls' basketball started before cheerleading," he says, realizing that many potential basketball players opted for the cheer squad. "That first year, you don't know who's really going out for sports. I had to call 20 coaches and tell them we couldn't play."
In an attempt to alleviate some of that margin for error this year, Bintz in spring polled students at both Calvary and the main middle school that will feed the high school in future years to find out what other sports they'd be interested in playing. As a result, in 2001-02 Calvary will try girls' basketball again, as well as add boys' junior varsity basketball, junior varsity cheerleading, softball, swimming and track. Most practices are or will be held at facilities run by the city or neighboring public schools.
"One school of thought is to wait until you have enough kids to field a proper team," Bintz says about adding sports. "Well, we could be waiting a long time. I think it's good to get as many kids started as possible."
In the case of volleyball, that meant 10 girls last season, but only three or four of them had ever played competitively. Many of Calvary's student-athletes probably would not have even made their respective teams had they tried out at a large public school, Bintz says.
The boys' basketball team, whose leading scorer was a former middle school wrestler, starred in Calvary's biggest first-year success story. With only eight players (all under 6 feet tall), intrasquad scrimmages were impossible, and the Warriors basketball team - like all Warriors teams last year - initially were considered "easy wins" by their opponents. Of the basketball team's 25 Christian school opponents, 14 were varsity teams and 11 fielded junior-varsity squads. "I've been around Pinellas County for awhile, and I know who to schedule," Bintz admits. "If we'd had to play all these larger private school varsity teams, we wouldn't have been anywhere near 20-5. If you schedule really hard for a first-year school, and it's loss after loss, it looks like it's going to be a long journey down the road to credibility."
While it's easy to discount several of Calvary's basketball victories because of Bintz's creative scheduling, there's no denying the psychological impact of that strategy. When the Warriors' first-ever basketball victory came in the season's third game against an established school's varsity team, "those boys made memories for the rest of their lives," Bintz says.
Calvary Baptist Church has big plans for Calvary Christian High School. Enrollment was expected to double to about 80 students this fall with the addition of 11th grade, and school officials hope for about 140 students when they add a senior class in 2002. Eventually, no earlier than 2003, the school will be part of a 30-acre campus that will include new church and school buildings, as well as some much-needed athletic facilities.
Bintz's budget jumped from $27,000 in 2000-01 (not including the $10,000 church officials and parishioners raised for the school's first-year baseball team, which wasn't in the initial plans) to $36,000 in 2001-02. This school year also marks the first time Calvary Christian will follow a straight varsity schedule, making it eligible for Florida High School Athletic Association-sponsored state tournament play, should any Warriors team advance that far.
Girls' soccer and other sports are under consideration for 2003, although football may be delayed a bit longer. "In other sports, if you're outclassed, you get beat real bad," Bintz says. "In football, if you're outclassed, you get hurt."
Bintz also is doing his best to get Calvary's name into the local scene's vernacular by racing cars at a local speedway. An avid driver, Bintz races his 1978 Chevrolet Impala every Saturday night between March and November in the track's Street Stock class. With a local car dealer (who's also a Calvary Baptist parishioner) as a sponsor, Bintz races in front of about 2,000 people with "Calvary Christian High School" emblazoned on each front fender. "There aren't many Christian high schools on the fenders of race cars," the athletic director says proudly.