Certified Athletic Trainers Have Spent Years Seeking Respect in the High School Ranks. Are They Finally Getting It?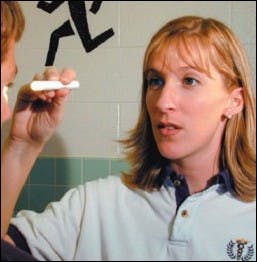 Phil Hossler, a certified athletic trainer (ATC) for 28 years in New Jersey, spent 12 of those years garnering support for a Department of Education bill that would place high school ATCs on the same salary scale and tenure track as high school teachers. Its eventual passage by the state Legislature in 1999 packed plenty of tangible benefits: Hossler (an ATC at East Brunswick High School) and many of his colleagues around the state have seen pay increases of $5,000 or more for the 2000-01 or 2001-02 school years, and high school ATCs in New Jersey are now eligible for tenure after three years of employment (giving them added job security) - just like the state's thousands of full-time educators.
But perhaps more important to Hossler is the bill's symbolism. "It's official recognition from the state," he says, "that what we do has educational value."
A watershed moment for his profession, the bill's passage boosted the role of ATCs in one state. But the status of athletic trainers at the interscholastic level throughout much of the country still pales in comparison to that of those in the more glamorous college and professional ranks. According to the National Athletic Trainers' Association, about 35 percent of the nation's 20,000 or so high schools boast the services of an ATC - either a full- or part-time staff member, or more commonly someone on loan multiple times a week from a local orthopedic clinic or physical-therapy center. Of the NATA's 17,500-plus members, fewer than 6,600 are working in high schools.
Most states - 41, plus the District of Columbia - now regulate athletic trainers, ensuring that they've passed the NATA's Board of Certification exam, earned licensure or obtained some other form of registration before practicing in the state. "I think there was a lack of respect for athletic trainers, especially among those in the medical community, because there was a lack of certification," says one ATC. Now, only Alaska, California, Maryland, Michigan, Montana, Nevada, Washington, West Virginia and Wyoming do not regulate athletic trainers.
In 1998, the American Medical Association adopted a policy recommending that all high school athletic programs employ at least part-time athletic trainers certified through the NATABOC exam, and that all high school coaches be certified in CPR and basic first aid. Hawaii remains the only state requiring full-time ATCs in all of its public high schools - a law that was passed before the AMA issued its recommendations. And a section of Washington, D.C.'s municipal code, dating back at least a dozen years, requires the presence of medical personnel (which district officials interpret as ATCs) for all high school athletic departments, as well as the presence of a physician at all varsity football games.
Elsewhere, states have given the AMA's suggestion mixed responses. Based on the number of NATA members working in high schools and the number of private and public high schools that are members of their respective state associations, Virginia and Delaware boast the highest percentages of high school ATCs in the country. Hawaii, New Jersey and Pennsylvania round out the top five, while Connecticut isn't far behind them. (NATA officials say all but about 10 percent of the nation's certified athletic trainers are NATA members.)
At the other end of the spectrum are Alaska, Arkansas, Oklahoma, Louisiana and Wyoming. Many of these states contain vast stretches of rural areas, preventing clinical ATCs from traveling to many high schools.
"When I was offered this job 10 years ago, I had a lot of people tell me they wouldn't touch it with a 10-foot pole," says Frank Walters, a former high school ATC and now coordinator of athletic health-care services for the District of Columbia Interscholastic Athletic Association. Walters oversees 11 ATCs in 11 D.C. senior high schools and several middle and junior high schools. "This has been and continues to be a challenge. But I know I'm able to help individuals in my profession feel good about what they've chosen to do."
Nearly 150 colleges and universities now offer undergraduate degrees in athletic training, while more than a dozen provide graduate programs. Some high schools even have athletic trainers' clubs that promote interest in sports medicine by emphasizing physiology, injury evaluation, first aid and rehabilitation.
That said, "It's still considered a luxury for a high school to have a full-time athletic trainer," according to Jerry Diehl, an assistant director of the National Federation of State High School Associations and staff liaison to the five-year-old NFHS Sports Medicine Advisory Committee. "We advocate the use of certified athletic trainers in schools. But we know full well not all schools have the financial capabilities to hire one."
Not so fast, says Jon Almquist, chairman of the NATA's Secondary School Athletic Trainers' Committee and the man who oversees 48 part-time ATCs at 24 Fairfax County (Va.) public high schools. ATCs pull double duty in the schools as teachers or by filling positions that don't require teaching certificates. They earn a starting salary of $31,000 for their work in the school and a stipend of $13,000 for their ATC duties.
"There is the perception that schools do not have the money to hire full-time ATCs," Almquist says. "Schools can implement an athletic trainer program by hiring an ATC at a $3,000 to $5,000 stipend, which is what we've done. Then next year, add $5,000 to the stipend. Do the same thing the following year. Slowly take away the outside duties and hire someone else to fill them. That teaching position is already in the budget, anyway."
It's this kind of forward thinking that will continue to improve the status of high school ATCs, industry observers say. "One of the things that's going to have to happen to increase the viability of the profession is to have certified athletic trainers on a school's staff - maybe not full-time, but at least part-time," says Jimmy Tucker, an orthopedic surgeon at Arkansas Specialty Orthopedics in Little Rock, which provides ATCs to local high schools for about 40 hours a week. They're going to have to be seen as a necessary part of an athletic program. Right now, they're not."
Before high school ATCs can make much greater progress, they must put to rest the misperception that a "trainer" is equal to an "athletic trainer." Typically, high school trainers (who come with lower price tags) tape ankles, apply ice to injuries, administer first aid and refer student-athletes to a physician. High school athletic trainers, by comparison, provide a comprehensive athletic health-care program for all student-athletes (and sometimes intramural participants, too). Primary responsibilities include preventing and reducing injuries through proper treatment and rehabilitation programs, maintaining a daily log of injuries, assisting a designated team physician with student-athlete medical exams, advising coaches about when a student-athlete should or should not practice or compete, educating and supervising student trainers, and developing an emergency action plan for the athletic department to follow in case of a life-threatening injury.
"Trainers are out there having fun with the kids, hanging out on the sidelines, screwing around and making a mockery of our profession," says Almquist, who - like most ATCs - insists on being identified with the term "athletic" in front of his trainer title. "The parents and administration see that and get the wrong impression about the need for certified athletic trainers. You can train a monkey to tape ankles."
"The frustrating thing for me at this point is that the job of athletic trainer is still a fledgling position," says Braidon Freeman, an ATC at Beaverton (Ore.) High School, who is employed full-time (with benefits) by Providence St. Vincent Medical Center in Portland but whose full-time salary is paid for by the school district. Freeman, who earned his NATABOC certification a year ago, is one of six ATCs from the center who work full-time at Beaverton's five high schools and one high school in an adjoining district. This is the first year in which the district has used full-time ATCs, spurred to action after two high-profile football injuries in 2000 (one of which left a player paralyzed below the shoulders). Even so, only a few districts in the state boast full-time ATCs.
In Illinois, suburban Winnetka's New Trier High School boasts three ATCs for 2,000 student-athletes, while 76 Chicago public high schools count only one part-time athletic trainer among them. A resolution calling for certified athletic trainers at schools was introduced to the city council but put on hold recently because of funding questions and a lack of interest by area athletic directors.
And while all high schools in Florida's Miami-Dade County are required to have full-time athletic trainers on their payrolls, schools in nearby Broward and Palm Beach counties - where ATCs are not mandatory - are left without any certified person willing to accept an annual district stipend of $2,100 to perform athletic trainer duties. In fact, the South Florida Sun-Sentinel reported at the beginning of the 2001 football season that six Broward County schools were practicing with no ATCs. "God forbid if something happens, but how could it not?" Chris Hipsley, South Broward High's football coach, asked the paper, referring to the heat-related deaths of Minnesota Vikings offensive tackle Korey Stringer and University of Florida freshman fullback Eraste Autin earlier this year. "I mean, you've got pros dropping dead, and they have training staffs of 15. You see what we've got. It's unbelievable." A deal with the North Broward Hospital District provides athletic trainers for 16 of Broward's 24 public high schools.
School districts across the country have similar arrangements with local clinics, which either contract with the districts or provide ATCs or orthopedists free of charge as part of a community service - but also in the hopes of attracting new patients. "Schools get the false impression that their kids are getting taken care of because they're getting an athletic trainer or an orthopedist on-site for one or two days a week," one ATC warns, adding that orthopedists are not specifically trained in sports medicine.
That's one of the reasons why the practice of using local clinics is bound to change, agrees Tucker, who also cites funding issues as a major sore spot. ATCs at Arkansas Specialty Orthopedics earn an average salary of $35,000 from the clinic, plus full benefits, for spending an average of 40 hours a week at local high schools, and only 10 to 15 hours a week at the clinic. "I think this is definitely going to change in the foreseeable future because of what's happening with insurance costs," Tucker says. "Can we afford to put five or six athletic trainers out at the schools while our insurance reimbursements are decreasing?"
Hossler thinks ATCs and clinics should ask the insurance industry for help. In the late 1990s, he studied the estimated cost savings associated with treatments and evaluations provided by ATCs at 53 schools in New Jersey and other states during one academic year. He found that those ATCs saved health-insurance providers almost $13 million. "The more I do for free, the less insurance companies have to pay out for physical-therapy costs," Hossler reasons. "I've been saying that for five years now."
Given the results of this study, Hossler believes it's not unreasonable to ask the health-insurance industry to either help provide funding for full-time high school ATCs or provide districts employing full-time ATCs with lower athletic insurance premiums. "The problem is that all insurance company presidents cannot get together in the same room and discuss controlling costs because of state antitrust laws," Hossler says.
So instead, school districts make do the best they can. In Alabama, a large medical corporation called HealthSouth pays part-time salaries to ATCs with teaching certifications who also work in the schools as full-time instructors. The obvious problem with that arrangement is finding ATCs who also are certified to teach in the areas for which schools have a need.
That's why Walters and Almquist think their programs are so effective. "We're very proud of the fact that our ATCs are full-time; athletic training is all they do," says Walters, adding that the district pays per diems to doctors, freelance ATCs and off-duty emergency medical technicians to work the games its full-time staff members are unable to cover. "And by having an administrator oversee the district athletic department's health-care program, we're able to implement additional policies that make a big difference in the safety and well-being of our athletes." (Walters is referring to the DCIAA's requirement that coaches carry emergency information sheets on players at each game, as well as its strict regulations regarding asthma and other medical conditions.)
"Once you have an ATC on staff, you'll see exponentially more injuries, because now there's someone who is responsible for recognizing injuries - and not only the serious ones," adds Almquist, whose ATCs work an average of 35 hours a week in the field and 37 hours a week in classrooms and other areas of their schools. "By having on-site, continuous care, we don't necessarily reduce injuries, because we know they're inherent in sports. But we prevent minor injuries from becoming major ones." (See "Injured Reserve," p. 72.)
Still, to continue doing a credible and acceptable job, both administrators claim they need even more ATCs. "We have well over 4,000 athletes that our athletic trainers are caring for," Walters says about Washington, D.C.'s 11 ATCs, a roster he hopes to expand by at least two before year's end. "Ideally, if I could have one more athletic trainer for every three junior high/middle schools, I would probably need eight more."
Almquist has placed a $1 million line item in the Fairfax County Public Schools' 2002-03 budget calling for the conversion of one of two part-time ATCs at each high school into a full-time, 43hours-a-week position. "Next year has been termed a zero-growth year for our district," Almquist says. "So there's a snowball's chance in hell that we'll get them now. But I feel very confident that eventually we will get them."
Even Hossler, still riding high from New Jersey's legislative victory two years ago, is now aiming to place assistant ATCs in many of the state's high schools. "That's the next step here," he says. "But not every school in the state even has one athletic trainer yet."
One of the most persuasive arguments for full-time high school ATCs doesn't revolve around budgets, injury prevention and reduction strategies or health-insurance costs - although all three remain prime considerations. Rather, it may be the enthusiasm Freeman and other ATCs, rookies and veterans alike, bring to their jobs on a daily basis.
"Last year, when I worked part-time at a high school, it was really frustrating - not only for me, but also for the students," Freeman says. "A lot of times, somebody would come into the trainer's office and ask me to look at a quad pull. By the time I was able to sit down with him and start a rehab program, it was a week later. This year, I can say, 'Come back later today,' or 'Let's set up a time to get together tomorrow.' The consistency is great. I feel like I can do a lot more and really make a difference."
---
The NATA's Secondary School Athletic Trainers' Committee publishes the Position Proposal Guide for Certified Athletic Trainers in Secondary School Athletics Programs. For details about how to receive a free copy, contact the NATA at www.nata.org or call 214/637-6282.