A Growing Selection of Athletic Recognition Alternatives Greets League Administrators and Tournament Directors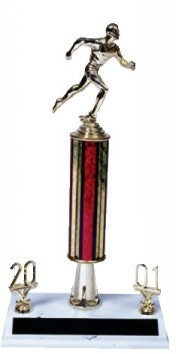 Frank Taylor needs trophies - not for his own shelf or ego, but to distribute among winners and finalists of the two major slow-pitch tournaments he organizes each year as commissioner of the Central Virginia Amateur Softball Association. Having held that title since 1969, Taylor could be forgiven for falling into a recognition awards rut and presenting teams with what casual observers might consider the typical tournament trophy - a shimmering monument festooned with enough marbled plastic, metal risers and figurines to stand some 6 feet tall. In the past, maybe. But Taylor demands more than the "same old stuff."
That's why, on the morning of Oct. 2, Taylor phoned in a request for four team trophies (large metal cups affixed to wood bases) and 56 individual player plaques for the Ultimate Softball Challenge, which in less than three weeks would welcome 60 teams from 20 states to Orlando, Fla., for a three-day round-robin. By any account, this is ample lead time for a trophy order turnaround. But Taylor is luckier than most trophy buyers in that his distributor, Champion Awards, is located just across from his Richmond office on Lakeside Avenue. "I just call the guy and say, 'Look, this is what I need. I'd like for you to work up what you think you can do and give me the costs,' " says Taylor, who normally spends 15 to 20 percent of tournament entry fees on awards. "If I have 60 teams, I'm going to spend more on awards than I do when I have 40 teams."
League administrators and tournament organizers can spend a lot of time and money shopping for awards these days, unless they know exactly what they want and what they can afford (see "Awarding Experience, p. 84). "Are you only giving a championship award or are you going to do first, second, third and consolation?" asks Bill Townsend, owner of Dakota Awards in Bismarck, N.D. "As long as you come in knowing what awards you want and what your proposed budget is, then we can try to pick products that will meet your needs." Within reason, Townsend adds. "I've had people come in and say, 'We've got $25 and 100 kids. What can we do?' You show them a flat ribbon, and they say, 'Oh no, we want to do a trophy.' Well, you just can't make that work sometimes."
"The reality is that it's very much budget-driven," says Sam Varn, owner of Tallahassee Engraving & Awards in Tallahassee, Fla. "A league has 500 kids to worry about, so they're not going to get the latest, greatest thing. They want new and contemporary, but they want value. I tell people, 'Don't be totally price-driven. You have to be value-driven.' And the difference is that what's the cheapest is not always the best."
Further complicating matters for buyers is the policy adopted by many youth sports leagues in the 1980s of recognizing not just champions and most valuable players, but all participants. It's a development that hasn't bothered those on the supply side of the awards equation one bit. "I've had parents tell me they have more trophies in their home than we do in our store," Varn says. "It just goes to show you that the value of recognition has been there, and people have continued to use it for a long, long time."
Like leagues that spread the recognition wealth, the awards industry boasts something for everyone. Sports awards run the gamut in terms of both price and sophistication - from 10-cent individual ribbons to $200 team trophies. And the selection of available materials and styles has never been greater. "Within the past 10 years, the diversity in awards has really increased," says Dave Bergeson, associate executive director of the Glenview, Ill.-based Awards and Recognition Association, which in 1993 changed its name from the Trophy Dealers and Manufacturers Association to reflect the industry's evolution. "There's been a lot of really clever work done in terms of how to recognize people, achievements and events."
Sports-related recognition awards come in four basic categories: ribbons, medals, plaques and trophies. A popular choice for swim meets and track and field events, ribbons remain the most economical way to recognize athletic achievement, and little has changed in their appearance over the years. Most take the form of a 2-by-6-inch vertical strip of smooth satin-like fabric available in dozens of standard colors. For an extra charge, ribbons can be ordered to include a stitched hem and safety pin along their top edge (ribbons often feature a sawtooth or chevron bottom edge), rosettes or multiple streamers. Customizing ribbon printing to include the name and date of a sporting event also entails added expense. Ribbons can be imprinted with metallic or non-metallic lettering in a variety of foil colors, with metallic gold often chosen for its readability against virtually any ribbon color. Though overall price depends to a greater extent on the quantity of ribbons ordered, event organizers can present an attractive ribbon while easily keeping their per-unit cost at or below 50 cents.
Medals represent another affordable means by which sports participation and achievement can be recognized. But unlike ribbons, medals have seen big changes in recent years. Most notably, medals made of flexible rubber have soared in popularity, particularly among youths. Unlike traditional medallions composed of metal alloys, rubber medals are considered safe for school corridors, allowing young athletes to literally wear their achievements on their sleeve - or over their shoulder. "They can take it to school and use it as a zipper pull on their backpack," says Vicki Moran, sales and marketing director at Total Awards and Promotions in Madison, Wis. "It's really the only thing they have that says, 'Look, I was in this tournament last weekend.' "
Like most medals, rubber medals are cast to form three-dimensional circular awards that can be attached to neck ribbons or smaller drape ribbons. They are available in a number of generic sports models (for baseball, football, hockey and so on), or can be customized with organization- or event-specific designs. (The latter medals require the creation of unique dies, but can be comparable in cost to stock medals if purchased in quantities of 1,000 or more, Townsend says.) Rubber, however, has introduced to sports medals a spectrum of colors that far exceeds the gold, silver and bronze coatings common in medals made of alloys. One side of a rubber medal may feature a yellow baseball bat, white ball and orange mitt, while a white area on the reverse side allows for personalization using either a computerized laser engraver or simply a felt-tip pen.
Rubber medals cost roughly $5, about a dollar more than comparable models made of metal. "It's well worth it," Moran says. "And it's less than a trophy would cost."
Says Townsend, "A lot of times in today's youth sports, where participation awards are as important as recognizing who wins, customers choose ribbons or medals because they're trying to stay low in unit cost and yet have some recognition. That way, everybody can smile and be proud that they were part of a program."
Awards that more readily lend themselves to permanent display include plaques and trophies, and both offer their own list of design options. Plaques can be as small as a postcard or as large - in the case of perpetual plaques, which are updated regularly with the engraved names of new award winners - as an entire trophy case. "Perpetual plaques are very popular with schools," says Michelle Copeland, co-owner of American Trophies, Awards & Engraving in Antioch, Calif. "Former athletes can go back 25 years later to their high school and there's their name under such-and- such a year for such-and-such an award." Plaques may be mounted with three-dimensional metal figurines (a soaring eagle, for example) or team photos secured behind clear plastic. Since plaques are as much about what they say as how large or elaborate they are, engraving takes on even greater importance (see "Words on Awards," p. 82). An upscale look might include metal plating that's color treated, so that the engraving process leaves lettering of the plate's original color silhouetted against a black surface - to pick a popular color choice.
When asked why he chose plaques over small trophies for individual recognition at the Ultimate Softball Challenge, Taylor says, "They're something you can hang on the wall, and they don't collect as much dust."
Award manufacturers, meanwhile, are shaking the dust off the concept of the traditional trophy - the aforementioned assemblage of interchangeable parts that traces its roots to bowling pro shops. The statuette screwed to a solitary base or to a system of bases and risers remains a staple, but repeat customers are always on the lookout for something new. Four years ago, sports figures made of resin hit the awards scene with lasting impact. The lightweight figures are designed to resemble antique bronze, and their detail faithfully captures the sculpted look of, say, a soccer player kicking a ball or a golfer in full backswing. And like traditional trophies, the resin figures can be personalized using an engraved metal plate. "Resin figures have been well received in the industry because they're different and they're economical," says Varn, adding that the cost of a single 6-inch figure is roughly $10, slightly more than a traditional individual trophy. "They look like an artsy kind of piece, enhancing the value and perception of the award." Adds Copeland, "They're molded figures that almost look like a little Heisman Trophy, and older children love them."
Another material finding its place in the awards picture is acrylic. Pricier than most trophies short of those made of lead crystal, acrylic trophies nonetheless offer a classy appearance and nearly unlimited creativity in their manufacture. "For the winner of a tennis match, for example, one might take a solid piece of acrylic and embed a miniature tennis racquet in it," says Bergeson. "That makes a real sparkling, beautiful award." If it isn't sparkling enough, manufacturers can literally add sparkles to acrylic trophies. "They'll incorporate some flashy materials with acrylic to give it a really nice look," Bergeson adds.
Even without materials added, acrylic awards offer creative options. "They come in all sizes, shapes and a variety of tints and colors," Varn says. "And you can use graphics on acrylics. You can engrave photographs in halftone images."
Options in acrylic awards are limited only by a customer's budget, he adds. "They are not typically going to be used for the participation awards because of the price-point consideration," he says. "Instead, we offer them as a higher perceived value award because of the ability to get creative with them. You can turn them into a small work of art."
Of course, perceived value is all that matters when it comes to sports awards. Unfortunately for retailers, league administrators or school athletic directors looking to trim operating budgets may view awards as expendable. "I think that's a big mistake," Copeland says. "The idea of having an award is not to be a dust-collector on a shelf. The idea is to motivate people to achieve and to surpass what they've already accomplished."
Ribbons won as a child might wind up in a desk drawer or be discarded altogether, and old trophies might one day travel the yard-sale circuit. But at the time of its presentation, no matter how simple or striking in appearance, a sports award's worth can be measured on the face of its recipient. Townsend makes a point to attend as many local awards presentations as he can to "see the sparkle in a kid's eye when he wins his first trophy. It's great," he says, "because you see the effect of your product."
Copeland, too, can be spotted on the periphery during awards presentations, including ceremonies celebrating Antioch's challenger sports leagues for children with mental and physical disabilities. "When those kids get those trophies, it's like all you're seeing is teeth," she says. "They're smiling so much, because it means so much to them."