Officials at Division III Greenville College Conduct A Formal Review of Football's Worth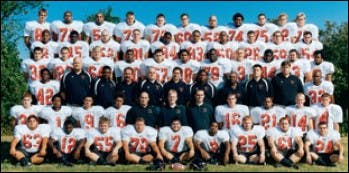 Football is here to stay at Greenville." That statement, made in late November by Greenville College President V. James Mannoia Jr., effectively ended any doubt about the football program's immediate future at this small liberal arts college, located 45 minutes east of St. Louis in Greenville, Ill.
Prior to hitting the field in 1988, however, football was the subject of spirited campus debate. On one side was an administration desperate to boost sagging student enrollment. On the other was an academic council questioning how football fit the mission of a Free Methodist Church-sponsored college, as well as who would foot the bill for the facilities necessary to launch the program. The key players in that debate have since retired, but the decision to add football to the college's list of 13 intercollegiate sports - despite the academic council's recommendation to the contrary - still managed to cause residual unease within the three-year-old Mannoia administration.
That's why, a full 14 seasons removed from football's launch, college officials exercised a stipulation in their head coach's four-year contract that the program be formally reviewed prior to that contract's February expiration. According to Doug Faulkner, Greenville's current athletic director, results of the review not only enlightened those close to the Panther program, but may also serve to educate other like-sized schools pondering the value of intercollegiate football.
Last fall, Faulkner and two colleagues attempted to quantify football's financial and social impact on the school, concluding that "the inception of the football program at Greenville College systematically and progressively provided financial gains to a fiscally stressed university."
Certainly, the college's stressed condition was easy to prove. Greenville's enrollment had hit a 10-year full-time equivalent low of 564 students in 1985. Having downsized the faculty by a dozen members, then-President W. Richard Stephens saw the college, founded in 1892, at a crossroads: Either it had to make further cuts, or it had to create new programs that would attract a larger, more diverse student body.
At the same time, an interesting trend was discovered in the student recruitment office. Each year, prospective students were asked to identify on a survey activities they had participated in during high school. "Football wasn't listed," Stephens says. "But 30 men who were admitted wrote in football and didn't come. That was a signal to us." Because Greenville doesn't award athletic scholarships, student-athletes like these represented lost tuition income. "This college was on its back," Stephens admits, "and we were either going to do this, or we were going to have to restructure. I must tell you that it was not easy, and there were people opposed to it. Some fought it, but most people got on board with it."
Fortunately, one of those on board was John Minshall, the college's board chairman, who purchased an abandoned motorcycle dealership a mile and a half from campus and donated it to the college. Today, that dealership is the Sports Training Annex and houses football offices, locker rooms, a weight room and a lap pool. Open to the student body and the general public (via paid memberships), the facility also features an adjacent football practice field. A new game field for football, surrounded by a running track, was incorporated into the school's existing soccer, baseball and softball complex located a mile from campus. "Obviously, there was an investment in facilities," says Faulkner. "Has that investment ended up paying for itself? To figure that out, you have to take into account whether students are attracted to your institution because you now have a facility where they can exercise. It became a facility that really helps everybody, not just athletics and not just football."
Though Faulkner's study stopped short of questioning students about campus facilities, it did seek opinion on football from 250 randomly selected students. Of 201 survey respondents (including 140 non-athletes), 115 said they "strongly agree" with the statement, "I enjoy having a football team at the college." Sixty-five students responded likewise to the statement, "I participate as a spectator at our football games." While this doesn't pretend to suggest that members of the general student body are choosing to attend Greenville because it has a football program, Faulkner's separate survey of football team members revealed that nearly 90 percent of them (roughly 50 players) wouldn't be at Greenville if the sport didn't exist there.
To show that such a small group can make a big financial impact, Faulkner subtracts the annual football operating budget from the collective tuition revenue generated by those 50 players to claim that football produces annual net revenues in excess of $200,000. He also contends that former athletes have accounted for 42 percent ($1,417,610) of all alumni contributions to Greenville over the past four years, despite the fact that they represented only 35 percent of the total student population. More than $39,000 has been donated specifically to the football program during its 15-year history, he adds. Considering that most Division I-A athletic departments operate in the red, Faulkner wouldn't trade places with any of them. "At Division III institutions, where scholarships are not given, I think you can make a case for sports being as significant, if not more significant, in generating revenue," he says.
In addition, Faulkner asserts that football, perhaps more than any other program, helped meet another of Stephens' institutional goals: increasing campus diversity. Minority enrollment, which never exceeded 68 students in any given year between 1981 and 1986, hasn't dipped below that benchmark since 1988 (the year the football team began competing), topping out at 141 in 1992. According to Faulkner's report, in 2000 the football program accounted for 43 percent of all minority students on campus.
Greenville College's enrollment now stands at more than 900 - though it should be noted that U.S. Department of Education numbers reflect nationwide increases since the mid-'80s doldrums. Even Faulkner gives equal credit to the enormously successful Contemporary Christian Music program, established at roughly the same time, for Greenville's enrollment gains.
Compared to football, such academic programs were believed by some to represent less financial risk at the time of their launch. Richard Holeman, dean of academic affairs at the time, was among football's most outspoken opponents. Now retired, Holeman still questions football's value to Greenville, but he speaks in hindsight more about social issues than those dealing with finances. He maintains that any financial gains realized through the football program came at the expense of the college's academic reputation. Football brought students, he says, but ones with substandard academic credentials and a heavy reliance, in many cases, on financial aid. "We selected a group that was not particularly motivated to do academic work," he says. "That was an unfortunate by-product of this and, as I see it, we really bloodied our nose over it." Holeman asserts that had a poll of the faculty been taken prior to football's launch, at least half of his colleagues would have been on his side of the debate.
If such division existed, it no longer does, according to Karen Longman, Greenville's current vice president for academic affairs. "Because there was a history of faculty concern, we felt that it would be appropriate to get sentiment from the academic community - pro or con - about having a football program at Greenville," says Longman, who solicited the opinions of 60 teaching faculty members via e-mail this past November. Of 12 responses, only one brought any facet of the program into question. "There was no red flag," Longman says. "This was the big fat softball for people. If they were carrying a grudge or had concerns, this was their chance to offer input before the president made a decision on extending the coach's contract."
Whether such a response qualifies as a ringing endorsement or mere indifference, the numbers are nonetheless noteworthy to Faulkner, as are all the numbers gathered during the review process. It was numbers, he says, that solidified football's staying power at Greenville College. "Across collegiate athletics, we're starting to develop data," Faulkner says, pointing to last year's release of The Game of Life: College Sports and Educational Values by James Shulman and William Bowen, which he cites extensively in his own study. "A lot of boards and presidents have made decisions regarding sports on really anecdotal information. I don't think college athletics is any longer going to be able to justify itself based on anecdotes. Consequently, I think you're going to see more athletic departments doing what we did, which was a pretty extensive study of our program."