USC's SCream Team Program Soldiers On As Other Schools Eye Attendance Tracking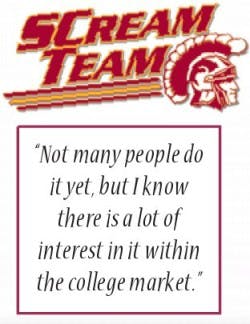 The University of Southern California finished tied for second place in the final 2001-02 Pac-10 Conference men's basketball standings, drawing attention among some national media pundits as a possible Final Four contender. The Trojans' ability to draw fans to games, meanwhile, was strictly middle of the pack.
Despite compiling a 12-6 conference record en route to a 22-win season, USC placed fifth in per game home attendance among league peers and failed to sell out a single game - either at the Los Angeles Sports Arena (its official, albeit off-campus, home venue) or at The Forum (where it returned for the first time in 20 years to play three games). In fact, those arenas weren't even half full, on average, and only lowly Washington State (1-17 in the Pac-10, 6-21 overall) filled a smaller percentage of its home venue's seating capacity throughout the schedule.
These facts aren't particularly surprising to those close to the USC program, and certainly not to those who have lobbied long and hard for the construction of an on-campus basketball facility. To Dan Brewster, though, this is progress.
For two years now, Brewster, USC's assistant athletic director for event marketing, has been intent on boosting student attendance - not only at men's basketball games, but at volleyball matches and other events, too. His program, called SCream Team, rewards students with points every time they attend an athletic event, with incentives ranging from dinners, movie tickets and single night hotel accommodations to last year's grand prize - an RCA home audio system. "We try to give prizes to as many participants as possible, and prizes are awarded periodically throughout the year," Brewster says, adding that merely registering for the program earns participants a free T-shirt. "Rewards programs aren't rocket science."
Perhaps not, but the attendance-tracking capabilities that make rewards programs like Brewster's possible still require some fairly sophisticated technology. Within the past five years, more than one ticketing software entrepreneur has introduced means by which schools can determine who is and even who is not attending games, but program bugs and company bankruptcies have kept the concept from gaining a permanent foothold on college campuses. "A lot of it has to do with having the infrastructure in place to actually be able to scan tickets or IDs at the gate as students are entering," says Mark Harrison, ticket manager at the University of Texas. "Some of that is just coming online, so that's why not many people do it yet. But I know there is a lot of interest in it within the college market."
This summer, Paciolan, the Irvine, Calif.-based company that provides ticketing software to more than 100 colleges and universities nationwide, will beta test attendance-tracking software that picks up where cash-strapped pioneers such as the now-defunct Justarrive left off. For example, Stanford, which produced the graduates who created the Justarrive software, used that software to oversell its allotment of student basketball season tickets. Only those students who attended the most games throughout the season were rewarded with a guaranteed seat at the marquee matchups on the schedule. Georgia Tech, another of Justarrive's half-dozen collegiate clients, used the program to convert card swipes into reserved tickets at the gate of athletic events. This eliminated the inconvenience to students and ticket office personnel that resulted when students had to make a pilgrimage to the ticket office during the week of every home game to pick up hard-stock tickets, a process that sometimes involved camping out overnight.
According to Laura Christine, director of client marketing for Paciolan, the biggest investment electronic ticketing requires is in the scanning hardware, which ranges from handheld scanners to turnstiles that read tickets. "Smaller schools and larger universities will be able to take advantage of it because it's a scalable solution and it's flexible," Christine says. "You can have hardware at just one entrance for your students and your season-ticket holders."
USC's SCream Team has managed to survive thanks to a partnership with the internal provider of USCard, a magnetic-strip ID that students use around campus as a debit/security card. The athletic department employs two of the same type of electronic scanners that other campus entities use to collect the cards' encoded information. The scanners store the data until it can be downloaded into an Excel file. Their size (comparable to that of a telephone) allows the scanners to be easily moved from one venue to another on those rare dates when Trojan teams are hosting more than one athletic event simultaneously. "We take down at halftime or the halftime equivalent at every one of these events, so that gives us a little flexibility," Brewster says, adding that a SCream Team scanner requires minimal supervision. "It's very small, but it costs $3,000, so you just need somebody to watch it."
In the past, students have had to register for the program online before swiping their student ID card at temporary SCream Team stations when entering an event. "The change we're making this year is that people are going to be automatically registered for the program by buying their all-sport ticket," Brewster says, referring to the $97 pass that grants students admission to all USC athletic events. "This way, all they've got to do is show up and swipe their card. They're automatically eligible for points."
To date, SCream Team participants have earned 10 points for any athletic event they attend, regardless of the sport. The points have doubled, however, at any event that pits USC against crosstown rival UCLA. All that might change, though, as the program enters its third year and Brewster continues to refine it. "One school of thought is that you should assign fewer points to the games students are most likely to attend - our rivalry games with UCLA. My contention is that's where we need the most support," Brewster says. "There's another school of thought that maybe you should give more points for events that are not well-attended, and that's something I'll revisit this year. Maybe I'll give Olympic sports a higher value than football games."
After all, it was Olympic sports attendance that prompted Brewster to launch SCream Team in the first place. "The idea was to spread football's wealth," he says. "You can't win this thing by just going to six football games. The whole point is to have kids come to the football game, swipe their card and realize, 'Hey, I've got to go to this women's volleyball match tonight to get another 10 points.' That's where the program really pays off, by generating attendance at non-revenue sports events."
That attendance may translate into a competitive advantage for USC teams. It may help students gain appreciation for sports they've never seen in person before. And it may even encourage students who otherwise wouldn't purchase all-sport passes to do so. However, the biggest payoff for the athletic department may still lie ahead. "There's a lot more revenue to be gained within this program than we've taken advantage of," says Brewster, who has yet to put the program into the hands of an outside software provider (even though USC is a Paciolan client) because he doesn't want to relinquish sponsorship rights. "I think it would be very successful as an independent inventory for sponsorship sales. My ideal would be to have an automobile dealership provide its entry-level car as the grand prize in exchange for title sponsorship of the program. That brings immediate credibility to the program, and it provides exposure at every one of our home events."
Does Brewster consider the SCream Team a success so far? Participation numbers have hovered around 1,500 during the first two years of the program, he says, adding that "a student is a pretty good fan if he or she is hitting 20 to 25 events a year." While encouraged by the men's basketball attendance figures, which despite their modest appearance were the Trojans' highest since 1975, Brewster cautions that it's too soon in the program's history to see trend data. "I'm not going to tell you that we had our third-highest basketball attendance of all time because of this fan-loyalty program. It was in large part due to us winning," he says. "What attendance tracking does give me is the ability to know who our best fans are, and from that standpoint it is effective."
Brewster admits that he hasn't yet allocated the resources to fully market SCream Team. Ultimately, if the rewards are enticing enough, Brewster expects to see evidence of a student mind-set that much can be gained by attending more than USC football games. "I think if the program were launched to its full potential, and it had the level of sponsorship that I envision, you would be able to create that mind-set very quickly," he says.