Some teams travel far from home to live, eat and sleep football. Is that a good idea?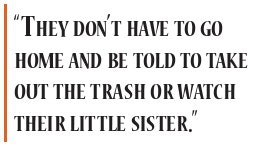 When the Cedarburg (Wis.) High School football team goes to training camp this month, they will literally go camping. "It's like a barracks," co-athletic director Bruce Junker says about the facilities at the former K.I. Sawyer Air Force Base near Marquette, Mich., where about 50 varsity players will sleep on wrestling mats in a gymnasium and cook their own food on portable grills and stoves for five days. "It's become a team-identity thing. This is how they start practice every year. Kids love it."
This will be the fourth time that the Bulldogs begin their season six hours away from home - a location chosen because one of the team's coaches at the time had local connections. But they are not alone. A number of high school programs around the country subscribe to the practice of running remote training camps in the name of team cohesion and total devotion to football. "Basically, the guys are playing football," says Bill Renner, head football coach and assistant athletic director at West Springfield High School in Springfield, Va. "They don't have to go home and be told to take out the trash or watch their little sister. They're usually on the field. And when they're not on the field, they're either eating or sleeping."
Lehigh University, located about four hours from Springfield, has been the weeklong home away from home for 100 or so varsity and junior varsity players and 12 to 14 coaches for the past four years. (Renner also conducted remote football training camps for five years when he was at Langley High School in McLean, Va.)
In the case of both Cedarburg and West Springfield, players cover their own costs. West Springfield, for example, asks its players to pay $200 each for double-occupancy dormitory rooms, all-you-can-eat meals, use of the field and linens. The team also sponsors car washes to raise the $5,000 needed to charter two buses. The school uses contingency funds to help cover the fees for players unable to pay the full amount.
At Cedarburg, local sales generated through an annual statewide Wisconsin Football Coaches Association raffle cover most of the trip's cost - which usually runs between $6,000 and $7,000 for the entire team, Junker says. The team and four or five coaches travel in a school bus, store supplies in a move-it-yourself rental truck and take along a standard vehicle for easy mobility should an emergency arise.
Requiring students to earn money for the trip is a crucial element of the program, Junker says. "I think it's a great lesson for kids to realize that if they want something, they're going to have to work for it."
That's admirable, says Jerry Diehl, an assistant director of the National Federation of State High School Associations and the organization's football specialist. But might coaches be asking a bit too much of a 16-year-old kid? "This is an unusual situation," Diehl says, citing potential eligibility concerns. Junker and Renner say they have addressed such concerns by receiving special permission to hold remote training camps from either their state association or school district.
Diehl estimates that few schools around the country actually hold such camps. Indeed, while Renner can rattle off in one breath the names of several other Virginia schools that hold remote training camps, only three public schools in Wisconsin participate in such programs. "They're doing it in the name of camaraderie and team morale, and it's probably a good experience for the players," Diehl says. "But I can't help but think it's not something that's needed at the high school level."
Chief among Diehl's concerns is how a coaching staff will respond to a medical emergency or other safety issue - challenges both Junker and Renner faced recently. An intestinal bug swept through Cedarburg's camp last August, sending some players to a local hospital's emergency room and others to a quarantine on one side of the gym. Players who escaped illness helped nurse their teammates back to health by bringing them water so they wouldn't dehydrate.
West Springfield coaches take one of the school's certified athletic trainers (ATCs) to camp each season, a practice that came in handy last year when one player was speared in the back, damaging his spleen. The ATC was able to diagnose the injury and took the player to the local hospital, located two miles away. Medical officials there had been notified earlier by Lehigh personnel that West Springfield players would be in town and might require emergency services.
Renner tries to cover all of his liability bases by traveling with players' medical forms and emergency-care cards, as well as insisting that each player sign waiver forms. He even confirmed that the hospital near Lehigh could handle the kinds of injuries his players might sustain in practice. Still, Renner's idea to hold training camp far from home was initially met with skepticism four years ago. "Players and parents were a little leery of it, to be honest with you," he says. "Here I was, a new coach, and I was taking the kids away for a week."
Renner and other coaches also may be taking student-athletes away from other responsibilities, Diehl says, such as part-time jobs from which they literally can't afford much time off.
On rare occasions, Renner says, some players are allowed to skip the first week of training camp, but that's usually because they're attending summer school. "Players would have to take off work even at home to practice football, and that's a sacrifice they choose to make," he says. "Work has never been a deterrent for any of my kids during the past nine years. It's also a sacrifice for coaches who aren't teachers. They have to take vacation time off from their jobs."
"The key to making this a good experience is having extremely conscientious coaches who set the parameters of the trip and explain them to parents before their kids leave," Junker says. "If your coaches can't do that, then they probably shouldn't go."
Once a team does go, however, players tend to bond quickly because there's not much else to do, coaches say (see "Clock Work," p. 38). "If you're home, you get into your own personal routines, and if you're away, you have to establish new routines," says Pete Menke, athletic director at Paul VI Catholic High School in Fairfax, Va., whose varsity and junior varsity teams - up until this season - trained for a week at St. Margaret's School, a private all-girls college-preparatory school in Tappahannock, Va. ("All the girls were gone, much to the guys' chagrin," Menke laughs.) This year, with St. Margaret's undergoing renovation, Paul VI's teams will train back at their home field.
Players raised enough money every year to cover the $350-per-player cost to train at St. Margaret's - a fee that included dormitory rooms, meals and practice apparel. Menke says other facilities could not match that price, so he and his staff opted to keep the team home this preseason.
Not that all the camaraderie fostered at remote training camps necessarily pays off in the form of a winning season, as Menke can attest. Paul VI won only two games in 2001. "You're always trying to pull a team together, and every year the dynamics change," he says. "This is a way to build team spirit, which helps you be successful. But it doesn't guarantee success, because you can run into other things, like lack of talent."
West Springfield has fared better, posting a 6-3 campaign last season (its best record in nine years), while Cedarburg has made the state playoffs every year since the team began training at K.I. Sawyer.
Whether or not traveling to remote training camps becomes more popular for high school football teams - Renner, Junker and Menke think it will - there's little doubt about the positive impact the excursion has on a team. Renner says his seniors approached him after last season and told him they miss participating in group activities together after they return from Lehigh. So he asked players and coaches to help plan some off-the-field events that team members can participate in throughout the coming season.
"There is no cookie-cutter method of doing this," Renner says. "Just ask yourself one question: 'Will the logistics of doing this detract from football?' "