High schools hire marketing firms to help sell naming rights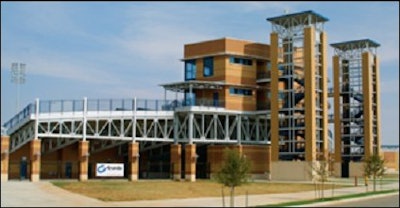 Dale Evans, athletic director at the new Paul M. Dorman High School in Spartanburg, S.C., thinks the name "Ronnie Sims Baseball Field" has a nice ring to it. He also thinks having a football stadium with your name on it would have an even nicer ring. Well, not necessarily your name. Any name will do, really, as long as the person with that name has $1 million to spare.
Dorman is the first high school in South Carolina (and among a very small number nationally) to team with a marketing and public relations firm for the sole purpose of seeking individual or group buyers of naming rights for athletic facilities. Possible corporate sponsors will be considered on a case-by-case basis, school officials say.
Although progress has been slow, both the firm and school are beginning to reap the partnership's benefits. The Palladian Group, a local company hired last November by Spartanburg County School District Six, secured a $100,000 deal earlier this year with Ryan Sims, a Dorman alum who is also a former defensive tackle at the University of North Carolina and a 2002 first-round draft pick of the NFL's Kansas City Chiefs. Sims opted to name the field in honor of his father, Ronnie, another Dorman graduate and holder of the state's record for most no-hitters in a high school season (four). The money will help establish a college scholarship fund for Dorman students, while the proceeds from future naming rights deal will go to the school - not the athletic department.
The Palladian Group earned a 12.5 percent commission ($8,000) on the sale of the field's name, says Gary Blackwell, the district's business manager. School officials are seeking naming-rights deals for all of the athletics and performing arts venues at the new $70 million school - including the football stadium, which has the highest naming-rights fee: $1 million.
The school relocated this year from a tight site to 292 acres of open land. The campus features two separate academic facilities - one for ninth graders and one for sophomores, juniors and seniors. Both schools opened last month and were built using revenue from the sale of the old property to a commercial developer, plus state building funds and a statewide bond issue.
"Every school has budget problems these days," Evans says, adding that a combination of Dorman's academic and athletic reputation, coupled with its high visibility along a major interstate freeway, might appeal to a certain kind of donor. "If you have the opportunity to earn more money for your school, you should take advantage of it."
Dorman's strategy may be the future of high school athletics fund-raising. "I think that takes it to the next level," says Rusty Lee, athletic director at Page High School in Greensboro, N.C., which is involved in a revenue-matching program with Market America, a locally owned sales company that is helping the school realize its goal of building a new field house within the next year or so. "The job of athletic director has changed a lot in 20 years. It's not just about working with athletes anymore; it's about marketing your programs. With the limited time that coaches and athletic administrators have - after all, we're in the business of educating kids - I can see how hiring an outside firm could be helpful."
Schools across the country are moving well beyond simply padding their bottom lines with gate receipts, traditional fundraisers like car washes and silent auctions, tournament title sponsorships and exclusive soft-drink pouring rights. Consider these recent examples:
• Dallas' Grapevine High School, a national prep football powerhouse, worked out a 10-year deal with Dr Pepper - reportedly worth between $3 million and $4 million - to place the soft drink company's logo on the school's roof, where it could be seen by air travelers.
• In the west Texas city of Midland, city officials hired The Superlative Group, a marketing and consulting firm, to secure naming rights for an all-city 15,000-seat high school football stadium. In late August, Grande Communications, a Texas-based bundled broadband services provider, paid $1.2 million for the privilege. Officials believe the 25-year agreement is the largest high school naming-rights deal in the country.
• Vernon Hills (Ill.) High School recently sold the naming rights of its new football stadium to Rust-Oleum Corp. for $100,000 and a 20-year supply of paint and maintenance products.
• The North Allegheny (Pa.) School District opened the Baierl Center earlier this year in honor of local car dealer Bill Baierl, who paid $300,000 for naming rights to the new gymnasium and fitness center that's shared by the school and community.
• Wells Fargo Bank in 2001 committed $12,000 over two years for naming rights to an Arizona Class 4A high school athletic region, known as the Wells Fargo Region.
When The Palladian Group approached Dorman with its naming-rights plan, the school's board of trustees hesitated. After all, this kind of arrangement usually happens in the professional and college ranks - not at the high school level. "We had a lot of concerns about it," Blackwell admits. "And it's raised a lot of eyebrows around here, that's for sure. But it was made very clear that we weren't interested in naming the football field something like 'Budweiser Stadium.' "
Dorman officials decided they would not actively pursue corporate naming-rights deals but would consider them. "We didn't close the door to corporate sponsorships," Blackwell says. "We're going to be selective. I think the board will entertain any sponsor idea Palladian has, but our preference would be something like the Ryan Sims deal."
Indeed, having the first sale involve a local hero proved to be good public relations for the school. "Ryan's name is well-respected in the area, and I think that put a lot of people's minds at ease," Blackwell said. "We want to keep high school sports as clean and pure as possible from outside influence and commercialization."
Lee, who says that Market America has been a very hands-off corporate donor, agrees with that approach. "I don't think you want to be in a situation where a corporate sponsor decides the direction in which your program goes," he says. "Market America is a company that saw we had a need and has the finances to help us address that need. I'd hate for them to come in and say, 'We don't want the field house built this way or that way.' "
Dorman, without the help of The Palladian Group, also sold seat licenses in its new $4.5 million, 10,200-seat football stadium. Season-ticket holders received the option of purchasing a general-admission, aluminum-bleacher seat for $25 for five home games, or one of 2,092 chairback seats for $30, plus a one-time, $100per-seat fee. By late July, the school had sold about 1,900 of the special seats, and expected to sell the remainder before the first home game. "We just wanted to pay for the cost of the seats, and we've now done that," Evans says, adding that future season-ticket holders will not be asked to pay the $100 fee.
Will Dorman be as successful at selling naming rights for the rest of its facilities? "I have no idea," says Blackwell, who presumed rights for the football field would have gone before the baseball field. "We're charting new territory here."