With more ways than ever to gather stats and break down plays, electronic advances are revolutionizing how coaches work the sidelines and meeting rooms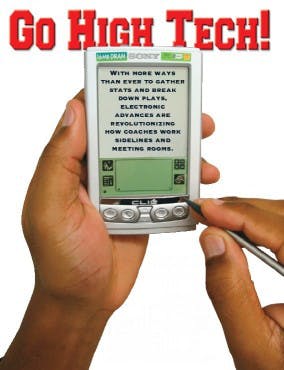 Remember when a football team's gameday entourage included individuals whose sole duty was to shadow coaches with a handful of headset cable, reeling in slack and letting it back out as the coach paced the sidelines? You'd be hard-pressed to find a cable guy on the field these days.
How about videographers perched on rickety scaffolding assembled alongside the practice field? They, too, are a rare sight. As are assistant coaches or team managers toiling with pencil and paper as they compile game statistics, or with scissors and file folders when editing game film. The assignments are the same, but the ways in which they are executed are changing.
Coaches at all levels of organized competition are finding it easier to conduct their business, thanks to technological advances applicable to the sidelines and team meeting rooms. Several of the most significant breakthroughs have emerged only within the past 10 years.
Of critical importance to the success of any football coach is his ability to communicate, not only with players, but with members of his staff. At the high school level and higher, staff communication during games is facilitated by a network of headsets connecting the head coach to assistants who may be stationed hundreds of feet away behind the windows of a press box.
Headset communications can take the form of push-to-talk systems, which function much like walkie-talkies - to speak, the user pushes a button on a belt pack; to listen, the user releases the button. For coaches who don't wish to be fumbling along their waistline for a button to push in the heat of battle, belt packs are available with an extension cord that places the button on a small remote device that rests comfortably in the coach's hand at all times.
Another type of headset, which has gained greatly in popularity since the mid-1990s, eliminates button-pressing altogether. It features an open line of communication using either spread-spectrum technology, in which frequencies are selected randomly during communication, or set-frequency technology. Whereas the push-to-talk system uses a single frequency to transmit communication between belt packs, open-line communication requires two frequencies to be in constant use - one to transmit and one to receive. That's what allows coaches to interrupt each other during two-way communication, much like two individuals conversing over a phone line. Communication signals can be transmitted between coaches' belt packs or through a base station in the press box, which receives messages before sending them out to each headset. For those coaches who are particularly protective of their strategies, digital systems are now available that encrypt messages, making them practically impossible to intercept.
Often, five headsets will be enough to outfit a high school coaching staff, with as many as a dozen preferred by college and NFL staffs. In the five-headset high school scenario, four headsets would be distributed among offensive and defensive spotters positioned in the press box and offensive and defensive coaches on the field, with the fifth headset reserved for the head coach. Systems may feature two-channel capability, allowing the head coach to flip a switch on his belt pack in order to talk exclusively to either his offensive coaches or his defensive staff. He may periodically instruct the offensive coaches to switch over to the defensive channel, or vice versa, so that the entire coaching staff can communicate in a party-line format.
The cost of each type of system varies by the number of coaches included in the communications loop, but a dual-frequency, open-line system is typically twice as expensive as the single-frequency, push-to-talk system. Coaches who don't wish to concern themselves with buttons and switches can still opt for the cable system, which is less expensive than either wireless system.
Once the game is over, coaches must review the outcome using statistical data and videotape. Likewise, they will review the videotaped games of upcoming opponents, logging their plays individually to allow for detailed analysis of strengths, weaknesses, and play-calling tendencies in specific game situations.
Computers have revolutionized how game footage is broken down. Twenty-five years ago, coaches spent a good share of their weekend cutting 16-mm film into short segments by hand, filing plays in folders categorized as "offensive," "defensive" and "special teams," then finally splicing the segments together into separate loops to be reviewed by category. Linear video editing using multiple VCRs to record only certain plays from one tape to another was the next step, but as its name suggests, this process still required editors to rewind or forward through entire tapes to find the desired segment of footage.
Though linear systems are still used today, digital editing represents the current state of the art. Video images recorded by either digital or analog cameras can be downloaded onto a computer's hard drive using software designed specifically for sports editing. The software allows coaches to type plays into an on-screen table, including such detail as down and distance, ball carrier, yards gained or lost, whether the play took place in the red zone and whether a penalty occurred. The completed table can be sorted and resorted by whatever details have been logged, and the coach can at any point access the specific plays or types of plays he wants to see. If he wants to assess how his offense performed in third-and-long situations, every third-and-long play is instantly organized to be viewed in succession. If he wants to jump from Play 28 on the log to Play 3, he can do so as quickly as selecting a musical track on a CD player. "A lot of coaches will tell you, 'I'm unpredictable. I don't do the same thing twice,' " says Barry Bryant, marketing manager for Coach Comm, an Auburn, Ala.-based manufacturer of sideline communications and video editing equipment. "When he starts plugging his data in there, he'll see that he does the same things a lot. It's pretty amazing."
The video images can be viewed on the computer monitor or outputted to TV screens, projectors or recorders, with the latter allowing customized tapes to be made for distribution among segments of the team or individual players.
Controls used to relegate the speed and direction of video footage have gotten more sophisticated, too. In addition to the traditional forward, reverse and frame-by-frame functions, which are standard on the sides of 16-mm projectors, remote VCR controls may feature an instant-replay button that allows a coach to press once to mark the start of a play and a second time to mark the play's conclusion. That play is then repeated in a continuous loop until the coach presses the button a third time to take the video out of instant-replay mode. Remotes can also be purchased with built-in laser pointers, allowing coaches to focus player attention when viewing game footage. Some manufacturers even boast about the ergonomic design of their remotes, ensuring a comfortable fit for the human hand.
Technology has also put remote-controlled cameras in non-traditional places, such as a football field's end zone, and taken individuals off potentially dangerous perches in bucket trucks and scaffolding. For roughly seven years now, video shot from cameras mounted atop 30-foot masts has provided coaches with an atypical aerial view that is perpendicular to the line of scrimmage, allowing for clear dissection of set formations and blocking assignments.
The masts can be purchased as part of a two-wheeled trailer for easy travel, or with a portable tripod base that when assembled is wide enough to resist high winds. The cameras can be manipulated to tilt, pan, zoom and focus using a monitor and joystick from thousands of feet away - often from within the press box. With a starting price around $10,000, these remote cameras are particularly popular among high schools and small colleges whose facilities lack high vantage points behind their end zones. "Coaches saw the need for end-zone shots, because most people don't have a means of getting them," says Mike Bokulich, founder of U.S. Sports Video in Amherst, Ohio. "And, because of the liability involved, many schools are prohibiting people from going in the air."
In addition, wall-mounted remote cameras can be purchased for the filming of indoor sports, such as basketball and volleyball.
Just as it did for the logging of game video, software is streamlining the stat-gathering process, eliminating cumbersome spiral-bound scorebooks in favor of sleek handheld computers. Within the past two years, statistics-collection programs have been designed for a number of sports (including football, basketball, baseball, softball, volleyball and soccer) and for application by teams at virtually every level, particularly those teams affiliated with small colleges that lack large sports information staffs, high schools and even recreation departments. Major Division I universities, meanwhile, may find use for the product in practice settings.
The basketball program, for example, allows opposing teams' roster numbers to be loaded onto the handheld, with the 10 players currently on the court listed on opposite sides of the screen as the home team and visiting team. The screen also includes a half-court diagram and a number of prompts activated by the user's stylus, depending on what occurs during the game. If number 32 from the home team hits a three-point shot from the right corner, the user touches 32 on the list of home players, then the court diagram in the right corner beyond the three-point line, then the word "made" (which appears alongside "missed"). If there was an assist on the play by number 15, that number is touched followed by an "assist" prompt. The same goes for fouls, turnovers, offensive and defensive rebounds, and anything else that must be recorded during the game. Mistakes are erased using a "clear" button.
At any point during the game, the statistician can instantly refer to how each team, as well as each player on both teams, is performing, say, at the free-throw line. The computer is constantly updating percentages with each new touch sequence entered. Final game statistics can be posted within five minutes of a game's conclusion for player and local media consumption. A coach, meanwhile, can choose to reference his team's performance for that game, as well as cumulative stats for any number of recent games or the entire season. During practice, the coach has instant visual evidence to point out any given player's performance. "It's not just statistics; it's on-screen visuals," says Jim Emery, cofounder of Columbus, Ohio-based software provider Digital Scout. "I can come to you and show you what you're doing right, what you're doing wrong. It's a teaching tool." Hard-copy stat sheets and charts are easily produced by interfacing the handheld with a desktop computer and printer.
The programs themselves are being updated, too, usually with the help of coaches' feedback. One palm-sized stat- gathering program to emerge within the volleyball market allows coaches of advanced teams to rate passes and serves using a scale accessible via a pulldown menu.
Handhelds also come into play during the analysis of game film, but with a different software program that, at $600, is nearly five times as expensive as stat-gathering programs. If a football coach is watching game footage of his opponent, he may have to chronicle what happened on each of 150 plays. He can do that using handheld scouting software, load the information gathered onto a desktop computer, and print out full reports relating to what the opponent's tendencies are in third-and-short situations, for instance. By eliminating pencil, paper and the manual sorting of different types of plays from the process, the software's designers believe coaches are spared between five and 10 hours of labor each time they break down film.
Scouting software designed for sports other than football is expected to hit the market in January. Baseball and softball programs, for example, will allow coaches in those sports to not only track players' batting averages, but how the players perform against left-handed pitching, with runners in scoring position and other game scenarios.
Over the past decade, sidelines and meeting rooms have steadily moved toward becoming wireless and paperless environments. The investment required of athletic and recreation departments to streamline their behind-the-scenes game and game-preparation operations can prove substantial, but the savings realized in terms of employee time and effort are equally significant. For many departments, providing staff with the best means by which to complete critical tasks only makes good business sense.
Whether it's the simple freedom afforded by wireless headset communication systems; the ease with which game film is recorded, edited and analyzed; or the convenience of accumulating statistics and plotting charts on a computer roughly the size of a calculator, significant strides in technology have allowed coaches to conduct their business more efficiently, more effectively and even more comfortably.