A Nebraska law allowing athlete stipends fails to catch on with the NCAA - for now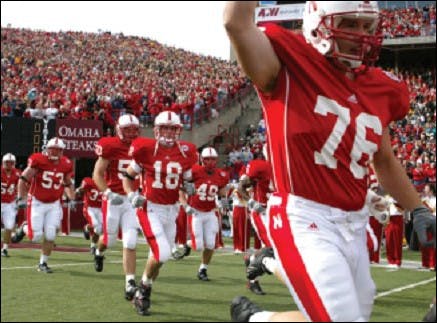 According to Kay Orr, "You can't live in Nebraska and not be in love with the Cornhuskers football team." Spoken like a devoted season-ticket holder, perhaps, but when Orr was governor of the state from 1987 to 1991, her devotion stopped short of allowing the Cornhuskers to collect a financial stipend in addition to full scholarships. In 1988, she vetoed a bill that would have allowed for such payments.
Ernie Chambers may not love Nebraska football in the same way as Orr (he never attends games, even when offered free tickets), but the independent state senator from Omaha nevertheless cares for the welfare of Cornhusker players. It was his bill that Orr vetoed 15 years ago; and it's his pay-for-play bill (albeit revised) that was signed into Nebraska law April 16 by Gov. Mike Johanns. But even after taking his fight farther than ever before, Chambers still must contend with a political powerhouse for which he has no love lost: the NCAA. "The fact that players are generating so many employment opportunities for others while they get left behind is unconscionable and immoral," Chambers says. "What's worse, the universities are complicit in it. I have very bitter feelings toward these big-time universities and the NCAA."
Chambers, who takes credit for exacting nationwide change through state legislation regarding how the NCAA applies due process during the sanctioning of its member schools, has gone to bat for Nebraska college athletes on a number of fronts, including insurance coverage and the honoring of scholarships for injured athletes. His latest pay-for-play pitch is clearly the most ambitious, and for reasons it is more than willing to enumerate, the NCAA has not been quick to embrace the concept.
Simply stated, the law allows the University of Nebraska to pay student-athletes a stipend to help them more easily cover the full cost of attending school. The amount and frequency of payments is up to the university, says Chambers, who has purposefully drafted the legislation to include important loopholes. For instance, the law doesn't require payments if the university doesn't have sufficient capital to cover them. More important, the law won't even take effect unless four other states in which Big 12 Conference schools compete pass similar legislation. Texas, home to four Big 12 schools, is the only other state in which similar legislation has been proposed. During the current session, scheduled to conclude June 2, State Rep. Ron Wilson (D-Houston) put legislation to a committee allowing for payments to athletes of up to $200 per month. Like Chambers, Wilson has made this push before, with little success.
That's because the NCAA is very protective of the notion that it sponsors amateur athletics, and on its face, pay-for-play is in conflict with that notion. NCAA President Miles Brand has been quoted as saying, "We have a model for paying players. It's called professional sports."
"Some would even suggest that the scholarship is de facto pay-for-play," says Wally Renfro, Brand's senior advisor for communications. "I don't see how they get there. That suggests that everybody who is on any type of scholarship at an institution has become an employee of the institution, and I don't think that's going to hold up anywhere. What exists is a concept that has been around for a long time - amateurism. And I don't see much change in the minds of those in higher education toward sponsoring athletics on something other than an amateurism basis."
Chambers, for one, does consider scholarship money to be pay-for-play. "Whenever you give somebody something of value for athletic participation, you've created professionalism," he says. "The NCAA doesn't want to call it that, but that's exactly what it is. You are paying for play. It has nothing to do with need. It has nothing to do with academic achievement. It's only for football or basketball prowess - or whatever the case might be."
The problem, according to Chambers, is that even a full scholarship, which includes tuition, room, board, books and fees, falls short of covering the full cost of attendance - a fact the NCAA doesn't dispute. Says Renfro, "There are a number of individuals, many in higher education and intercollegiate athletics, who would like to see that gap closed. Right now, on average, that gap is about $2,000 a year."
Chambers contends that the mere existence of such a gap leaves room for corruption. "If you gave student-athletes a decent amount of money, then you're not going to find them losing eligibility and the school getting in trouble because somebody gave a player a suit or $200," he says. "I want them to have what I call dignity money, spendable money in these players' pockets."
Where might that money come from? Like a lot of critics of the NCAA, Chambers says "big-time athletics is awash in money," thanks to elongated football seasons, dozens of football bowl games, and the association's $6 billion agreement with CBS, which holds broadcast rights to the NCAA men's basketball tournament through 2013. But according to Renfro, only 40 Division I institutions can claim they are profitable, meaning program-wide revenues exceed expenses. A mere 79 institutions among the 117 competing in Division I-A football turn a profit. "So the notion that there are enormous amounts of profits accruing in intercollegiate athletics is simply an inaccurate notion," says Renfro, adding that even if every school were profitable, "the NCAA does not have any contact with any of that money - none, zero."
As for the $6 billion rights deal, Renfro says, "It has nothing to do with regular-season athletics programs; it has to do with NCAA championships." (The NCAA currently sponsors 87 national championships in 22 sports.) Renfro further breaks down the CBS deal, which spans 11 years at an average $545 million a year, for the sake of argument. "You're talking about 360,000 student-athletes. If you were to say, 'Let's give everybody $50 a week for 10 months, that's $2,000 a year. It would close that gap completely. But that would require more than $720 million a year to do. If every penny of the CBS contract were used, you'd still be short about $175 million."
Instead, the NCAA has set aside money in the form of a Special-Assistance Fund, available only to student-athletes who truly need it. For example, an athlete receiving a full scholarship who is eligible for the maximum $4,000 Federal Pell Grant can still qualify for up to $500 in additional annual aid through the NCAA, Renfro says. Beginning this summer, Division I athletes will have access to a new $17 million Student-Athlete Opportunity Fund, which will grow by 13 percent annually over the next 11 years to more than $57 million. Says Renfro, "There are a number of ways to go about trying to close that gap, and the association has worked pretty hard at that, earmarking over the next 11 years three-quarters of a billion dollars just for that purpose."
While admitting that college athletics is bigger business today than in 1988, Orr still believes, as she did then, that the majority of Nebraskans don't want to see college athletes paid. "I think it robs them of what sport is all about, which is a chance to hone their physical skills and talents, to be competitive and hopefully learn things, such as good sportsmanship," she says. "It puts them on a whole different footing when they're paid athletes."
Orr says she was "disappointed" by Johanns' support of the bill, even as its significance was being downplayed within the governor's office. "There are 100 other things we're more concerned about," says Chris Peterson, Johanns' deputy chief of staff. "The governor's expression of support was meant to put pressure on the NCAA to be more flexible."
If it feels any of that pressure, the NCAA wears it well. "I think it's right and proper for people to express their opinion about how intercollegiate athletics ought to operate," Renfro says. "However, it would be unfortunate if a state law that is at conflict with the bylaws of an organization to which the state's institutions belong forces them to make a choice between membership in the association and following state law." (University of Nebraska athletic director Steve Pederson and football coach Frank Solich have both pledged allegiance to NCAA rules in prepared statements.)
Chambers hopes it never comes down to a choice. He'd rather see enough states follow Nebraska's lead to reach a tipping point with the NCAA, as was the case with his due-process legislation some 20 years ago. "I'm hoping that a set of circumstances will be reached where the NCAA liberalizes its rules and the university acts based on what it thinks is in the best interest of the players," he says. "The primary goal is to put pressure on the NCAA, to let them know that somebody else is looking at them."