A basketball "mercy rule" goes into effect this season, but not all states are showing compassion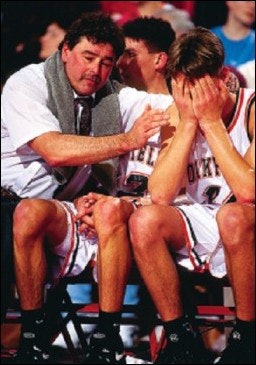 Jack Roberts calls last November's fateful 115-2 Michigan state tournament girls' basketball game between powerhouse Walkerville High School and winless Hart Lakeshore Public Academy "the poster child" for a movement to adopt a nationwide mercy rule in interscholastic basketball. In April, the National Federation of State High School Associations did just that, granting its member organizations permission to institute a practice already common in baseball, football, field hockey, ice hockey, soccer and softball. "That was our worst blowout, and it got a lot of attention," says Roberts, executive director of the Michigan High School Athletic Association. "But it was nowhere near the only game that would have benefited from a mercy rule - or what we prefer to call a point-differential rule."
Call it what you want, state associations are adamant either in support of or opposition to the rule, which allows a running clock to be instituted when a specified point differential is reached at a specified time in the game. (Both variables are determined by individual states). The dissension comes despite such boys' and girls' scores last season as 90-2 (Washington, D.C.), 89-0 (Alabama), 93-35 (Missouri) and 82-45 (California). The problem is particularly prevalent during tournament time in states where all schools are eligible to participate, thus pitting stronger and weaker teams against each other.
"We could not see a philosophical rationale for why a mercy rule was right for one sport and not another," Roberts says. Neither could officials at the Missouri State High School Activities Association, so both states in the late 1990s implemented three-year NFHS-sanctioned mercy-rule experiments that expired within the past two seasons. "We're not going to go back to running basketball without it," Roberts says. "There's always going to be a need for this."
Rick Wulkow is on the opposite side of the argument. "We will not be having a mercy rule in Iowa. We just don't see a need for it in the sport of basketball," says Wulkow, an assistant executive director of the Iowa High School Athletic Association. "We talk all the time about participation and opportunities for kids, so I'd rather work on educating our coaches about how to give opportunities to the ninth, tenth, eleventh and twelfth players on their team instead of speeding up the game when the other team has a 35-point lead."
"When you're talking about 50 states, with two of them wanting a mercy rule, I don't know if that's considered an overwhelming desire to implement a mercy rule," says Larry Boucher, chairman of the National Federation's Basketball Rules Committee and an assistant commissioner of the Kentucky High School Athletic Association (which doesn't plan on adopting the rule anytime soon). "What is a significant point differential? Forty points? Fifty points? We probably spent more time on this topic than any other rule we talked about during the past year. How passionate the mercy rule discussions might have been in baseball, soccer or softball, I have no idea. But you have to understand that basketball is the most popular high school sport. That in itself indicated there was going to be more discussion."
With 17,135 schools offering boys' programs and 16,851 sponsoring girls' teams, basketball is in fact the most popular interscholastic sport. Why, then, is it the last of the major team sports to get a mercy rule? "I don't know," says George Blase, assistant executive director of Missouri's state association. "I'm flabbergasted."
Blase lobbied the NFHS unsuccessfully for years to institute a mercy rule in basketball. That state's experiment, as it was called because the NFHS had not yet passed formal mercy-rule legislation, allowed the clock to run continuously (with a few exceptions) in the fourth quarter if the point differential was 30 or greater. In Michigan, a running clock was used in the second half if the scoring disparity was at least 40 points. Both states will resurrect their mercy rules this season.
One of the games in which a mercy rule would have improved the public's perception of high school basketball in Missouri occurred during the 2001-02 boys' tournament, Blase says, when two teams from the St. Louis area squared off in a televised championship game that ended in a lopsided 82-27 score. The winning team's All-American player, Jimmy McKinney (who went on to become one of the top NCAA freshman players in the country last season), remained in the game with less than 30 seconds left on the clock. Adding to the ensuing "furor," as Blase calls it, was the fact that the winning team was from an inner-city school featuring an all African-American roster, while the runner-up was an all-white team from a suburban Jesuit school. "I think the winning coach was trying to make a statement that he had the best team in the state - by far," Blase says. "The coaches should police themselves. But we haven't seen that. In fact, I think some of the coaches have been clueless about the feelings they're creating for the other team, and that kind of worries me."
A survey of schools conducted in 2001 after Missouri's final year of what it called the Game Timing Experiment indicated a 90.2 percent approval rating of a mercy rule, with 85 percent of responding schools reporting they participated in a game that season in which the rule was invoked.
That's not convincing enough, says Troy Dannen, executive director of the Iowa Girls High School Athletic Union, which isn't a member of the NFHS. The IGHSAU wouldn't advocate a mercy rule even if it were, according to Dannen. "We look it at as an ethical issue, and there is not a rule you can legislate about ethics," he says. IGHSAU member schools are involved in lopsided basketball games every week of the season, Dannen notes, largely because coaches run up the score due to parental pressure or their own egos. "We're trying to educate and remind coaches about the purpose of sports at the high school level," he says. "Our games have to be based fundamentally on education, not on winning."
The same case for sportsmanship education can be made about losing coaches, too. Blase recalls one game during which a visiting team's coach pulled his team off the floor with 28 seconds left because it was losing so badly. He was later suspended. "The coach running up the score created a sportsmanship issue for both teams," Blase says.
In the case of Walkerville's 113-point win, however, coach Steve Kirwin "did about all that could have been done short of holding the ball at center court and adding to the humiliation," Roberts says.
Philadelphia Central High School girls' basketball coach Frank Greco practices good sportsmanship when he's on the winning end of a rout by implementing his own set of rules. "We say all five girls have to touch the ball before you can shoot it," he told the Philadelphia Inquirer earlier this year. "And you have to shoot it out of the offense. You can't shoot on the fast break. You have to keep one foot in the lane on defense so the other team can shoot outside shots. We tried to do a lot of different things so that some of the weaker opponents would have a chance to put some points on the board. That makes everybody feel a little better."
The official NFHS stance on the mercy rule comes from Mary Struckhoff, an assistant director at the National Federation and staff liaison to the Basketball Rules Committee. "There are more extremely large point differentials between teams," she says. "In addition, in many cases, the number and intensity of fouls increase, thereby putting players' safety in jeopardy."
While you can argue how physically threatening basketball is compared to, say, football or soccer, the major factor working against basketball is the clock. Mercy rule opponents say the relatively short length of a regulation high school basketball game precludes it from being further shortened, which further reduces the opportunities for more players to participate.
"There is a finite time limit," Blase says. "But if you're worried about giving everyone on the team the opportunity to play, get your subs in earlier. There are ways you can make a game a horrific experience for student-athletes if it goes longer than it has to be. How would you like to be on the losing end of a 115-2 game?"
Some state association officials also claim they didn't have enough time after the NFHS gave its blessing on the mercy rule in April to implement their own versions of the rule this season. In fact, Roberts says he would be surprised if more than three or four states beyond Michigan and Missouri opt for the rule now. "Some states will be observing us again," he says. "If this hadn't been a subject near and dear to our hearts, we wouldn't have adopted it for 2003-04 because we wouldn't have had time."
"I think the proof in the pudding will be how many states adopt the mercy rule within the next three years," Boucher says.
Dannen doesn't believe that number will be too high. "If we didn't have speed limits, most people would still drive in control," he says. "But there are some who would take it to the extreme. Likewise, I think a mercy rule is aimed at a few, not at the masses."