Focused technologies have made tracking gift money and donor perks easier than ever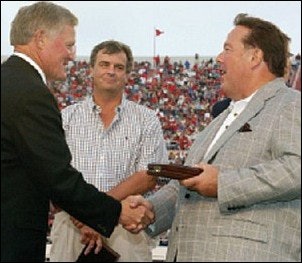 Athletics development officers often prefer the term "friendraiser" to "fundraiser" when describing who they are and what they do, and today it has never been easier for those in the relationship-building business to keep their circle of donor friends satisfied - and widening. That's because in the past five years, new efforts have focused not-so-new technologies solely on the donor-management needs of college athletic departments.
It's a development environment far more complex than that of traditional nonprofit fundraising - the key-chain-and-tote-bag world of public television pledge drives, for example. A college athletic department not only launches major capital campaigns, but may oversee several such campaigns simultaneously. In addition, an increasing number of athletic departments employ priority-point systems that tie donations to premium season-ticket locations, bowl game ticket availability, preferred parking and other perks.
"The athletic department should be able to know exactly who its donors are and how their gifts relate to the benefits that they're receiving. That piece of it is so unique to college athletics," says Jennifer Miller, president of Envisage Software, a five-year-old data-management and consulting firm in Mebane, N.C. "On the other end, donors should be able to know exactly what campaigns they've given to and how their money is counted, not only toward the pledges that they've made, but also toward the benefits that they expect to receive."
Donor management is not new, and integrating software into the process began to hit its stride in the mid-1980s. Currently, a majority of schools use development software offered by their ticketing software provider - Paciolan, TicketMaster or tickets.com. Still, both Envisage, which produces a program called ContribTrak, and Lutz Software Solutions, an Omaha, Neb.-based CPA firm that introduced ADvantage donor-management software a year ago, take the stance that the development side of an athletic department deserves undivided attention.
"The software that you use needs to be geared toward the customers it serves," says Kevin Hansen, development manager at Lutz Software. "Ticket-holders and donors are two different animals. Ticketholders want their tickets, they want convenience and they want to be left alone. Donors want to be loved. They want to be in the know about something that's going to happen in the athletic department before the guy sitting next to them who doesn't give money. And they want to feel pride of ownership. If they're giving money, they want to feel like they're getting something out of it."
This "hand-holding," as Hansen calls it, requires software that allows for easy communication with donors. "If you send an email at noon saying, 'At three o'clock, on AM 1020, Coach Smith is going to be on the radio talking about our new quarterback recruit out of California,' donors are going to think that's the coolest thing in the world," Hansen says. "We make it so easy to do that."
Virtually unlimited demographic fields within the database allow for any number of targeted messages. For example, last year's participants in a golf outing can automatically be sent this year's registration form via an e-mailed PDF file or regular mail, depending on whether an e-mail address is included in their profile. Likewise, parameters can be specified to generate printed lists of donors. "Athletic development offices are very list-driven environments," says Hansen. "They don't care if the report's all that pretty. It's more the mindset, 'Give me a list of football ticket-holders who give more than $5,000 and live in Milwaukee, because I'm going to Milwaukee this weekend and I want to call on some people.' "
Such face-to-face meetings are enhanced by information compiled on each donor within the database, from the name of their spouse right down to the number of the stadium parking lot they use on Saturdays. In the end, it's all about creating connections. Says Miller, "We even track who received a particular donor's scholarship by year, so that the donor in turn can track the athlete's progress."
From a backroom standpoint, donor-management software can be used to log and instantly relay donor grievances to upper-level athletics management. It can also establish accounting practices and procedures - leaving little doubt as to whether gifts in kind, such as the lease on a coach's vehicle, count toward a cardealer donor's priority points, or whether a brick purchased during a brick campaign is considered a sufficient enough contribution to continue a donor's string of consecutive years of giving. How are willed gifts treated, particularly when the benefactor expects benefits today for money the athletic department won't see until later. "When you get to that level, where the program really has to show several different aspects of what that donation is doing, you really need a very specific application," Miller says.
Though the tasks may seem complex, operational simplicity is key. Today's donor-specific software typically comes as a Windows-based application designed to provide new users some comfort through familiarity and allow complete computer novices to obtain training, if needed, right within the campus community. "Their job should be to manage their donors, not manage their donor software," Hansen says. "The software should be efficient, practical and still have all the bells and whistles it needs so that they can do their job - which is raising money."
While primarily a concern for Division I athletic departments, since they in most cases operate independent of the university's general development office, donor management software nonetheless has widespread application, according to Hansen. (Lutz Software employs a standard monthly contract fee, while Envisage varies its charges based on a given school's complexity of data.) "We have New Mexico State, a Sun Belt Conference school, which probably has only 1,500 donors, whereas a Tennessee will have 15,000 donors," Hansen says. "All donors want to think they're the only donor you have. Whether they're $50-ayear donors or $50,000-a-year donors, they think they're just as important as everybody else."
Can the connections facilitated by such technology actually inspire donors to greater levels of giving? "There's an old line in fundraising, 'Donors don't give to a sinking ship.' They want to be associated with quality, a winner - and that's certainly the case in athletics." says Brad Walker, associate executive director of Texas Tech University's Red Raider Club, which instituted a priority-point system with help from Lutz Software less than a year ago. "When you are able to communicate effectively with donors and be perceived as professional, all of that turns into a positive touch - a warm fuzzy, in some cases - and that's going to ultimately improve your bottom line."