New leagues mean opportunities for women - and maybe a few problems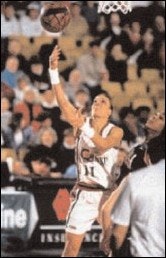 Amid the rise of women's athletics in the quarter century since the passage of Title IX, no sport has succeeded quite like women's basketball, which has grown to such a point that there are currently two professional leagues, the American Basketball League (ABL) and the Women's National Basketball Association (WNBA). For female basketball players in the U.S., whose only prior options once they exhausted their collegiate eligibility were to play in professional leagues internationally or quit the game, the new leagues represent a legitimate opportunity to play basketball professionally here at home.
This potential bonanza for women does not come without a price, however, and coaches and administrators of college and high school basketball programs would be wise to begin discussing a variety of issues with their female players.
Both new leagues are already embroiled in some of the same legal issues faced by the more established pro leagues. In particular, the leagues' player-eligibility restrictions are now being questioned. For example, the WNBA requires its players to be "at least 22 years old during the calendar year of the applicable season" and to have completed their intercollegiate basketball eligibility or graduated from a four year college or university, or to have played pro basketball in another league for two full seasons. The ABL's rules list similar restrictions.
Although there are no current lawsuits challenging these eligibility rules, in the past several months a number of outstanding female basketball players, both in high school and in college, have expressed an interest in turning professional before they enter or graduate from college. The leagues, however, have refused to amend their eligibility requirements.
Both leagues defend their strict eligibility rules (which are per se anticompetitive, since they restrict opportunities available to female athletes) by claiming that they are single entities and therefore not subject to antitrust laws. Although this defense has been used unsuccessfully by professional sports leagues in the past - basketball in Denver Rockets v. All-Pro Management Inc. [325 F.Supp. 1049 (1971)], hockey in Linseman v. World Hockey Association [439 F.Supp. 1315 (1977)], and football in Boris v. United States Football League [1984 WL 894 (C.D. Cal. 1984)] - the WNBA and ABL are part of a new trend where leagues are structured much differently than their major-sport brethren.
In the past three years the WNBA, ABL, NFL Europe and Major League Soccer (MLS) have all entered into a business arrangement that requires a more cooperative effort among teams. For example, the leagues draft the players and then assign them to a team, pay players' salaries and share revenues. This structure has allowed teams in the ABL and WNBA to keep salaries low and assign players where they are most likely to help build fan support for their teams.
But by doing so, are the leagues guilty of violating antitrust laws? Section 1 of the Sherman Antitrust Act states that "every contract, combination in the form of trust or otherwise, or conspiracy, in restraint of trade or commerce among the several States, or with foreign nations, is declared illegal." The leagues argue that as single entities, they cannot enter into a conspiracy since there is no other party to the conspiracy.
The Ninth Circuit, however, rejected a similar single-entity argument in Los Angeles Memorial Coliseum v. National Football League [726 F.2d 1381 (9th Cir. 1984)] when the NFL tried to stop the Oakland Raiders from moving to Los Angeles. That court held that for a plaintiff to establish a claim under Section 1 of the Sherman Act, an agreement must be among two or more persons or distinct business entities, the anticompetitive behavior must be intended to harm or unreasonably restrain competition, and the conduct must actually cause injury to competition.
Therefore, even if the ABL and WNBA were unable to establish that they are single entities, a court could still uphold their eligibility rules if the leagues were able to demonstrate that the eligibility requirements are reasonable and promote competition. If, on the other hand, the eligibility requirements could be shown to unreasonably restrict player eligibility, they would be deemed illegal under antitrust law. (Although the issue has yet to be tested in court, a lawsuit has been filed by MLS players against their league claiming that the single-entity structure violates antitrust laws by artificially keeping player wages low.)
The issue of whether the leagues are actually single business entities, and therefore outside the scope of antitrust law, is rather murky. For example, all the teams in the ABL and WNBA are managed independently, each making its own decisions concerning ticket prices, player acquisitions, concessions and the hiring of coaches and administrators. The teams also keep all revenues from ticket sales, concessions, parking and local TV rights fees. In fact, team profits vary widely despite revenue sharing, since they share only a portion of league revenue.
In addition, the WNBA is owned by the NBA, which is not a single entity but an association of 29 different teams, all of which are individually owned and compete against one another on and off the court. Moreover, none of the teams exchange or share their accounting books and records. They are, however, linked with the NBA teams whose arenas they share. In each WNBA city, the NBA club provides front-office staff and pay for travel, local promotions, advertising and other operational expenses. National sponsorship sales by the NBA are used to defray WNBA expenses, including salaries for players and officials and broadcast production costs. Even NBA teams that are not assigned WNBA teams have a stake in any profits.
While it may seem logical (given the case history involving eligibility regulations and professional sports) that the rules governing the ABL and WNBA will eventually be struck down as a violation of antitrust laws, there is still much debate on what the outcome of such a lawsuit would be.
Beyond the impact on the leagues themselves, the leagues' eligibility restrictions (and possible future challenges to them) have an impact on high school and college women athletes.
The first potential problem area is education. Were the rules successfully overturned, high school and college women would be faced with the same dilemma as their male counterparts - stay in school and get an education, or take the money and run. ABL players make between $40,000 and $250,000 a year, with an average of about $70,000. The WNBA has a salary structure that ranges from $15,000 to $50,000, with the average player making around $35,000. (Premiere players get promotional opportunities that can boost their salaries to $250,000.)
While turning pro early may not be as lucrative for women as it is for men, it might still be enough to entice some women to leave school. The temptation to forfeit a college scholarship will only increase as the salaries go up. Men's basketball's current headache - high school seniors bypassing college and going straight to the pros - could begin to infect women's programs.
A second potential problem area is recruiting. Currently, college basketball coaches begin recruiting athletes during their junior or senior year in high school. If the leagues' eligibility requirements were struck down, professional scouts would likely join college coaches and scout high school games. Both the ABL and WNBA actively recruit college seniors; during the Women's NCAA Basketball Tournament this past March, both leagues hosted various events to entice the top collegiate players to sign with them. Will the leagues soon be entertaining underclassman and high school students as well?
A third potential problem area is sports agents. As salaries in the women's leagues increase, there will be more and more interest among sports agents in signing women to contracts, leading to all sorts of difficulties for high school and college coaches and administrators. In an effort to sign the top female basketball prospects, it probably will not be long before we see the same type of scandals over improper payments to athletes that we now see in men's athletics.
A fourth potential problem area is an increased level of steroid use by female athletes. In the past 20 years, steroid use has increased among high school girls - a recent study conducted by Penn State University and published in the Archives of Pediatric and Adolescent Medicine put the number of high school girls using steroids at 175,000 - with one of the culprits being the increased number of scholarship opportunities now available to female athletes. With the opportunity to play professionally, steroid use could rise even further.
These are just a few of the areas of concern facing high school and college coaches and administrators if the ABL and WNBA are forced to amend their eligibility requirements. Coaches and administrators need to begin to discuss these issues with their female athletes so solutions to some of the problem areas can be found and so athletes know all the consequences of their decisions.
Coaches and administrators of women's programs have an opportunity to learn from the troubles and scandals of men's basketball and establish policies that reflect their concerns. To help educate female athletes, it is essential that those same leaders understand the impact the professional game will have on the amateur level.
---
Attorney John T. Wolohan is an associate professor in labor relations in sport at Ithaca College in Ithaca, N.Y., where Tracy Y. Royal received her planned studies degree in May 1998. Sports Law Report is edited by Glenn M. Wong, head of the Sport Management program at the University of Massachusetts, Amherst.