After a post-season ban failed to connect, metal bats are back in Massachusetts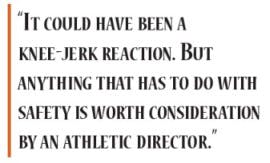 In May 2001, Bill Hughto, a Wellesley (Mass.) High School pitcher, took a line drive to his temple from a ball hit with a metal bat. He was airlifted by helicopter to a Boston hospital, where doctors discovered a clot on his brain. Hughto remained in a coma for days.
While the pitcher eventually recovered, that near-tragedy was enough to convince the Massachusetts Interscholastic Athletic Association's Baseball Committee to outlaw all non-wood bats for the state's 2003 tournament, making Massachusetts the first state in the country to take such a bold step. Additionally, 25 of the state's 40 high school leagues voluntarily eliminated metal bats during the regular season, in preparation for tournament time. Even Little League teams, men's leagues and high school summer leagues across the state followed suit and banned metal.
But the use of wood-only bats at the high school level resulted in unproductive offenses last season. Michael Ward, baseball coach at Salem High School, estimated to reporters that team batting averages for some schools in the wood-only Northeastern Conference "had to be down 100 points." And in all three state-final contests played last spring - games with scores of 2-1, 2-0 and 1-0 - no batter earned an extra-base hit. By comparison, three years ago, four hitters in one state championship game played at Boston's Fenway Park belted balls over the "Green Monster" in leftfield en route to a 22-14 score.
Wood bats also crippled school budgets. Mashpee High School (part of the South Shore League, which also opted to play the regular season with wood bats) doled out close to $3,000 for four dozen maple, ash and composite wood bats. In previous seasons, just a few more-durable metal bats cost the school only about $1,000. Players proceeded to break several wood bats simply learning the nuances of the equipment and finding its sweet spot. "It could have been a knee-jerk reaction," Michael Horne, Mashpee's athletic director, says about the state's post-season ban on metal. "But anything that has to do with safety is worth consideration by an athletic director."
Safety, however, was trumped by other issues in October, when the MIAA's Baseball Committee voted 9 to 8 to allow players in tournament games to return to using their "bat of choice" in 2004. "You're just not going to find consensus on this," says MIAA deputy director William Gaine Jr. "This is not exclusively a safety issue. Some people like the sound of a wood bat, the smell of the wood, defensive games. Others say the ball is harder to hit, the offense is lacking and the games are boring."
A 2003 post-season MIAA survey of 188 coaches indicated that most actually prefer their players using wood bats, citing tradition and personal tastes over safety. That said, Gaine calls the committee's decision to lift the ban largely influenced by pressure from those coaches who prefer metal.
Regardless of the outcome, observers consider last season's efforts to turn the playing field into a bat laboratory a success. "Everybody was watching," says Elliot Hopkins, an assistant director of the National Federation of State High School Associations and editor of its baseball rules book. "This was a real-world experiment that we wouldn't have been able to pay a gazillion dollars to get someone to try. And here we had a member of our association in good standing that took this on. This will go down in high school baseball history."
Ask around or do your own research, and you'll be hard-pressed to find a definitive study suggesting injuries produced by balls hit off wood bats are less severe than those hit off metal bats - even though scientists understand the physics of hitting a baseball better today than ever before. At best, there is plenty of anecdotal evidence.
Amherst College baseball coach Bill Thurston, former editor of the NCAA's baseball rules, did his own research and found that of the 10 collegiate players killed by batted balls between 1991 and 2001, eight were struck by balls hit off aluminum bats. (Players have also occasionally died from thrown balls.) Since 2001, a batted ball has caused at least one other fatality - although not on a collegiate field. In July 2003, Miles City Mavericks pitcher Brandon Patch was struck in the head by a ball hit off an aluminum bat in a Helena, Mont., American Legion game.
In 2002, a study by Brown University bioengineers of right-handed batters in high school, college and the minor leagues indicated that the average speed of a hit off the fastest bat used in the study (a metal one) was 93.3 miles per hour, while the average speed off the slowest bat (a wood model) was 86.1 mph. Only 2 percent of hits made with wood bats exceeded 100 mph, but 37 percent made with metal bats broke the 100-mph mark.
Currently, players in the major and minor leagues are required to use wood bats, while most high school and college players hit with metal bats. Introduced in the 1970s as a cost-saving alternative to easily breakable wooden bats, metal bats have helped boost batting statistics tremendously. In 1973, for example, the last year wood bats were used exclusively in NCAA Division I baseball games, teams averaged 5.07 runs per game and 0.42 home runs per game, while pitchers posted a 3.46 earned-run average and hitters a .266 batting average.
By 1998, thanks to continued technological advances in metal bats, college players set new records that still stand today in average runs per game (7.12), home runs per game (1.06), ERA (6.12) and batting average (.306).
Those advances, which largely took place in the mid- to late-1990s, have led to high-profile lawsuits and forced the NCAA and the Amateur Softball Association to tighten their bat standards several times in recent years - moves followed by the NFHS. In 1999, the NCAA changed its rules covering barrel diameter and weight of metal bats in an effort to make them perform more like wood, a move that at least one researcher claims isn't enough. Joseph Crisco of the National Institute for Sports Science and Safety in Providence, R.I., told The Baltimore Sun last April that too many variables are involved to draw solid conclusions about bat safety - how fast a pitcher can get out of a batted ball's way, for example.
Effective this year, the ASA's 2004 bat standard takes into account the belief that a batter's swing speed is more dependent on the distribution of the weight across the length of the bat than just the total weight of the bat. It's also based on what the ASA says is more accurate information regarding swing speed and pitch speed.
In addition to adopting the new ASA standard for interscholastic softball competition, the NFHS also updated its Bat Exit Speed Ratio (BESR) standard last baseball season. All non-wood bats used in high school games are now required to bear the BESR certification mark - ensuring a maximum exit speed of 97 miles per hour, a maximum bat-barrel diameter of 2 5 / 8 inches and a minus-3 differential between the length and weight of the bat. For example, a 33-inchlong bat cannot weigh less than 30 ounces.
Even though Hopkins praises the standard's effectiveness, he admits it's not a panacea. "The BESR standard has slowed balls down," he says. "But that's not going to preclude the risk of getting hurt playing baseball. We will always be watching and monitoring the new bats that come out simply because of the nature of the beast."
With most high school leagues in Massachusetts expected to return to metal bats this spring, opposition to metal at the national level continues.
Last year, the League of Fans, a sports industry watchdog founded by outspoken consumer-rights advocate Ralph Nader, urged the NFHS and the NCAA to either ban metal bats or require them to not exceed the performance of wood. In 2002, a Texas man petitioned the U.S. Consumer Product Safety Commission to issue a rule requiring all non-wood bats to perform like wood bats - a request the CPSC declined, citing a lack of data indicating that metal bats pose an unreasonable risk of injury. And there's speculation that U.S. Senator Peter Fitzgerald (R-Ill.), chairman of the Senate Subcommittee on Consumer Affairs and Product Safety, might hold congressional hearings this year about the safety of metal bats. (Calls to the senator's office for confirmation went unreturned.)
"The bat issue is never going away," Hopkins says. "I wish it would, but it won't. I used to say that if I could get through a baseball season without dealing with the issue of metal vs. wood bats, I'd be lucky. But this is a situation in which we have to constantly keep vigilant."