Within the overwhelmingly successful state games movement, some states have triumphed while others have struggled to keep the flame lit.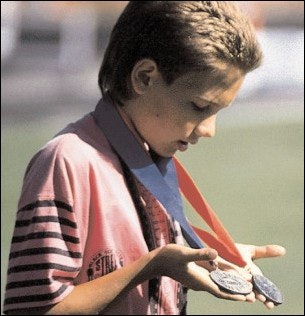 Over the coming months, more than 30,000 New York athletes will take part in regional tournaments hoping to qualify for the Empire State Games. This will be the Games' 20th year; of the 44 states (45 if you count the District of Columbia) that currently hold State Games, New York's has been going on the longest. Yet, as celebrated as "the one that started it all" is, it almost fell by the wayside just six years ago, even as the grassroots movement it spurred continued to make impressive gains nationally in the numbers of athletes participating.
Such is the triumph, and the trouble, surrounding state games. A fairly simple concept - an Olympics-style event run at the state level - it is nonetheless far from simple either to start up or sustain.
State Games got their start when the administration of New York Governor Hugh Carey began annual appropriations of more than $1 million toward the project and gave the Office of Parks, Recreation and Historic Preservation full rein in developing it. It was 1978, a watershed year for amateur athletics that included passage by the U.S. Congress of the Amateur Sports Act, which classified amateur competitions and specified those over which national governing bodies had jurisdiction and those that fell under local amateur sports organization control.
New York's immediate success with the Empire State Games killed other states' wait-and-see attitude, and 1981 saw the introduction of the Bay State Games in Massachusetts and the Keystone State Games in Pennsylvania, followed by a swift expansion that brought the concept to 13 states by 1984, 21 by 1986 and 33 by 1990.
None of these followed New York's blueprint, however. Where the Empire State Games was run by a state recreation agency, others fell under the umbrella of each state's respective Governor's Council on Health, Fitness and Sports or became the property of a local sports commission. Where New York's Games were funded almost entirely by the state, others sought corporate funding, independent grants or individual donations, as well as public subsidy. Where New York insisted it would pick up the tab for its participants, other states instituted entry fees to help defray costs. Where New York's Games moved from place to place every year, others stayed put in a central location, or moved between a limited number of locations on a regular rotation; some put their contracts up for bid as the International Olympic Committee does with its event.
The result: Forty-five takes on the State Games concept, all with significant differences in their administrative structures, marketing plans and fund-raising strategies. Some prosper, and some fight for their lives.
Money Games
The object is inclusiveness - the more participants, the better. This helps State Games administrators meet their stated mission of providing an all-residents, all-ages, all-sports celebration of athletics. A good turnout helps grow sports locally, exciting professionals from parks and recreation departments all the way up to national governing bodies (NGBs). It also feeds the engine that increasingly keeps the Games moving - corporate sponsors.
All states depend on corporate dollars to a certain extent, but so far only two - The First Security Games of New Mexico and The First Security Games of Idaho - have sold naming rights to the event as a whole. Other states are following the lead of the U.S. Olympic movement by requiring host cities to pay a rights fee, a bill that usually ends up being footed by local business interests. For example, Harrisburg, Pa., is paying $100,000 annually to host the Keystone State Games, a figure that Executive Director Owen Costello believes is easily justifiable given the Games' estimated $4 million economic impact on area businesses.
"Fund-raising is so clearly an important component of State Games," says Brian Corcoran, executive director of what will be the inaugural Maine Games in the summer of 1998. "The Games that have really gone through the roof have been the ones that have a director who not only has a good knowledge of the sports administration side - program development - but someone who has a keen marketing sense. You have to develop ways to keep the corporate people happy, since they're the ones who really keep most of these programs afloat."
Wisconsin's Badger State Games is considered by many to be the current standard bearer of State Games, with participation numbers that have risen by 300 percent since retiring Executive Director Otto Breitenbach came on board in 1988. Fully 72 percent of the Games' budget derives from six major and 125 minor corporate sponsors, with the remainder coming from entry fees. Breitenbach says his staff is wary of "selling our souls," but they have typically preferred "consistent" corporate money to state money, which comes in periodically at the whim of the legislature or department of tourism.
"Don't get me wrong, we're very happy to have it," Breitenbach says. "But state funding rises and falls with politicians, so it's good not to rely on it. As it is, our corporate funding is spread across a pretty wide base so that if somebody had to withdraw we're not taking a huge hit that could disrupt the Games. We don't want to get into a New York situation."
Fred Smith, executive director of the Empire State Games, says the worst part of the whole affair wasn't the astounding 90 percent budget cut, but the timing.
"They pretty much eliminated us; I'm sure they felt we were an important program, but I don't think they realized what we needed to make the program work," Smith says. "If they'd given us a year's notice we may have been able to raise the necessary funds, but we found out in March 1991 that our Games in July of that year were only going to receive $180,000, I believe it was, rather than $1.6 million. We were in big trouble."
Rescue came in the form of thousands of supporters from cities all over the state, in addition to city administrators who had an economic stake in the Games. Everyone lobbied their legislators, and many made cash donations to the program. With the active encouragement of then-Governor Mario Cuomo, much of what had been cut was restored.
"It was probably the best thing ever to happen to the program," Smith says. "No matter how many mailings you do to politicians and legislators, no matter how many things you invite them to, there's nothing like a good crisis to get your constituents to take legislators by the lapel and shake them a little bit. More people know about the Empire State Games because of it."
New York isn't the only state to overcome a ruinous financial situation. The Ohio Games, for example, existed as the Ohio Sports Festival between 1989 and 1992, but went bankrupt after the host university foreclosed on it, according to Executive Director Jeff Seifert. "Six months after the event ended that year, the university presented us with a $15,000 bill for facilities, something that management had never negotiated," Seifert says. "We run the Ohio Games in a very similar way to the Festival, we just don't do business with that university anymore."
Colorado has experienced almost constant turmoil since the name "Colorado State Games" was first licensed in 1984. The event debuted in Colorado Springs in 1989, with the Games the property of the Governor's Council for Physical Fitness, which leased the event out to the Colorado Amateur Sports Commission. According to Tom Alison, now the executive director of a separate organization known as the "State Games of Colorado," the original event managers did "a super job," attracting 2,500 to 3,000 participants in the first two years and even coming up with a guaranteed $150,000 to bring in the rock group "Chicago" to headline an outdoor concert as part of the 1990 Games.
"They only made one mistake: They didn't spend $500 on rain insurance," Alison says. "It seldom rains in Denver, but when it does, it rains hard. It started raining at 3 p.m. and didn't stop until midnight, they had to pay 'Chicago' $150,000 and then give back $500,000 in ticket revenue. They went belly-up."
Enter the Colorado Sports Council, which in 1991 lobbied the Governor's Council for the rights to put on the event. They were given a three-year contract, and made good on two successful events in 1993 and 1994. With the State Games beginning to secure a foothold, the Sports Council told the Governor's Council that they were sorry, but they were committed to running the Olympic Festival in 1995, meaning that the State Games would have to wait until 1996. A lawsuit for breach of contract would probably have resulted had not the Colorado State Games' operations director, one of the original licensees, stepped in to announce that the Games would go on as scheduled, with himself serving as executive director.
Unfortunately, the 1995 Games were a disaster, drawing just 500 participants, and the new executive director skipped town on July 1, Alison says, taking the rights to the Colorado State Games name with him. The Governor's Council finally decided they'd had enough of leasing out the Games, and so 1996 saw the birth of the State Games of Colorado, which Alison, a retired schoolteacher, is running out of his house. ("I've just converted one of our children's lines to the State Games phone, just to make it sound like we're in a big office," he says.)
Can these Games succeed where others have failed? Alison thinks so. Last year's event netted nearly 2,000 participants and finished in the black, and 1997 might be the breakthrough year, he says, with between 4,000 and 5,000 athletes competing.
In addition, Alison says, "We have wonderful sponsors. The U.S. West Foundation gives us $10,000, Kinko's gives us $25,000 worth of services, Pepsi-Cola gives us all the pop we can drink, Bruegger's Bagels gives us all the bagels we can eat, Laws Communications gives us 60 hours of public relations time, TCI is making PSAs for us, R.R. Donnelly does 50,000 booklets for us free of charge, and various and sundry others help us, little bit by little bit. Things are looking up."
Competing Interests
State Games, with their focus on participation among as many different groups as possible, differ from Olympic Festivals, which serve only elite athletes. As the Empire State Games' Smith says, "We've had some tremendous athletes go from our Games to national or Olympic teams, but for the vast majority of our kids, this is the highlight of their athletic career."
But State Games interest the USOC and others involved in the Olympic movement, because they grow interest in sports - the "broader the base, the higher the peak" theory.
The two groups have taken their time becoming more closely linked. The National Congress of State Games (NCSG), formed in 1986, became a member of the USOC in 1990 and later landed a spot on its 108-member executive board. Recently, the NCSG's executive director, Tom Osborne, was elected to the USOC's 16-member executive committee.
"We're working real closely with them on several projects," Osborne says. "Eighty percent of our sports are Olympic or Pan American sports, so we're talking about developing a national database of State Games results, so the USOC could identify and give grant money to certain athletes around the country to come to their training center or whatever. The other thing we've discussed is a State Games of America, but we haven't done anything official yet."
The hope of some within the State Games movement is that these two organizations' cooperative efforts will be an example for others to emulate. Because the field of athletics and recreation involves a variety of competing interests - parks and recreation programs, summer sports camps and clinics, and for-profit tournaments - State Games administrators in several states have been rebuffed in their efforts to seek cooperation with other entities.
"More and more so, we're in competition with other tournaments," says Ohio's Seifert. "We compete with the Amateur Athletic Union, other NGBs and programs at colleges and high schools. There are more and more every year, and they often conflict."
Alison calls Colorado "the best-organized athletic state in the nation." The trouble, he says, is that it's segmented. The state's highly regarded municipal recreation centers have their own programs, the youth soccer and softball associations are "locked up tighter than a drum," and the prevailing attitude is not, "What can I do for the State Games." but rather, "What can the State Games do for me." Alison says, "Everybody's built their own little empire."
Doug Finley, executive director of the Great Lakes State Games in Michigan, says his group tried to be sensitive to this when they decided to make the on-again, off-again Games (they'd held them in 1987 and 1992) an annual event beginning in 1995.
"In Michigan's case, we have very strong parks and recreation programs and a lot of tournaments, so we are looking for niches where we're not competing against something that's well-established," Finley says. "We could only be hurt by trying to duplicate what they're doing, and we wouldn't want our strong event to draw away from theirs and affect local economies. That's not really our intent."
North Dakota will hold its 11th Prairie Rose State Games in Minot this summer, and Executive Director Marnie Walth is frankly mystified by reports of parochialism. "We might not have the same problems as other states because we don't have that many events going on," Walth says. "It hasn't been a problem at all."
The Prairie Rose State Games is a non-profit corporation with a board of directors, but is administered through the state parks and recreation department. Walth is a state employee and used to have a dedicated Games staff, but budget cuts have led the corporation to contract out a portion of the management of the Games to a locally based organization in the host city (the Games rotate annually between Bismarck, Grand Forks, Fargo and Minot). Usually, this is the local parks and recreation department, but this year's event is being run through Minot's Convention and Visitors Bureau. Local organizations tend to "take ownership of the Games," as Walth says, and other local groups "stay out of their way." There is usually an annual zoo fund-raiser held in Minot, but this year's organizers bowed out because of scheduling conflicts with Prairie Rose.
Cooperation otherwise depends a lot on the particular group. "The soccer association works with us," Walth says. "They call right away and ask when the games are, and they schedule their tournaments around us. At the same time, we haven't had the greatest cooperation from the softball association. But it's getting better. We just have to keep communicating with each other."
The People's Games
State Games draw their power not from the relative handful of people who organize them, but from the hundreds of thousands who take part each year, as athletes and volunteers. Organizers rely on the help of a vast network of people, from game officials and facility managers to security guards and sports-medicine caregivers - most of whom donate their time or expertise to the effort.
States that move their Games from city to city every year must find new sport commissioners to oversee events, secure different facilities and make new contacts - but there are benefits as well, as Walth notes. "On the positive side, you've got a whole new group of sponsors to hit up and a whole new community to hit up for volunteers," she says.
The prevailing belief is that the Games' rotation is one of the reasons for its popularity throughout North Dakota, whereas keeping the event centralized might make people think of it as "The Bismarck Games."
On the other hand, Madison, Wis., plays host to the Badger State Games every year and draws 24,000 athletes from every county. As its organizers are proud to note, the state's Winter Games, held in Wausau, drew 5,376 competitors last year, more than double the number who competed at the Winter Olympics at Lillehammer in 1994.
"Our secret," the Badger State Games' Breitenbach says, "is the intense desire on the part of the amateur athlete in the state of Wisconsin to be able to compete. It's amateur athletics at its finest."