Schools are starting to tap the potential of online streaming video broadcasts.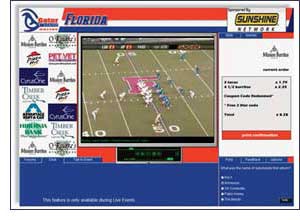 Mike and Sharon King watched as their freshman daughter, Breanne, developed into the University of Florida gymnastics team's Newcomer of the Year last season, eventually earning second-team All-America honors in floor exercise. The Kings couldn't attend Breanne's meets in person, but the residents of North Vancouver, B.C., did the next best thing: They logged on to Gator Vision, the Florida athletic department's online streaming video service.
Entering its second year this month, Gator Vision has provided UF parents, alumni and fans everywhere unprecedented access to nearly 100 live and tape-delayed athletic events involving the school's football, basketball, baseball, softball, soccer, gymnastics and volleyball programs. And those people -- about 100 subscribers so far -- have been appreciative. The Kings, for example, "e-mailed us and thanked us profusely for making the meets available for them. They wouldn't normally be able to see their daughter perform," says Mike Hill, UF's assistant athletic director for external affairs. "We've had great responses from fans all over the world. This is a way for people to connect."
The marketing potential of streaming video is just starting to connect with college athletic departments. That's because the very concept of live streaming video broadcasting is still in its infancy, according to Greg Demetriades, author of the e-book Streaming Media: Building and Implementing a Complete Streaming System (John Wiley & Sons, 2003) and CEO of MSBN Sports Network, which currently provides broadcast web sites, hardware and support to 10 colleges and universities (including Florida), three high schools and USA Wrestling. MSBN piloted its services package at Rice University in 2003, with two new versions emerging since. The latest rollout (the interactive V3, as it's called) came last June at the National Association of Collegiate Directors of Athletics conference in Dallas.
Back in 2001, online audio-only broadcasting began to gain widespread acceptance in the college sports arena after five years of feeling its way through the dark ages of dial-up modems. But with roughly half of all U.S. home Internet users now enjoying a high-speed broadband connection, a market has developed for schools that can merge audio from local radio feeds with video. The video portion is generated via cameras connected to an onsite server, allowing for the broadcast of virtually any sports-related event -- from coaches' shows to press conferences to actual competitions. For sports such as gymnastics that don't enjoy regular radio play-by-play coverage, audio commentary can often be provided by AV students or broadcast journalism majors. "This is grassroots production," Demetriades says.
For sports such as football, which typically must adhere to the parameters of established television contracts, live Internet broadcasts are forbidden. However, replays of football games and any other events can be made available online the next day and indefinitely thereafter, providing fans a TiVo-like experience in which they can watch, pause and even reverse video at their leisure, all by clicking on controls located on a school's broadcast web site.
Athletic conferences are now being targeted, too, with the goal of school A sharing its video feed with visiting school B, while pairing that video with the schools' respective unique audio feeds. "Now fans of school B can watch that event on school B's broadcast site that we've built for them," Demetriades says.
Granted, early Internet production efforts can be crude compared to network TV standards, often with one camera following the ball in a fashion more often associated with game-film footage. But for softball-starved fans living outside their alma mater's home state, it's better than nothing. "People are just thankful to be able to watch," Demetriades says. "It's raw. It's what they would see if they were there."
Once a school gets more comfortable with the production process, it may employ a video switcher and multiple camera operators to enhance game-day coverage. Florida's athletics department video coordinator staffs all events that are broadcast, while another individual manages the content of GatorZone.com (UF's official athletics web site) and Gator Vision. By programming an event through the Gator Vision web site (built by MSBN and linked to GatorZone.com), campus production personnel automatically alert 10,000 servers worldwide as to when that event will take place. The actual audio-video feed is automatically sent once the event begins, with viewers alerted to its availability by the changing color of the time-stamped hypertext link.
Due to staffing limitations and hardware mobility constraints, simultaneous events and even those scheduled back-to-back on the same day but at different venues can make it logistically impossible to please all online subscribers all the time, adds Hill. However, some events -- the sudden announcement of a coach's firing, for example -- lend themselves to the quick-response capabilities afforded by a campus-based production crew.
Demetriades cautions that nudging the system toward its full potential is a process that requires some patience. "Schools kind of tiptoe into it," he says. "By the time the second season rolls around, they're doing some hiring and working out the kinks on their end. It's really not until the second or third season that schools start to figure out how to market this."
First-year revenue is likely to come almost exclusively from subscription sales, which may take the form of all-access passes, sport-specific passes or single-event passes in what amounts to pay per view. Florida's all-access subscription costs $99. A football pass, which includes weekly press conferences and two-minute semiweekly practice updates throughout the season, costs $45, while non-revenue sports such as soccer, volleyball and women's basketball typically run $24.95 each. Individual events are priced between $5 and $10. (Gator Vision's first-year subscription total doesn't take into account pay-per-view purchases.)
What helps set the online viewing experience apart from the standard TV broadcast is interactivity. Fans can participate in real- time forums, polls and contests, and e-mail questions they hope the broadcast team will answer during the game -- all from the same screen. One control tab even allows fans to cheer or boo online. Those who are indifferent about the on-field action can select a video game, such as Pac-Man or Tetris, to play.
Hill admits public acceptance, like production, comes with a learning curve. "Our numbers have been good, but they haven't been overwhelming," he says, adding of the service, "I think people are still discovering it and also trying to overcome their fears of spending money for video streaming. It's not something that the public is 100 percent comfortable with yet." Schools can introduce the service to fans as a premium tied to membership in alumni associations or athletic booster clubs, something Florida is currently exploring, Hill says.
Potential advertisers, too, will have to reach a comfort level with the technology. MSBN Sports Network makes it possible to sell time during online broadcasts -- not unlike radio spots, though an advertiser can choose to have its corporate icon on screen as long as it wants on a cost-per-minute basis. Up to 14 icons can be preprogrammed to appear alongside video in the left-hand margin of the screen, facilitating purchases in the process. For example, clicking on a Pizza Hut icon could automatically produce Pizza Hut's menu on the right-hand side of the screen, allowing fans to place an order online. A Jiffy Lube icon may produce a barcoded coupon for a discounted oil change. Moreover, the coupon can be personalized (thus excluding others from redeeming it). MSBN's product even features a built-in global positioning system that locates the viewer and makes the coupon applicable to store locations in his or her immediate area.
While onscreen advertising has been added to the UF sales inventory, no major advertisers have signed up so far, according to Hill. "I think we're going to need to deliver more significant numbers before they're willing to kick in sponsorship revenue," he adds.
That said, Dodge underwrote the live online broadcasts of Florida's regional baseball appearances in Oklahoma City last spring. "We have had some success," Hill says. "And we do anticipate that advertising will be another stream of revenue for the service in the not-too-distant future."
Recouping the initial investment may take time. MSBN Sports Network charges a $25,000 annual licensing fee, but offers price breaks if an affiliate school is willing to help market the technology. The network also has established revenue-sharing policies involving online ticket sales and advertising. "It's not about the money for the schools; the money is secondary." Demetriades says. "It's about the sheer fact that they want their fans, alumni and parents to be able to watch their sports. It's about promoting the image of the school."
It should be noted that MSBN Sports Network has not cornered the market on sports-related streaming media (mlb.com and espn.com both offer it, for example). In March, cable network College Sports Television purchased the Internet-based Official College Sports Network, and offers streaming video services to more than half of CSTV's 170 affiliate schools, conferences and associations.
It also sells a general access package of online broadcasts not limited to any one school or sport to those fans for whom the coverage of collegiate athletics on network and cable television just isn't enough. Says CSTV spokesperson Eric Handler, "What we're all about, whether it's on-air or online, is finding new ways of using the latest interactive technology to connect college sports fans with college sports."
Indeed, college athletics programs, with their intensely loyal and far-flung fans, lend themselves perfectly to this technology -- at least more so than most major professional sports, which have effectively carved out their television niches. Whether online streaming video broadcasts ever command TV-size audiences remains to be seen.
"We did not have any grand illusion that we would come out of the gates with this new endeavor and sign up 10,000 subscribers, but we do feel that it's the wave of the future," says Hill. "If nothing else right now it's a service for our fans who are comfortable with using the technology that's available to them to watch these events. And it will grow over time into what we think will be a very popular service."