Urban youth sports programs navigate through many obstacles to compete against their suburban peers - from travel logistics to resegregation trends.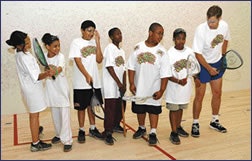 A firestorm of controversy erupted last June when officials representing six Pop Warner football teams from suburban Boston seceded from a conference that included both urban and suburban teams.
According to reports in the Boston Globe, officials with teams from Framingham, Needham- Wellesley, Natick, Norwood, Walpole and Weymouth cited being uncomfortable with "intimidating rap music played at some city games, city teams' brand of hard-hitting football and the safety of some city playing fields." That prompted some inner-city Boston coaches to accuse their suburban counterparts of sugarcoating their true reason for dissolving the Bay State Conference - racism. "We should be able to play anywhere," one city team official told the Globe. "They totally disrespected us."
The suburban coaches refuted that charge, saying they left Pop Warner in part because their teams were at a competitive disadvantage to Boston-based teams, which played under different weight limits.
By September, the dust had settled, as both the urban and suburban groups became affiliated with new football leagues. The suburban teams joined an American Youth Football league in which they played only each other. Meanwhile, the city teams joined a Pop Warner conference that represents a diversity of communities.
But the story doesn't end there - or so says Stephen Pratt, president of Boston After School & Beyond, a public-private partnership aiming to enhance Boston's system of programs that provide out-of-school activities, including youth sports. Citing recent research published by Harvard University's Civil Rights Project claiming that urban and suburban areas are becoming increasingly resegregated (reversing the social advances of the 1950s and '60s), Pratt is concerned about the long-term effect this phenomenon will have on youth sports.
"It's hard enough to get people from different classes and different races to interact constructively on any basis," he says. "I just think that - and I almost hesitate to say this because it rises to cliché - the power of sports allows young people, and ideally, their parents, to interact around something that they hold in common. Perhaps sports do just a little bit to chip away at the whole trend of resegregation in our society."
As coordinator of the Boston Youth Sports Initiative, created in 2003 by Boston After School & Beyond, Chris Lynch is responsible for addressing issues related to travel opportunities for inner-city youth sports participants. Some of that work has focused on establishing opportunities for interaction between urban and suburban youth sports organizations. But the majority of Lynch's efforts involve improving communication among and raising the profile of Boston's more than 150 urban sports programs. "When I came here, we wanted to create a network of youth sports organizations in the city of Boston, connect them to resources and to each other," he says. "There are a lot of great programs, but often there is no or little means by which to get the word out. Kids weren't finding out about them, whether at school, in their neighborhoods, wherever."
The historic disorganization among Boston youth sports programs has contributed to a 9 percent participation rate - the lowest among major American cities, according to Pratt, who says another key factor is to blame. "At the middle school level, there are almost no sports offered within the schools in Boston, versus, say, those in Lexington, which is a relatively affluent suburb of Boston," he says. "There's this real gap in the opportunity to participate that's obviously driven by budgetary issues."
Pratt isn't foolish enough to believe that the crisis is limited to his area. "I have colleagues who are in positions similar to mine in other major American cities who are trying to build a broad strategy for out-of-school time, which includes youth sports," he says.
Of course, it would be great if there were an across-the-board manner in which urban and suburban youth sports programmers could bridge the gaps, real or perceived, that so commonly keep their participants from competing against and interacting with one another. Yet, developing a national strategy for creating such opportunities is more elusive than some might believe. "Each city has its own path to take," says Pratt.
He illustrates his point with a side-by-side comparison of two notable urban centers, Boston and New Orleans, both of which (at least, prior to Hurricane Katrina) boasted populations of around 500,000. The similarities end there, says Pratt, beginning with a New Orleans land area that is five times the size of Boston's. "When you're trying to come up with a strategy for building a youth sports network in, say, New Orleans, if it ever comes back, compared to Boston, there is a very different set of issues that you're talking about - different racial histories, different cultural traditions, different immigrant mixes, different transportation challenges."
With respect to logistical issues, youth sports programmers' focus often shifts to long-distance travel. But while marshaling sufficient resources for road trips to weekend games or tournaments is certainly a major concern of cash-strapped urban youth sports programs, in the end long-distance travel is only one small part of the entire experience. Much more integral to a youth sports program are daily practices, weekly team meetings and seasonal fundraisers.
In the suburbs - where SUVs are the vehicles of choice and soccer moms their drivers - youth sports participants have little trouble regularly attending many, if not all, of these events. But to reach their destinations, urban youth sports participants often rely on their cities' public transportation networks - some of which are more tenuous than others. Thus it helps immensely when the facilities in which inner-city youths train and compete are near their homes and schools.
One such facility in Boston is the Badger-Rosen SquashBusters Center, home of the nonprofit SquashBusters, which serves 250 youths a year by not only teaching middle and high school students from Boston and Cambridge the sport of squash, but also providing them with academic tutoring and opportunities for community service and mentoring.
The 29,000-square-foot Badger-Rosen Center opened on Boston's Northeastern University campus in 2003, thanks in large part to a free 50-year lease on university-donated land. It is located within three miles of two south Boston middle schools - John W. McCormack in Dorchester and James P. Timilty in Roxbury.
As part of a longstanding partnership (a former Timilty principal, for example, serves on SquashBusters' advisory board of directors), SquashBusters members are "recruited" from these two schools. Sixth-graders are first exposed to squash through fall clinics held in the McCormack and Timilty gyms, upon the completion of which they are invited to try out for the SquashBusters team and are given a brochure to take home to their parents. Individuals who receive their parents' permission can then participate in three three-hour tryouts at the Badger-Rosen Center.
Finally, kids who show particular interest in the program are selected by SquashBusters staff to participate on a competitive team. "Our whole goal is to identify kids with a lot of desire, hard work and sportsmanship - not ability on a squash court or academic ability," says SquashBusters founder and executive director Greg Zaff. "After the tryouts, we go back to their teachers to get feedback on their attitudes as students and then pick the team."
Once chosen, SquashBusters members can be involved in the program for as long as seven years, through the end of their high school careers. The middle school program introduces students to the basics of squash and SquashBusters' five key values: respect, concern for others, effort, integrity and appreciation. Once in high school, SquashBusters members are expected to inculcate another core value, mentoring, as they become role models for younger teammates.
These values are taught through community service projects, academics and, of course, sports, as the program's staff holds high expectations regarding attendance, timeliness and preparation through three squash and academic practices per week during the school year. Students train on the squash court for a total of 4 1/2 hours each week.
As they improve their playing skills and become well versed in the rules and strategies of the game, SquashBusters members are sent to compete in matches against Boston-area private schools and in weekend tournaments throughout New England. (The overall cost to SquashBusters members is minimal, as they are asked to make minor contributions toward the purchase of their uniforms and, occasionally, toward tournament fees.) Not only do these traveling opportunities bring a team dynamic to what has traditionally been considered an individual sport, but they also help break down any prejudicial barriers that might have existed between the younger set of the so-called haves and have-nots. "We play all the schools - Groton, Milton, Noble, Belmont Hill, Middlesex - and they come here, too," says Zaff. "It's very much a two-way street."
That type of evenhanded exchange has worked wonders for New Brunswick, N.J.'s PDA Urban Academy - a program co-sponsored since 1999 by the privately run Players Development Academy soccer club and the city of New Brunswick Recreation Department.
The program provides children of New Brunswick and other nearby urban communities the opportunity to enjoy all the benefits of participation in the PDA, one of the most successful travel soccer clubs in the mid-Atlantic region.
Urban Academy participants learn and develop soccer skills from top-notch PDA coaches and trainers, and compete in organized soccer leagues, with the PDA picking up the bulk of the tab. "Most kids in a travel program pay $1,500 a year," says Mike Blackwell, New Brunswick's recreation superintendent. "We only charge kids $50. We realized we needed to charge something so there's a value associated with it. Even with us just charging $50, kids are realizing that, 'Hey, I want to come to practice. I want to come to games.' "
Unlike many competitive soccer programs, the Urban Academy doesn't make many roster cuts, in part because it is run by a municipality. As a result, approximately 240 youths between the ages of 8 and 19 participate annually, playing 10-game schedules each spring and fall.
For inner-city participants, getting to those games has at times proven difficult. "I referee and coach, so I see a lot of soccer programs," says Blackwell. "In the suburbs, you have parents who are stumbling over each other at every game. Everyone's fighting over who's going to be the president of the league, and who's going to work the concessions stand. In the city, we have the opposite. We have a lack of parental support, to the point where sometimes a parent drops the kids off, or the kids walk or ride their own bikes to the program. If the parents work on a Sunday, for instance, we have to scramble around and try to find enough transportation for away games."
If it weren't for the Urban Academy's enviable cadre of volunteers, many of whom are former youth players themselves, the absence of parental support would be more profoundly felt. "The beauty of the program is that now we have U19 players who are coaching and helping out as trainers, just getting in there and motivating kids," says Blackwell. "We have a lot of non-parents, like students from Rutgers, who coach as well. In addition to being coaches or trainers, they become father figures, mother figures to a lot of these kids."
Directly helping alleviate transportation snags is the fact that games are equitably scheduled for fields both suburban and urban. The PDA uses 11 sites within a 15-minute drive of a 15-acre youth sports complex, located in downtown New Brunswick. The facility was built by the city in 2004 with $2.5 million in state and county grants. "Parents from the suburbs bring their kids here to play in our facilities, and they're amazed at how nice they are," says Blackwell.
A bounty of donated goods also has enabled Urban Academy players to proudly take the field opposite their suburban counterparts not as inferiors, but as equals. Uniforms are provided through a Nike sponsorship, soccer balls and T-shirts are donated by New Jersey Youth Soccer, and cleats - though secondhand - are distributed to Urban Academy players in shoe boxes, as if they were brand new. "I feel like Johnny Appleseed, driving around the city in my truck, planting seeds by dropping off with kids soccer balls and cleats donated by the wealthy kids from the PDA," says Blackwell. "Every year Urban Academy kids are getting $100 to $150 pairs of cleats, one year old. They just go crazy over it because it's something they've dreamed about, something they've wanted under the Christmas tree."
But in Blackwell's mind, the greatest gift is the expansion of Urban Academy players' multicultural horizons. "We have the United Nations out there on the field," he says. "We have kids from every country that you could imagine playing, speaking every language. Most of our coaches are bilingual, so they speak Spanish and English, sometimes other languages as well. It's really great to work with kids of different cultures, to pair them up together and break down the cliques. When I run a training session, for instance, we constantly change partners and you end up one time with a kid that's African, Mexican the next, Caucasian, European, whatever. It's really cool to see them on the field, to see them gel like a team."
Such learning experiences - experiences that allow youth sports participants to travel outside their realms to compete against peers from different socioeconomic backgrounds - are what drive Boston After School & Beyond's Pratt. In his own area, he's also encouraged by the resilience of groups like the inner-city Boston youth football teams, which were eventually better off having severed ties with their former conference foes from the suburbs.
"The good news, for the individual Boston-based teams, was that they all landed in another Pop Warner league that was substantially more diverse than the one in which they were playing," he says. "What didn't work out so well are the eight suburban teams that pulled out of that league and landed in an all-suburban league. Just think about kids growing up in a virtually all-white suburb outside of Boston, believing they have no reason or need to interact with people who are different from them. Think about the price we pay as a society for that."