Violence in and around football venues in 2005 has spurred a reexamination of event security.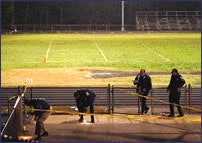 The 2005 high school football season may go down as one of the bloodiest in memory - but not because of what happened on the field. Rather, in the stands and outside stadiums across the country, an unprecedented number of violent incidents left almost a dozen teenagers killed or seriously wounded, forcing a number of different school districts to take drastic measures.
In Florida, police presence was beefed up both inside and outside Miami-Dade County stadiums, with dark areas in parking lots blocked off, after 17-year-old James Lewis was shot and killed in the parking lot of Traz Powell Stadium following an August preseason game between two crosstown rivals.
Then, in September, two people were killed within one week following games in Maryland. Stephone Wiggins, 23, was beaten to death with a miniature baseball bat after a football game in Germantown. A week later, in Silver Spring, a 15-year-old girl was stabbed to death in Blake High School's parking lot. As a result, schools increased police and security presence and urged parents to attend games with their kids to help deter fights.
And in Texas, a small contingent of government officials went so far as to suggest severing the tradition of playing games on Friday nights. The radical proposal to move games to Saturday mornings and afternoons came in the wake of the Oct. 7 murder of 17-year-old Jason Paul Martin, who was shot in the head in the parking lot of a Richardson shopping mall during a confrontation that began at a Dallas football game earlier that evening.
Texas Sen. Royce West (D-Dallas) helped squelch talk of Saturday games when he formed "It's About Our Community," a Dallas County pilot program involving schools, police departments and local business owners designed to create a unified approach to keeping school environments safe - including tentative plans to create or expand Crime Stoppers programs at schools and hold weekly intelligence-sharing meetings between school-district security officers and local law-enforcement officials.
All told, there were at least 31 violent incidents in 18 states related to high school football games last fall. That's up from 21 in 2004 and 9 in 2003. By late November, the number of injuries from the 2005 incidents stood at 33, with four deaths.
While most of the violence has occurred before, after or outside of the games - school and police officials in Maryland say they do not believe fights there were gang-related or had anything to do with football games - the incidents suggest that increased attention to security may be needed at some interscholastic athletic events. "The real issue isn't which side of the property line the body falls on," says Ken Trump, president of the Cleveland-based consultancy National School Safety and Security Servicesr. "The fact is that people are getting hurt and even killed when going to and coming from high school football games."
The Niagara Falls City School District didn't leave anything to chance after police arrested a 16-year-old carrying a loaded .32-caliber handgun in the rest room of Sal Maglie Stadium during a Sept. 30 game. Security was subsequently increased in and around the venue for the school's home finale on Oct. 7. High school students were required to show their ID cards to get into the stadium, middle school students were only admitted when accompanied by an adult, and all students were subjected to metal-detector tests and pat-downs - similar to the controversial security measures implemented by the National Football League in its stadiums this season.
Using metal detectors and conducting body searches are perfectly acceptable ways to curb violence, Trump says. Provided school administrators explain why spectators and community members might be subjected to such precautions, people will most likely understand. In late October, metal detector searches led to the arrest of four men between the ages of 18 and 23 who were attempting to carry guns into the stadium at Whites Creek High School in Nashville.
Besides developing policies that give school and law-enforcement officials the right to search spectators when they enter a venue, Trump suggests schools develop additional practical and well thought-out strategies for reducing security risks at sporting events, especially football games. Starting now, he adds, can ensure that new security measures are built into budgets for the 2006-07 school year. "Athletic event security planning involves more than somebody saying on Wednesday, `We need a couple of cops for Friday night's game,'" Trump says. "That really tends to be the extent of the planning at some schools."
Among his recommendations: Deploy police, school security personnel, school staff and parent volunteers to patrol ticket gates, perimeter entrances and exits, parking lots, rest rooms, concessions stands, seating areas and the playing field perimeter. Give staff members a primer on monitoring crowds, teach them procedures for handling fights and defusing tense situations, and regularly review emergency and facility evacuation guidelines with them. Make sure all school employees working sporting events are equipped with two-way radios. Limit carry-in items, enforce a no-readmission policy for fans who leave the game early, and stop ticket sales at a designated time (such as the beginning of the third quarter). Also consider not allowing cars to enter school-owned parking lots after a specific time. Use police to escort money collectors from ticket booths and concessions stands. Require team buses to pick up and drop off players and fans at opposite sides of the playing field to avoid interaction before and after games. If possible, operate separate concessions stands on both sides of the field. Block off sections of the school building and campus not used for the actual athletic event. Consider installing surveillance cameras in admissions and concessions areas, as well as in stands and parking lots, and hire staff members to videotape activities in the stands. Also, evaluate the effectiveness of venue, parking lot and perimeter lighting. Require game announcers to provide regular reminders of the schools' expectations for sportsmanlike behavior, and train them how to effectively communicate with the crowd in tense or emergency situations.
More drastic measures in some communities involve starting evening football games as early as 5 p.m. or playing them in the afternoon - which likely prevents most working parents from attending and thus leads to deep cuts in gate receipts.
"While there may be financial and political costs for doing something, there are also costs for doing nothing - loss of life, injuries, property damage, shattered school image and legal liabilities," Trump says, adding that football games attract people who would not be welcome if they ventured onto school property during the day. "That means you're not only getting students, parents and families from both schools, but also gang members, drug dealers and sexual predators. Anybody who pays for a ticket can walk through that gate."