Secondary ticketing solutions are helping athletic departments generate revenue and reward loyalty.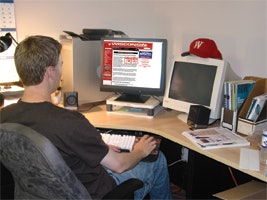 the University of Miami is piloting a program that parlays unused premium ticket inventory into a subtle sales pitch. Fans identified as particularly fervent supporters of Hurricanes football are offered single-game seats in desirable sections of the Orange Bowl in the hope that they will one day upgrade their own season tickets.
"It's looking at customer loyalty and saying, `Here's somebody who's been with us for six years in another location. Perhaps they would enjoy sitting in the fifth row, 50 yard line for a particular game,' " says Brian Simpson, regional sales manager at DataMentors, the company that assembled the database that allows Miami to track not only an individual's ticket-buying history, but all other purchases benefiting the athletic department made by his or her household. "It makes sense to engage your existing fans to see if you can cross-sell them, move them up and get that revenue stream from $200 a year to $300," Simpson adds. "And if you can do that with 2,000 or 3,000 people, it adds significant revenue to the whole picture."
An increasing number of colleges and universities are getting a clear picture of how the secondary ticket market can reward loyalty while increasing revenue. "Pro sports teams were the first to adopt venue-based offerings for secondary marketing, and college athletics is just now really proving the concept," says Shaw Taylor, marketing director at ticketing software provider Paciolan. "Some of the early schools rolled it out and realized success, and now others are realizing there are proven benefits."
Paciolan, which provides ticketing software solutions to nearly 100 colleges and universities, last year began to promote its secondary ticketing program in earnest. "They provide us with the software and enable us to sell tickets in the manner that we want to," says Corbin Hunt, director of ticketing at the University of Wisconsin, one of roughly 20 schools that have launched online secondary marketplaces using the Paciolan system.
This quasi-proprietary paradigm allows the UW athletic department to determine the cut it will take from each ticket sale transacted on its site - currently 15 percent of the sale price, plus a 15 percent commission from the buyer. Still, after debuting the system last November, Wisconsin didn't witness a massive movement of secondhand tickets on its site. Ticket holders sold 531 men's basketball tickets and a mere 228 for men's ice hockey. (Football will join the secondary marketplace mix this fall.) "The good news about that is people are using their seats, which is really what we want them to do," Hunt says. "I would not say we have made a lot of money off this. It's really a loyalty thing."
In fact, Wisconsin is targeting the most loyal among its season-ticket base. Only those individuals who have made a minimum annual donation of $50 to the athletic department's Badger Fund are permitted to buy and sell their season tickets through the UW site. While that may limit potential transactions, it has at least served to cultivate new donors. According to Hunt, the Badger Fund family grew by roughly 140 members last year as a direct result of the ticket marketplace.
Meanwhile, StubHub.com, which facilitated $200 million in sales of sports and cultural tickets last year, offers what it considers a simpler solution for universities. Instead of encouraging schools to build their own marketplaces, StubHub enters into an exclusive sponsorship agreement with each school. The company, which currently boasts 10 collegiate partners, pays the school an annual lump sum up front in exchange for a banner ad on the athletic department's web site that links an unlimited number of buyers and sellers, even brokers, to that school's available ticket inventory at StubHub.com. As the middleman in each transaction, StubHub collects a 10 percent fee from the buyer, as well as 15 percent of the final sale price. StubHub is also likely to negotiate for itself venue signage, broadcast spots and in-game promotions, as well as season-ticket-holder contact information for use at the company's direct-marketing discretion.
In turn, each school receives guaranteed revenue, "regardless of how their team performs," says Sean Pate, StubHub's public relations director, adding that five-year StubHub partnerships are now the norm. (In the middle of such an agreement, the University of Southern California currently receives an annual payment from StubHub in the five-figure range, Pate says.)
StubHub places no restrictions on sale price, but competition among sellers almost always ensures a fair price for would-be buyers. Says Pate, who estimates that 95 percent of StubHub's tickets are listed at a fixed price, "There are hundreds of tickets for any given football or basketball game on StubHub, and you will always find somebody who's willing to sell at a lower price than somebody else."
But who serves ticket holders who wish to test the open market? Several Paciolan schools, at least those in states with favorable scalping laws, are considering lifting face-value price restrictions from their respective secondary marketplaces, allowing sellers to seek fair-market value online through the university rather than on the streets outside its athletics venues. "We have a state law that has just been changed regarding the resale of tickets," says Brian Broussard, ticket manager at Louisiana State University. "Up until this past season it was basically face value, no higher. Now, anything that is sold on the Internet can be sold for any price. It's up to the venue. We haven't made a determination yet, but we're definitely considering it."
It's a decision that doesn't come easy for some schools, and understandably so, since lifting price caps may appear tantamount to placing the university's stamp of approval on ticket scalping. Nonetheless, high demand could equate to higher revenues for certain athletic departments. Hunt says that once men's basketball tickets were posted on the UW marketplace last season, they were "gone in minutes," and Broussard reports that all of the roughly 1,000 student football tickets offered on LSU's site were likewise snapped up. "Not one ticket went unsold," he says.
Some schools are taking the moneymaking potential of the secondary marketplace even further. At the University of Oklahoma, for example, would-be buyers must first purchase a membership to the secondary ticket marketplace if they hope to do business there. "Clearly, that's only going to work if you have extraordinarily high demand from the local base," says Taylor. "But in places like Oklahoma, it can be done."
More university athletic departments are expected to get their arms around the secondary ticket market as it becomes increasingly mainstream. Those that already have are starting to get the word out. In June, Paciolan unveiled the Ticket Marketplace Blueprint Program, a means by which schools can more effectively promote their secondary ticketing initiatives. At LSU, for example, venue graphics touting the school's secondary ticketing marketplace tell visitors, "Only you can prevent empty seats."
StubHub's Pate anticipates that college sports fans will continue to get the message. "There is a little bit of a stigma that comes with reselling," he admits. "But as more members of the public come to understand that this is not about gouging fans, the more people will realize that it's about making tickets available and giving people options to sell tickets aside from putting them up on their office bulletin board. Ten years from now, resale is going to be just like having a used-car lot down the street. It will be completely commonplace."