Recreational use of a historic national battlefield park has Civil War buffs up in arms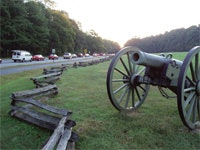 During the Battle of Kennesaw Mountain on June 27, 1864, the opposing armies of Gens. William Tecumseh Sherman and Joseph Eggleston Johnston clashed at this heavily forested location 25 miles northwest of Atlanta.
Then, the boots of 100,000 Union troops - accompanied by thousands of horses and artillery and supply wagons - treaded on primitive dirt roads during their futile assault on an entrenched Confederate army of 65,000 soldiers. Today, Kennesaw Mountain is a national battlefield park managed by the National Park Service, but even now its historic trails are being trampled to the point that superintendent Dan Brown fears their destruction may be imminent.
According to Brown, the 2,888-acre park is the single-largest public greenspace in the 17-county Atlanta metro area, and as such is popular among Civil War buffs and outdoor recreation enthusiasts alike. The latter group particularly enjoys the park's 21 miles of meandering wooded trails, which offer ideal training conditions for the two dozen or so local cross-country teams that frequent the park. Yet the teams' everyday presence has not only wreaked havoc on the trails themselves, it has also reawakened the fighting spirit of those visitors who believe Kennesaw Mountain should not be used as a racecourse.
"It's a matter of perspective," says Brown. "For some people, if they can go a short distance down the trail and not get run into by anybody, it's not crowded. For other people who come here for a true commemorative experience - expecting peace and quiet and to be able to contemplate in some of the historic fields where the battles took place - when they have 30 people come thundering by, and then five minutes later another 30 people come thundering by, to them it's crowded. We're getting complaints from the general public that they show up and can't access the park because, from their perspective, it's been taken over by athletic teams."
If it's hard to imagine Kennesaw Mountain not being large enough to accommodate all types of users, consider this: "The busiest long-distance trail system in the country is the Appalachian Trail. It's 2,100 miles long, give or take," says Brown. "Our trail system is one one-hundredth that length. The Appalachian Trail gets two million users a year. We get more than a million. We are under siege."
As principal mediator between the two central groups contesting rights-of-way to Kennesaw Mountain's trails, Brown has had to pick his battles in an attempt to broker a compromise. And he's tried his best to see both sides of the issue. "At this point in time, I think it would be very difficult to try to return to the original purpose of the park," he says, acknowledging Kennesaw Mountain's incredible recreational value to a metro population of five million. But then Brown points out that despite its status as the second-busiest U.S. battlefield park behind Gettysburg, Kennesaw Mountain doesn't seem to garner nearly as much deference from the general public. "If you go to Gettysburg, you will not see any track teams training in the park where Pickett's Charge took place, or at Antietam, where Bloody Lane is."
Respect has been a central theme in the debate over the use of Kennesaw Mountain. Brown doesn't doubt that cross-country runners respect the park's historical significance. But he cringes when he hears reports of them warming up at Cheatham Hill, one of three preserved battlefields and the site of the battle's heaviest fighting (2,400 casualties were sustained there in a violent 20-minute skirmish, which quickly gave way to hand-to-hand combat). "That's one of the favorite places for the track teams to stretch and run," Brown says, "and there are people still buried there."
It was with such gripping detail that Brown discussed with concerned patrons the future use of Kennesaw Mountain park at a meeting he called in late July. With nearly 50 attendees present, including cross-country coaches from about 10 local high schools and several colleges and universities, Brown read comments his office had received from park visitors unhappy about the trail runners. "I read some of the letters and e-mails so they would have some degree of understanding that others have a different perspective than they do about the park," he says, chuckling at the coaches' initial response. "Generally, the consensus was, 'We don't see a problem.' "
But as the meeting continued and dialogue opened between opposing interest groups, a broader accord was reached. Brown laid out a plan to issue special-use permits to cross-country teams. At a minimal cost of $100 a year ("Nobody flinched when I mentioned the $100," Brown notes), teams will be allowed to continue using the park for the majority of their practices. However, the permits will also enable Brown and his staff to forbid the use of certain areas, like Cheatham Hill, and retain oversight of teams' activities in the park. "We can attach certain conditions to the permit," he says. "The process will enable us to identify certain days of the week, for example, for which we won't issue permits - like Saturday, when the place is just overrun with visitors and there's no place to park anyway. And it'll enable us to spread the usage out to different locations in the park, days of the week and times of the day."
Of course, most of the cross-country teams that use the park do so at the same times on the same days - Brown says it's not uncommon to see five or six teams of 30 to 50 student-athletes on the trails on a weekday afternoon - meaning that some will undoubtedly be disappointed with the schedules they're given.
But the time has long since passed when Kennesaw Mountain's trails reached capacity. "We made it very clear at the start of the meeting that at this point the National Park Service is not intending to eliminate running from the park, but we do have to manage it," Brown says. "The park is simply not going to be able to meet all of the demand that the running teams and clubs are placing on it and still be open to the public. For some of their running, they'll have to find other locations. We know that's a challenge, but they're going to have to look and we'll help them to the degree that we can."