A new coaching education program launches in January, targeting more individuals than ever.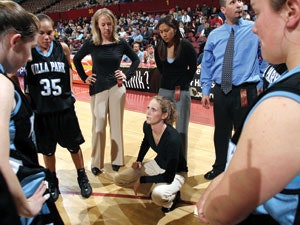 In today's world of interscholastic sports, one high school freshmen football coach promising victory over the opposing team's coach in a bit of face-to-face pregame trash talk barely registers. But such an incident before two Deer Valley Unified School District teams met earlier this season in Phoenix, Ariz., was a large enough red flag to catch Bill Gahn's attention.
"I think he could have been joking," Gahn, Deer Valley USD's athletic director, says about the coach's comment. "But his team went on to win 28-0. And after the game, his players were pointing at the scoreboard as if to say, 'Look what we did.' We don't expect that from our coaches or our players, and it's not acceptable."
The incident served to underscore within the district Gahn's position that a dire need exists for improved sportsmanship among competing schools, an integral component of a new $500,000 coaching education program developed by the National Federation of State High School Associations. The program is set to debut in at least 15 states on Jan. 1. Deer Valley USD was among five sites where NFHS administrators conducted daylong pilot programs this year, soliciting input and criticism from 14 new and veteran coaches at the middle and high school levels.
After a 15-year partnership that trained hundreds of thousands of coaches, the NFHS and the American Sport Education Program will now offer their own individual courses. State associations and school districts will have the option to choose either the federation's new "Fundamentals of Coaching" course or ASEP's "Coaching Principles" course (or both). Each teaches communication, management and motivational skills, but the National Federation's course also will include single-focus modules on such topics as teambuilding alternatives to hazing, sexual harassment avoidance and the importance of hydration from which coaches can glean critical information in about 30 minutes.
Additionally, the NFHS recently launched an online-only Sport Safety Course developed by the American Red Cross and the United States Olympic Committee exclusively for high school coaches. (ASEP, the leading provider of youth, high school and elite-level education programs, will continue to offer two NFHS-sponsored online courses for sports officials.)
The NFHS/ASEP partnership provided education and first-aid training to between 16,000 and 25,000 coaches every year - depending on which organization you ask - either in classroom or online environments. "If you're licking stamps, that would be a lot," says Tim Flannery, the federation's coaching education specialist. "But in relation to the number of interscholastic coaches out there - we estimate that there are approximately one million - it's a very small percentage. We need to train 200,000 coaches a year."
The National Federation doesn't mandate coaching education, but at least 37 states already have some training requirement in place for coaches - even if it's as informal as inviting a doctor to chat with coaches about sports medicine for three hours. Flannery estimates that at least 33 state associations could be using the NFHS program by next fall, but other state associations plan to stay with ASEP's courses.
"We haven't missed a beat," says Mark Allemand, marketing director for ASEP, which recently inked coaching education deals with the Babe Ruth League and Ripken Baseball Inc. "We certainly welcome the competition and are excited that they want to train more coaches. In fact, I would envision states offering both courses."
Flannery says that many state associations, school districts, athletic directors and coaches are pleased with ASEP's offerings. Nevertheless, NFHS officials are convinced that programs designed specifically for interscholastic coaches are needed to "change the culture" of coaching.
That's why the new "Fundamentals of Coaching" course will seek to cover material from what Flannery calls a "school-based approach" - something ASEP was unable to do with its generalized curriculum for coaches in high school, club, youth sports and collegiate settings. "Fundamentals of Coaching" will cover, for example, the challenges and rewards of working in a school environment, the mission of school-based sports and how to effectively work with athletic directors and principals.
Those are lessons coaches clearly need. At Kingsway Regional High School in Woolwich Township, N.J., head varsity boys' soccer coach Carl Heil was fired last summer after the school board received several complaints about him berating players for mistakes, benching them for being too short, scolding officials and yanking a player off the field while celebrating a goal. Heil, who took his team to the South Jersey playoff semifinals three of his four years at Kingsway, then complained to the Philadelphia Inquirer. "Do they want a winning program, or do they just want a happy team?" he asked a reporter in July. "My goal has always been to put on a successful program first, and the kids are second - a close second."
Those priorities clearly don't mesh with today's coaching education movement, but convincing coaches to always put kids first becomes a greater challenge when a coach doesn't work at school, as was the case with Heil. That's why Gahn, who coached prep football for 28 years, thinks the National Federation's school-based approach will help. "One of the concerns we have is that more coaches now come from off campus and don't teach in the district," he says. "When I started coaching back in the '70s, I hardly saw that. Now I would say that up to half of our coaches come from off campus. When we have a teacher as a coach, we expect a higher standard of professionalism, and it is part of that person's job-performance evaluation. I'm not saying we can't get professional people from off campus, but this new program will help us to better help them. And it will make our profession more of a profession."
Flannery spent much of the fall introducing the National Federation's new program to state associations throughout the country. "Make no mistake about it, we're going to be compared to ASEP," he says. "But I think we're going to create a groundswell for coaching education. After all, there is an expectation that when coaches sign a contract they will know what they're doing."
It's an expectation ASEP and NFHS will now strive to fill separately, each following its own path toward the same goal. "There's only a small percentage of coaches out there who are being trained," Allemand says. "In the end, we're just interested in getting more coaches trained, because that's only going to benefit the athletes."