Gameday promotions literally provide value-added fan experiences.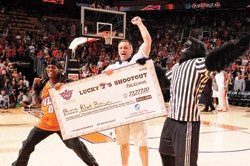 UNDERHANDED, OVERJOYED
Rhett Brown banked $77,777 after swishing his unorthodox shot from half court.
C
onventional wisdom among promotions professionals holds that games of chance staged during athletic events don't do much to drive ticket sales, but rather add value to the fan experience. For the lucky fan, the value added can be quite tangible.
Consider the case of Rhett Brown, who gambled and won during a casino-sponsored promotion staged Feb. 27 by the Phoenix Suns. At certain home games, select fans at US Airways Center are given the option of attempting a free throw, a three-point shot or a half-court shot, with the payout for hitting the chosen shot escalating from $777 to $7,777 to $77,777. Like most contestants, Brown laid it all on the division line. Unlike most contestants, though, his shot - a 43-foot, underhanded heave from between his knees - went in. An elated Brown promptly sprinted around the court, hugging everyone from the check presenter to the Suns' Gorilla mascot.
Cary Stolarczyk didn't have to leave his seat in the United Center's Section 326 to see his life change in an instant. When the Chicago Blackawks' Martin Havlat scored the home team's only goal in a Jan. 19 loss to Minnesota precisely at the midpoint of the second period, Stolarczyk netted $1 million. "This stuff doesn't happen to people, ever," the first-time season-ticket holder hyperbolized before the media two days later.
In reality, it took a mere three home games to produce a winner in the "Illinois Lottery Million Dollar Minute," a promotion that the lottery and the Blackhawks agreed to let ride for the remainder of the 2008-09 season. "When you set up a promotion like that, there's a chance someone's going to win," says Adam Rogowin, media-relations coordinator for the Blackhawks. "Did we expect it to happen in the third game? No. But we're thrilled that it happened."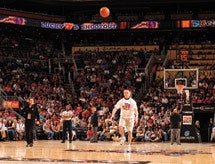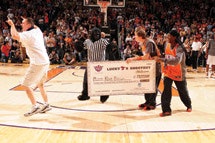 Perhaps no promotion has produced more public relations mileage - or should that be yardage? - than the one involving the unpredictable tale of college student Matt Williams. Selected at random to attempt a 30-yard placekick between the third and fourth quarters at a Texas Tech University football game in September, Williams got sufficient leg into the ball to catch the attention of head coach Mike Leach, who dispatched an assistant on the spot to set up a meeting with the contest winner. Williams, a Tarleton State transfer who had toyed with the idea of trying out for the Red Raiders last spring, was offered a roster position on the then-11th-ranked team in the nation. He finished the season having converted all 29 of his point-after-touchdown attempts and two of his three field goal tries.
Oh, and the prize for nailing that first 30-yarder in street clothes? Free off-campus housing, courtesy of Lubbock property management company Lynnwood Townhomes, though eligibility rules forced Williams to decline the perk once he joined the team. And as incredible as the Williams story is, rent-winning kicks aren't all that uncommon at Tech. According to Garrett Tressler, the athletic department's assistant director of marketing and promotions, two students nailed their attempts in 2006, and another one did so after Williams last fall - four makes in 19 tries over three years.
Can winning be contagious from contestant to team? Who's to say it can't? UCLA trailed Oregon State by six points at halftime of a February 2006 men's basketball game when Bruins players heard the roar of the crowd from their locker room seats. Jesse Megares had just banked in a half-court shot to complete a 30-second circuit that included a lay-up, free throw and three-pointer, earning the student a year of free tuition. UCLA players took the floor, went on a 52-38 second-half run and won the game pulling away. "It adds some buzz. It's a nice way to keep energy in the building at halftime," says UCLA assistant director of marketing Ryan Eklund of the Super Shot contest, adding that fans are the consistent winners. "A marketer would ideally hope that an on-court promotion drives attendance. I honestly don't think that's the case. I think it's primarily just a great way to add game-day value."
For some more than others.