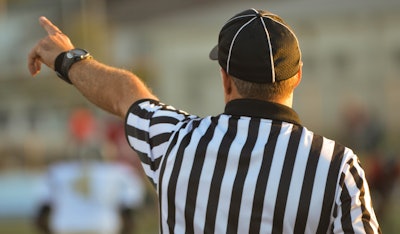 File Photo/Unsplash
The rest of the season is at risk of being canceled for a high school varsity girls' lacrosse team in Oak Bluffs, Mass., because of a lack of game officials.
The Martha's Vineyard Regional Vineyarders are 4-4 and the team was looking forward to a home game Tuesday against Saint John Paul II. Athletic director Mark McCarthy told the team at the end of practice Monday that their next game was canceled because they didn't have a referee for it, the Vineyard Gazette reported Tuesday.
The rest of the Vineyarders' season is also in jeopardy.
"It's a problem all across the state, lack of referees, nationwide in fact," McCarthy told the Vineyard Gazette. "And girls lacrosse is being hit the hardest."
The team has nine games left in the season, but only referees to cover three of them. A home game on Thursday with Sturgis West remains questionable.
"I'm still working on it," McCarthy said.
Head coach Lacey Dinning told the newspaper he is frustrated.
"It's really unfortunate," she said. "I understand there is a lack of refs but they should have done something about this before our season started, not in the middle of the season."
According to McCarthy, all sports are facing a shortage as older officials retire, but because girls lacrosse is a more recent sport, there isn't as big a pool of alumni stepping up to fill the spots.
"You don't have that deep a number of people who have played the sport, and only a small percent of players end up becoming referees," McCarthy said.
The boys lacrosse season is not affected thus far, McCarthy confirmed.
"They are completely different games, with different rules, and so a boys lacrosse official can't work a girls game," he said.
No girls lacrosse referees live on the Island.
McCarthy told the Vineyard Gazette that referees for spring sports are paid $93 for a varsity game and $69 for a junior varsity game.
"We usually have two officials come over and each do two games to make it worthwhile," McCarthy said. "But because they are in such high demand, a referee coming from New Bedford could more easily do a game in Old Rochester just down the road."
McCarthy and other athletic directors in the league are making calls attempting to maximize off-Island game opportunities, and aiming to have on-Island games on the weekend, which are more likely to attract a potential referee.
"I'm on the phone every day trying to make this work," he told the Gazette. "But we have SATs this Saturday, so that is out for a home game, and in two weeks it's prom, so that is out."
McCarthy said he didn't think there would be Title IX issues if the season were canceled due to referee shortage.
"We are all doing everything we can," he said. "And if May 27 rolls around and there are still teams who haven't been able to complete their seasons, the state will have to figure out what to do."
In the meantime the players are the ones who suffer, Dinning said, as reported by the Gazette.
"It is really upsetting that it seems like most of our games from now on will be played off-Island," she said. "It's hard to travel a lot for games and I'm worried they will get burned out with all the end of year school work and all the away games. Hopefully, they can figure out a way to accommodate everyone."