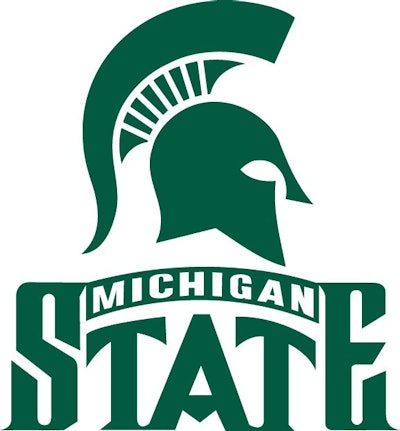 In the wake of a return-to-play controversy during its first football game of the season, Michigan State University has announced it will rely more heavily on game video in assessing injuries moving forward.
As reported by The Detroit News, wide receiver Alante Brown was injured on the opening play of Friday's season-opening game against Central Michigan, with video replays from the broadcast showing him falling to the ground with his arms in a "fencing" position, consistent with a brain injury. Medical staff attended to Brown on the field and placed him on a backboard before he was carted off through the tunnel. Later in the first half, Brown returned to the game and returned a kick 16 yards. He did not play in the second half.
After the game and on Monday, Spartans coach Mel Tucker said all decisions to play Brown were medical decisions and that he had faith in Michigan State's medical staff.
The move to allow Brown to play drew immediate criticism, and this week, Michigan State athletic director Alan Haller requested an evaluation of what took place, Matt Charboneau of the News reported, adding that the evaluation was conducted by Michigan State director of athletic medicine Dr. Jeff Kovan, who is not part of the on-site medical staff during football games.
Kovan said Brown passed multiple tests but before halftime, video of the incident had not been made available to the medical staff. Kovan's statement explaining the evaluation:
Following Friday night's game, I conducted an inquiry of the events around Alante Brown's injury, subsequent return to the game, and eventual medical removal from the contest. I analyzed the actions and verbal statements from all involved members of the sports medicine staff to ensure accuracy and consistency.
Initial on-field evaluation of Brown's injury included a head and neck screen, which prompted spine boarding and precautionary removal to the tunnel. Per all reports, none of the Athletic training staff or physician medical staff had direct vision of the injury when it occurred. Evaluation in the tunnel, while still on the spine board, was negative relative to a neck injury, neurological injury or concussion. Subsequent x-rays were performed in the stadium and were also negative. Repeat examination (for neck injury, neurological injury and concussion) after x-ray continued to be negative. Based on interviews, an isolated replay of the injury was not part of initial sideline video review.
Based on the negative clinical examination and x-ray, activity progression occurred on an exercise bike on the sideline and Brown remained asymptomatic and therefore was allowed to return to play.
At halftime, an additional detailed neurological and concussion examination remained negative. At that time, sports medicine staff were able to view the isolated television copy replay of the initial injury. Based on what was viewed, a decision was made to withhold Brown from further play despite continuing to have normal examination for precautionary reasons.
The following morning, Brown displayed mild concussive symptoms on his repeat examinations. He's currently doing well and progressing through concussion protocol.
Moving forward, we will expand our use of video access as a tool to assist our healthcare providers in evaluating injuries and potential return to play.