Some fans of professional football are profiting not just by selling their seat licenses, but also their PSL wait-list positions.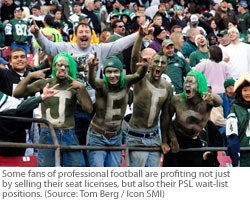 We know that professional sports teams are bullish about personal seat licenses. It's also clear that a lot of people - fans, as well as some prominent fan advocates - think they're a bunch of bull. In the New York metropolitan area, as a new stadium rises from the Meadowlands swamp that will be home to the NFL's Giants and Jets, simmering resentment is the order of the day, with the pot stirred regularly by The New York Post's cranky sports columnist, Phil Mushnick.
Mushnick has had a field day with NFL commissioner Roger Goodell's oft-repeated assertion that PSLs are "good investments" for PSL holders. "How so?" Mushnick asked last November. "They're not open-ended; one doesn't own a PSL for perpetuity. They last only as long as the new stadium does 'in its current configuration,' therefore the PSLs are leased, not owned. As those versed in real estate will tell you, ultimately the value of leased property increases only for the owner of the property, not for the party paying the lease. One can't sell their PSL at a profit as its expiration grows nearer."
Not true. There is, in fact, ample evidence that PSL investors may indeed make a killing on their holdings, assuming the current economic climate doesn't kill market demand for good. Kevin Frattura, vice president of sales at Giants Stadium LLC, told the New York Daily News (the Post's rival tabloid) that seat holders will be able to sell their PSLs with the Giants or Jets serving as an intermediary ("to facilitate the transaction through the appropriate paperwork," Frattura said) after March 2011. Although the prices - each team has its own price structure, but PSLs range from around $1,000 per seat to roughly $25,000 per seat - doubtless seem high to fans, Kyle Burks, founder of seasonticketrights.com, told the Wall Street Journal this spring that the Giants, at least, had priced their PSLs "below market value" in order to sell them out. "So," the Journal concluded, "a Giants PSL holder could expect to sell at a hefty profit, especially within the first five to 10 years."
It is hard to say with any certainty, however, how those expectations mesh with post-meltdown realities. After the Jets put the best 2,000 seats in the stadium up for auction, only 620 PSLs were purchased, averaging $26,000 per seat (the first two seat licenses sold, in the first row behind the Jets sideline on the 50-yard-line, fetched a record $200,000 each from a mortgage broker). The Giants, meanwhile, had greater overall success. Starting in July 2008 with a 20-year-old waiting list of more than 140,000 names, the team worked through the list until it had sold out its 70,000-plus, non-club PSL inventory. Still-vacant seats in the Coach's Club and Mezzanine Clubs were to be offered to the remaining 93,000 wait-listed fans.
The Jets' auction prospectus specifies that each buyer "represents, warrants and agrees that it is acquiring its license hereunder for its own use and not as an investment or with a view to the distribution or relicense thereof or of tickets to others, and has no expectation of profit." Nevertheless, fans in other locales have profited from the sale of their PSLs. Fans of the Carolina Panthers, the NFL's first seller of PSLs, are currently selling licenses that originally cost between $600 and $5,400 each for $3,000 to $20,000 on eBay. And in Baltimore, fans of the Ravens are profiting not just by selling their PSLs but also their PSL waiting-list positions, as a June 25 report in the Baltimore Sun made clear.
Since selling out its 3,000-person waiting list (limited to 3,000 positions in order to sustain value), the Ravens and the team's Houston-based online broker, STR Marketplace, have noted PSL-holders' profits on waiting-list positions - a place on the list costs $50 plus an annual $25 fee, both of which are applied to the eventual PSL purchase - ranging from $125 to an eye-popping $2,225.
Ravens PSLs were originally sold for $250 to $3,000 each prior to the opening of M&T Bank Stadium in 1998, and the team now charges roughly triple that ($750 to $8,000). The Sun shared the stories of fans such as Jim Daly, whose $2,800 outlay for six seats a little more than a decade ago fetched $13,000 earlier this year - a 464 percent profit. Two couples from northern Maryland told of forming a side business to manage their NFL investments, which included $100,000 in Ravens PSLs and $100,000 in Philadelphia Eagles PSLs, while another fan doubled her initial $5,000 investment and applied the profits toward four new seats.
STR Marketplace's president, Kyle Burks, told the Sun that the typical NFL team's PSL prices have doubled or tripled in value since being introduced, with the biggest gains not surprisingly coming from "conservative, high-demand teams like the Bears and Steelers." While the average Ravens PSL price has tripled, Pittsburgh's PSLs are worth nearly 10 times more today at $10,400 than when first offered in 1998, according to STR Marketplace.
But before you take the equity out of your house and invest in NFL futures, keep in mind two salient points. First, the purchase of a PSL necessitates annual renewal of the team's season-ticket package. (For Baltimore-area residents, a package of eight regular-season and two preseason games - post-season games are extra - cost between $350 and $1,250 each year for non-premium seats, and up to $3,500 for club seats.) Second, the real-world scenario most akin to the sale of PSLs is the Ponzi scheme, in which early investors are shown a profit as an inducement to make additional investments and to get new investors to buy in - while those who buy in later lose their money. Should the economic turmoil that has roiled the sports world (and the world at large) prove to have permanently altered the relationship of fans to their teams, those holding seat licenses may find themselves thrown for a loss.