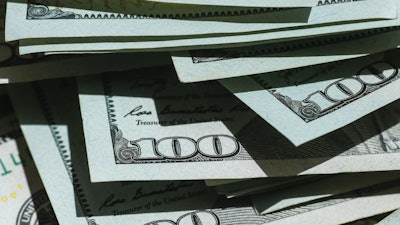 Text messages entered Monday into the an ongoing civil lawsuit reveal that former Mississippi governor Phil Bryant pushed to make NFL legend Brett Favre's idea for a volleyball stadium at the University of Southern Mississippi a reality.
According to a lengthy report by Mississippi Today, the texts show that the then-governor even guided Favre on how to write a funding proposal so that it could be accepted by the Mississippi Department of Human Services — even after Bryant ousted the former welfare agency director John Davis for suspected fraud.
"Just left Brett Favre," Bryant texted nonprofit founder Nancy New in July of 2019, within weeks of Davis' departure. "Can we help him with his project. We should meet soon to see how I can make sure we keep your projects on course."
When Favre asked Bryant how the new agency director might affect their plans to fund the volleyball stadium, Bryant assured him, "I will handle that… long story but had to make a change. But I will call Nancy and see what it will take," according to the filing and a text Favre forwarded to New.
The newly released texts, filed Monday by an attorney representing Nancy New's nonprofit, show that Bryant, Favre, New, Davis and others worked together to channel at least $5 million of the state's welfare funds to build a new volleyball stadium at USM, where Favre's daughter played the sport. Favre received most of the credit for raising funds to construct the facility.
Bryant has for years denied any close involvement in the steering of welfare funds to the volleyball stadium, though plans for the project even included naming the building after him, one text shows.
New, a friend of Bryant's wife Deborah, ran a nonprofit that was in charge of spending tens of millions of flexible federal welfare dollars outside of public view, Mississippi Today reported. What followed was the biggest public fraud case in state history, according to the state auditor's office. Nonprofit leaders had misspent at least $77 million in funds that were supposed to help the needy, forensic auditors found.
New pleaded guilty to 13 felony counts related to the scheme, and Davis awaits trial. But neither Bryant nor Favre have been charged with any crime.
Related: Report: Favre Used Welfare Funds for Volleyball Stadium
And while the state-of-the-art facility represents the single largest known fraudulent purchase within the scheme, according to one of the criminal defendant's plea agreement, the state is not pursuing the matter in its ongoing civil complaint. Current governor Tate Reeves abruptly fired the attorney bringing the state's case when he tried to subpoena documents related to the volleyball stadium.
The messages also show that a separate $1.1 million welfare contract Favre received to promote the program — the subject of many national headlines — was simply a way to get more funding to the volleyball project.
"I could record a few radio spots," Favre texted New, according to the new filing. "…and whatever compensation could go to USM."
New, who is now aiding prosecutors as part of her plea deal, alleged that Bryant directed her to make the payment to Favre in a bombshell response to the complaint in July, Mississippi Today's Anna Wolfe reported.
The allegation and defense "are not based on speculation or conjecture," the Monday court filing reads. "The evidence suggests that MDHS Executives, including Governor Bryant, knew that Favre was seeking funds from MDHS to build the Volleyball Facility … and participated in directing, approving, or providing Favre MDHS funds to be used for construction of the Volleyball Facility."
The latest motion, filed on behalf of New's nonprofit Mississippi Community Education Center, represents the first time these messages, which include texts directly between New and Bryant and New and Favre, have been made public.
Favre's attorney, Bud Holmes, denied that the athlete knew the money he received was from the welfare fund. "Brett Favre has been honorable throughout this whole thing," Holmes said Monday.
When Mississippi Today asked Favre by text in 2020 if he had discussed the volleyball project with the governor, Favre said, simply: "No."
The motion filed Monday offers a detailed look at the earliest days of the planning of the USM volleyball center between Favre, New, Davis and other key players — a chronology that had not up to this point been publicly revealed.
Favre first asked for funding from Mississippi Department of Human Services during a July 24, 2017, meeting at USM with New, Davis, university athletic staff and others, according to the motion.
By this time, the University of Southern Mississippi and the Southern Miss Athletic Foundation, which would pay for the construction, had already made some progress on Favre's idea. On July 1, according to records, the university leased its athletic facilities and fields to the foundation for $1, which made it possible for the foundation to lease the facilities to the New nonprofit for $5 million.
Because of the strict prohibition on using TANF funds to pay for construction, the parties had to craft an agreement that would look to satisfy federal law and give the illusion they were helping needy families. With the help of legal advice from MDHS attorneys, they came up with the idea for New's nonprofit to enter a $5 million up-front lease of the university's athletic facilities, which the nonprofit would purportedly use for programming. And in exchange, the foundation would include offices for the nonprofit inside the volleyball facility, which they called a "Wellness Center."
Davis immediately committed $4 million to the project, according to the motion.
"While Favre was pleased with MDHS's $4 million commitment, he knew a state-of-the-art Volleyball Facility was likely to cost more," the filing reads. "To make matters worse, USM apparently had a policy that any construction project on campus had to be funded fully, and the money deposited in USM's account, before construction could begin."
According to Mississippi Today, Favre thought of a way to get some extra cash to the program: even more money could flow through his company in exchange for the athlete cutting ads for the state's welfare program. New said she thought it was a good idea.
"Was just thinking that here is the way to do it!!" Favre texted.
Only days after Favre received the financial commitment from Davis, he "had grown impatient with USM, which was moving slowly. Favre contacted Governor Bryant to speed things along. In response, Governor Bryant called Nancy New," the motion reads.
"Wow," New texted Favre, "just got off the phone with Phil Bryant! He is on board with us! We will get this done!"
The governor remained in tune on the project as it progressed. On Nov. 2, 2017, New texted Favre, "I saw the Gov last night … it's all going to work out."
By 2019, as the cost of construction for the volleyball center grew and Favre had committed to pay more than $1 million himself that he expected to receive from MDHS, the athlete became antsy. According to a calendar entry entered by Davis, Bryant and Favre requested to meet with welfare officials about the USM facility in January of 2019.
Favre nudged the welfare officials who promised to help, but the state agency and nonprofits were in financial turmoil. Months went by with no USM payments.
In June of 2019, Bryant ousted Davis after an MDHS employee came forward with a tip about suspected fraud. Bryant replaced Davis with former FBI Special Agent in Charge Christopher Freeze.
When Favre asked Bryant if Davis' departure would affect the project, according to the motion, the governor responded, "I will handle that… long story but had to make a change. But I will call Nancy and see what it will take."
"Just left Brett Favre," Bryant then texted New. "Can we help him with his project. We should meet soon to see how I can make sure we keep your projects on course."
Favre, New, Bryant and Freeze met in September 2019 to discuss progress on the new facility.
In early 2020, as funding to the nonprofits slowed and Bryant entered the waning days in his final term as governor, Favre and state officials scrambled to come up with the funds to finish the USM volleyball project. Communication obtained by Mississippi Today shows that another state agency that had been receiving grants from the welfare department joined talks of funding the remainder of the construction.
New sent Favre's funding request to Andrea Mayfield, then-director of the Mississippi Community College Board.
"I am at a loss right now," New wrote, "and am honestly trying to save coworkers' jobs, too. Are we closer on a lease, etc. for him. Sorry to have to ask this as I know everybody is doing everything they can. Thank y'all."
Mayfield proposed having the USM athletic foundation front the $556,000 that the builders needed, and then be reimbursed by various state agencies through monthly rent payments.
"I can work each agency to execute a contract. Once they execute a contract with me, I can quickly execute with MCEC. I am sorry it is taking time. I am at the mercy of each partners schedule. Thoughts?" Mayfield texted USM Athletic Director Jeremy McClain, according to the message she forwarded to New and Favre.
"Let me know," Favre responded, "and we have a few weeks until it's finished. If need be Deanna and I will just pay it. If the university will at least Agree on a deal maybe we can get some funding fairly quickly."
It's unclear if any more federal grants went to Favre or the athletic foundation after this point, Mississippi Today reported.