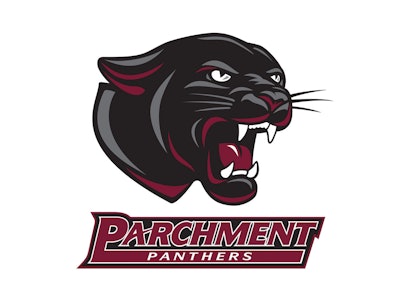 Words expressed in a moment of joy wound up costing Garrett Winter, a senior cross country runner at Parchment High School, a second-place finish Saturday in the Michigan state championship meet for Division 2.
Winter ran the 3.1-mile course in a personal-best 15 minutes, 27 seconds. By trimming nearly 22 seconds off his previous best time, Winter's runner-up finish far exceeded expectations, but officials said his profanities at the finish line violated a national rule that governs conduct in high school running.
Cody Inglis, assistant director of the Michigan High School Athletic Association, told MLive.com that Winter's words could be heard 50 yards away.
"It's a horrible thing," Inglis said of the disqualification. "Nobody takes any pride or joy in this, but the fact is that the rule was enforced."
Winter's five-word exclamation, which included two words of the four-letter variety, violated Article 2 of Rule 4-6 in the National Federation of State High School Associations rulebook governing high school track and cross country, which says, "Unacceptable conduct by a competitor includes, but is not limited to, willful failure to follow the directions of a meet official, using profanity that is not directed at someone or any action which could bring discredit to the individual of his or her school."
In a statement released through the school on Monday, Winter said his words were not directed toward anyone, but came from a place of excitement after years of training paid off in his final high school race.
"As I made my final kick and the finish line approached, I was overcome with emotions as to what I was achieving," he said. "All the memories of my career came flooding into my mind. As I crossed the finish line, my emotions got the best of me. I swore in excitement of what I had just accomplished. I swore when I finished the race and saw the time. I did not swear at anyone. I swore out of jubilation with pure adrenaline and emotion."
Parchment appealed the ruling, but the MHSAA maintained its decision due to the rule stating that a competitor who violates the "unacceptable conduct" article "shall" be disqualified, rather than "may" be disqualified.
"If there was a 'may,' then there's a little bit of wiggle room because now we may have a way to find out if this was the case," Inglis said. "The reality was that the committee tried to look at it from every angle, and the reality is that there was no wiggle room here. There was no way out of this, given the fact that nobody had any feeling that this wasn't said.
"The seven meet officials there, the two timers in their media van and myself 50 yards behind the finish line all heard it. The reality was Garrett finishing in second place didn't leave the normal congestion that occurs at a finish line of a cross country race to mask anything, and that was part of the challenge."
According to MLive.com, disqualifications in postseason cross country races aren't unprecedented in Michigan, with one of the most recent examples being the Northville High School boys' team forfeiting a race after running with mismatching undergarments beneath their uniform tops.