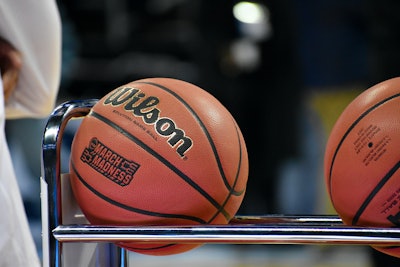 With a surge in COVID-19 cases keeping some teams from competing, at least four collegiate athletic conferences — the ACC, Pac-12, SEC and Big 12 — are reportedly reevaluating their forfeiture policies this week.
Atlantic Coast Conference athletic directors planned to meet this week to discuss the league policy that makes schools forfeit games if they cannot adequately field a team because of COVID concerns, said ACC assistant commissioner Andy Fledderjohann, as reported by.syracuse.com. The policy was put in place last summer by the league's Medical Advisory Group (MAG), which meets regularly to discuss Covid issues and set medical parameters for the ACC. It was updated in mid-October.
The forfeit policies initially were enacted to encourage programs to vaccinate their teams against Covid-19. But teams with high vaccination rates across a spectrum of sports are succumbing to positive COVID tests these days.
The ACC announced Tuesday that Boston College would forfeit Wednesday night's against Wake Forest. The Eagles are "in COVID protocols" and unable to field a team, syracuse.com reported.
As reported by Sports Illustrated, the Big 12 is finalizing plans to restore its policy stating that games impacted by COVID-19 would become "no contests." If men's and women's basketball teams fail to have six scholarship players and one coach available, the game would be deemed a no contest, and both teams would work to reschedule. By restoring this policy approach, the Big 12 would eliminate the need for teams to forfeit games.
Several Pac-12 teams have likewise been impacted, forcing the conference to discuss policy adjustments, as reported by The Press-Enterprise of Riverside, Calif.
The University of Washington men's team was unable to play three games earlier this month because of a COVID outbreak. The UCLA men and women are currently on pause after canceling multiple games. The Arizona women canceled a date with Texas over the weekend. The USC men won't play Oklahoma State this week and have paused team activities. All the impacted programs are believed to be largely, if not fully, vaccinated, The Press-Enterprise reported.
Many factors are up for consideration by the Pac-12, just as they were last year. These include roster-count thresholds for competition, the approach to making up canceled games, whether a canceled game should be deemed a "no contest" (which was the policy last season) or a forfeit (which was the plan this season), and finally a games-played requirement for conference title eligibility (last season, a team needed to play three more games than the conference average of games completed to be title-eligible and the top seed in the Pac-12 tournament).
According to Ross Dellenger of SI, the NCAA basketball committee may also need to examine its minimum number of required games (25) to advance to the NCAA tournament.