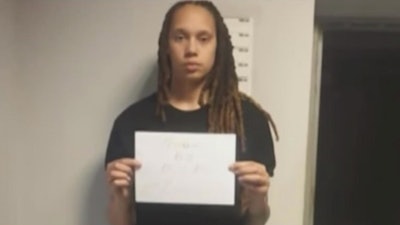 Vice president Kamala Harris told CBS News on Sunday that bringing WNBA star Brittney Griner, who has been detained in Russia for five months, is "one of our highest priorities."
On Thursday, Phoenix Mercury star Brittney Griner pleaded guilty to drug charges in Russia, where she remains detained indefinitely, CBS reported. Griner, who is believed to be likely to be convicted by the Russian court, pleaded guilty with the aim of receiving a lesser sentence, and also as a pretext for a possible prisoner exchange, CBS reported.
Harris said on "Face the Nation" on Sunday, as reported by Business Insider, that she, president Joe Biden and national security advisor Jake Sullivan have been in touch with Cherelle Griner, Brittany Griner's wife, to lend support.
"I can't talk to you about the details, what's happening behind the scenes, but I can tell you that it is one of our highest priorities to bring these Americans home," Harris said on Face the Nation.
During the WNBA All-Star Game in Chicago on Sunday, the players came out of the locker room after half time all wearing a jersey with Griner's name and No. 42 on it. Before the game, Griner's name was announced along with a graphic of her while her initials were displayed courtside.
Griner was named an honorary All-Star player this year.
"We are the most unified league in the world honestly and wearing the jerseys was a statement to show that we are BG [Brittney Griner]," A'ja Wilson of the Las Vegas Aces told reporters after the match, CNN reported. "She's our sister and, at the end of the day, we are going to do whatever we can to amplify the platform that we have to make sure that everyone is doing what they need to do to make sure that she gets home safely. It's hard. It's hard for all of us. It's not easy. Not a day goes by that I'm not thinking about Brittney Griner. So wearing her jersey and letting the world know we are not whole without her, I think that's a statement in itself."
RELATED: 'Terrified I Might Be Here Forever': WNBA's Griner Writes to Biden From Russian Custody
On the Fourth of July, a handwritten note from Griner was delivered to president Biden, which read in part, "As I sit here in a Russian prison, alone with my thoughts and without the protection of my wife, family, friends, Olympic jersey, or any accomplishments, I'm terrified I might be here forever."
RELATED: WNBA Star Griner's Russian Detainment Extended Another Month
RELATED: Biden Administration: Brittany Griner Wrongfully Detained in Russia
RELATED: WNBA Star's Detainment in Russia Extended to May
RELATED: Lawmaker Working to Help WNBA's Griner Detained in Russia
Griner was detained at Sheremetyevo International Airport on Feb. 17 after the Russian officials claimed to have found vape cartridges containing the marijuana concentrate in Griner's luggage. She has been charged with "large-scale transportation of drugs." After 130 days of detention, Griner's trial began on July 1, and her next court date is set for Thursday.