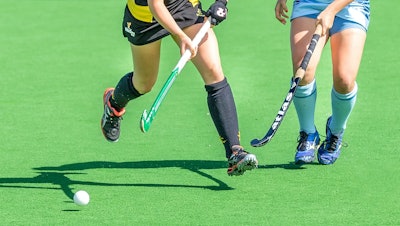 Kentucky High School Athletic Association rules and state laws will not allow 13-year-old Fischer Wells, believed to be the state's only transgender student-athlete, to compete last fall on a field hockey team she helped form.
As reported by The Washington Post, KHSAA had set extraordinarily high hurdles for transgender athletes to play on teams that matched their gender identity. It required that transgender athletes undergo "sex reassignment" before puberty — though it was unclear what that meant. For transgender athletes who underwent sex reassignment after puberty, the association required that "surgical anatomical changes have been completed, including external genitalia changes and gonadectomy," procedures that are not recommended for young people.
Wells continued showing up to practices, but she couldn't bring herself to attend the game during which she'd be benched. Her teammates, some of whom Wells had recruited to make fielding a team possible in the first place, could not believe she had been ousted for being herself and shouted "For Fischer!" after every goal they scored, according to The Washington Post.
After a few days, Fischer won back her spot on the team when the school district ruled that its own nondiscrimination clause trumped the state athletic regulations.
Then, In March, Kentucky lawmakers passed a law banning athletes like Fischer from playing on girls' teams. When Republican state senator Robby Mills won a three-year battle to ban transgender girls and women from school sports teams, he did not talk about Fischer Wells or the Westport Warhawks. On the day the Fairness in Women's Sports Act became law, Mills invited Riley Gaines, a highly decorated University of Kentucky swimmer, to talk about Lia Thomas, a transgender competitor from the University of Pennsylvania who stirred controversy when she won an NCAA title in the 500-yard freestyle.
Supporters of these measures say they protect sports for cisgender girls and women. They say transgender female athletes have a biological advantage. Mills said Thomas won because "her reach was several inches longer" than that of other swimmers.
Very few student-athletes are transgender. A 2017 Centers for Disease Control and Prevention survey, which queried teens in 10 states and nine large urban districts, found that nearly 2 percent of high school students identify as transgender. Meanwhile, analysis of CDC surveys from six states and six urban districts conducted by The Washington Post found that 43 percent of transgender students said they played sports — suggesting that about 1 percent of athletes in these jurisdictions are transgender.
Yet, nationwide, at least 18 states this year passed laws forbidding transgender girls — and sometimes transgender boys — from playing on teams that match their gender identity. The effort to restrict transgender athletes in school sports came as part of a wave of legislation targeting LGBTQ students.
When Utah governor Spencer Cox, a Republican, vetoed his state's effort to ban transgender athletes from sports, he pointed out that out of 75,000 high schoolers who played sports in the state, there are only four known transgender athletes. State lawmakers overruled him, but a state court recently halted the law as part of a lawsuit brought by the parents of transgender athletes, The Washington Post reported.
"Four kids and only one of them playing girls sports. That's what this is all about," Cox wrote. "Four kids who aren't dominating or winning trophies or taking scholarships. Four kids who are just trying to find some friends and feel like they are part of something."
Kentucky's governor, Andy Beshear (D), at first also vetoed the sports ban authored by Mills when it passed alongside laws in 17 other states. State lawmakers easily overrode him.
Appeared before an audience of state lawmakers in Frankfort, Ky., who sought to ban girls such as her from playing, Fischer Wells said, "I really don't want this bill to pass, because that means I can't play,. And that will be extremely detrimental to my mental health, because it's a way to help me cope with things."
The bill became law three months later.
Wells was invited to speak with members of Congress over the summer but declined. She learned she would get to talk to legislators only for a couple of minutes at a time, and she said that felt "disingenuous."
One bill that failed in this year's session in Kentucky would bar Wells and other youths from getting gender-affirming health care, such as puberty blockers and hormone therapy that assists them in their transition. A similar measure has already passed in Alabama and Texas, forcing families with transgender children to seek care out of state.
The Women's Sports Foundation holds that youth sports should be open to transgender athletes without restrictions. But at the elite level, the foundation "believes that appropriate governing bodies can and where necessary should set reasonable, evidenced-based standards," which sometimes include blocking athletes from competition during transition and mandating drugs that suppress testosterone production. FINA, swimming's world governing body, voted to bar transgender athletes from competing in elite women's events.The Biden administration plans to create rules protecting transgender students from discrimination — but said it had not yet decided how to proceed with accommodating transgender students in sports.
Transgender athletes are particularly vulnerable, because many of those who support their full and total inclusion in other arenas of life — in bathrooms and locker rooms, on revised birth certificates, in dress codes — hesitate when it comes to sports, The Washington Post reported. It's an attempt to protect cisgender female athletes, who are already grossly underserved in all areas of sport, from pay to facilities to broadcast time.
Wells began eighth grade this month and watched her classmates return to the field hockey team she helped create. She is weighing playing on a YMCA team, according to The Washington Post.