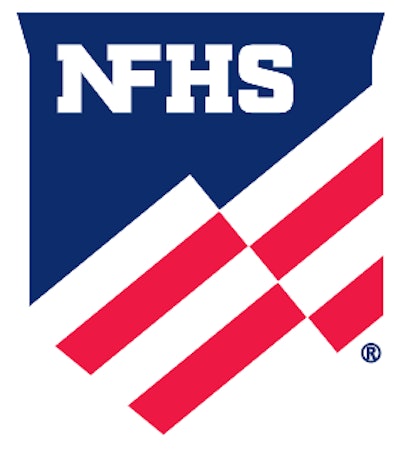 The National Federation of State High School Associations on Tuesday has given further direction on the use of name, image and likeness benefits by prep student-athletes, now partnering with a company to provide NIL education for the high school level.
In a news release, NFHS announced its partnership with ADVANCE, a firm that provides solutions for collegiate and high school athletics, to offer a new, free course that details the expectations of NIL in the current interscholastic landscape.
Since July 1, 2021, when profiting from NIL deals became permissible for college student-athletes, the topic of NIL has remained at the forefront of discussion.
In July 2021, NFHS CEO Dr. Karissa Niehoff had said that the association did not support high school student-athletes profiting from NIL in affiliation with their teams, uniforms or logos. "While it is not our position to debate the merits of current college athletes earning money from their NIL, it should be understood that these changes do not affect current high school student-athletes. Current high school student-athletes CANNOT earn money as a result of their connection to their high school team," Niehoff wrote.
In June 2022, Niehoff wrote that high school students should still be considered amateurs. "The high school locker room is arguably the last bastion of amateurism within an education-based setting, and we want to protect that," Niehoff wrote in June. "The purpose of high school athletics is very different from the professional level – and even the college level. High school students can enjoy some success with NIL, but it cannot be done while wearing the school uniform.
"And with what has happened at the college level this past year, there are some major concerns about the breakdown of amateur sports – and what the future holds in high schools nationwide."
While an earlier version of this story stated that NFHS had changed its direction on NIL, on Tuesday afternoon, NFHS spokesman Bruce Howard clarified that the organization's stance has always been that high school athletes cannot profit from their NIL while connected to their team and wearing the uniform.
"States that have adopted NIL policies to date permitting NIL are in line with this thinking," Howard said in the statement.
Howard also clarified that the new education offering is meant to provide further insight into how to navigate NIL within bounds at the high school level. "The course will help schools, students and parents understand ways that student-athletes can rightfully profit from their name, image and likeness," Howard said. "The NFHS is not changing its stance on NIL; it is teaming with ADVANCE to help individuals have a better understanding of how to properly navigate this new world."
The new free NIL course, available in the NFHS Learning Center, suggests ways in which student-athletes can leverage NIL to promote their own identity via a brand or business, according to an NFHS news release. The course also addresses intellectual property such as shirts, flyers and artwork, which belong to the student-athlete who is promoting his or her own identity. Permitted profit from NIL is absent of promotion of direct competition or performance. In addition to providing other examples of ways to leverage NIL, the course explores differences in NIL and pay-for-play, a forbidden practice that occurs when a student-athlete earns money for competing.
RELATED: Debate Around Prep NIL Deals Heats Up
Dan Schuster, NFHS director of educational services, said the launch of the new course coincides with the unveiling of a user experience that Schuster said will "better showcase" the NFHS Learning Center's accredited content. It features improved navigation, resources, transcripts, higher quality videos and a larger screen.
The NFHS Learning Center's development of the course took place in concert with ADVANCE, which contributed the course content. ADVANCE provides comprehensive advisory and strategic NIL solutions that educate, empower and equip all stakeholders in the collegiate and high school athletics ecosystem. Its work with NIL curriculum development includes in-depth evaluation and collaborative solutions designed to maximize on-campus resources, knowledge, athlete instruction and live data.
"The NFHS recognized an increasing need for insightful, thorough education on name, image and likeness for its members across the education-based activities landscape," Niehoff said in Tuesday's release. "Since NIL's emergence, ADVANCE has been committed to providing individuals with education and strategies to succeed in the world it's introduced us to. Thanks to that expertise, we are able to develop and offer this much-needed course at a time when NIL is beginning to trickle down to our high school student-athletes."
Although some states currently permit NIL participation for student-athletes, the rules may not be the same in each. Many states continue to work through NIL legislation and proposals, while others do not permit NIL involvement. NIL participants are encouraged to review the policies of their state, league or school before engaging in any form of NIL compensation.
For more information on the course, visit the NFHS Learning Center.
---
Editor's Note: This story has been updated Nov. 8, 2022, to reflect clarification from the National Federation of State High School Associations.