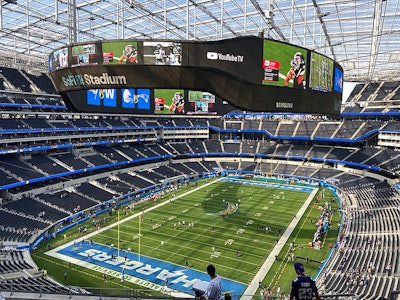 College football fans headed to Los Angeles' SoFi Stadium for the College Football Playoff National Championship between TCU and Georgia will have to leave their charcoal grills and coolers at home.
According to the parking section of SoFI's website, "tailgating will not be allowed in any SoFi parking lot."
While the information was listed on SoFi's website, the directive appears to be coming from the CFP, as tailgating is allowed during Los Angeles Chargers and Rams games.
Fans were quick to take to Twitter with their reactions, and few were in favor of the decision.
"There is one lot (Pink Zone) you can usually tailgate in at SoFi Stadium in Los Angeles," tweeted Eric Teusink. "But there is NO TAILGATING ANYWHERE AT THE NATIONAL CHAMPIONSHIP GAME! With college football culture like this, it ain't surprising that the PAC-10 hasn't made the playoffs since 2016."
Thomas Welch tweeted, "Stan Kroenke hosting the National Championship at SoFi Stadium and not allowing tailgating is par for the course with everything we know about him. Zero sports knowledge, completely out of touch with fans, just a decrepit and insufferable pocket full of change"
Those who wish to drive to the game will also be paying a pretty penny to park their vehicle. With limited parking at the stadium and in the surrounding area, spaces are selling for hundreds of dollars.
That's to say nothing about the price of admission. According to Sports Illustrated, the average price for seats on SI Tickets was $1,427, with the most expensive spot sitting at $7,103. But that didn't include VIP packages or tickets in suites, which are going for way, way more. On SeatGeek, for example, the average price for all seats is currently $2,117.