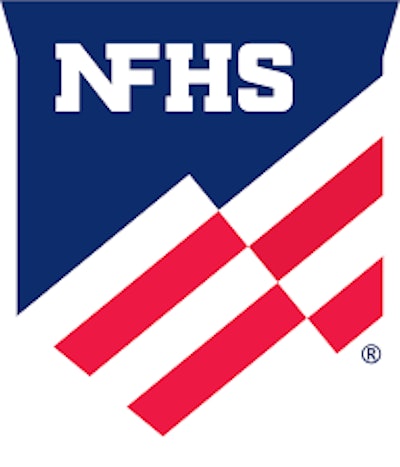 Another year of March Madness at the high school level is behind us, and what a year it was. NFHS member state associations held state championships in basketball, wrestling, ice hockey, swimming and diving, indoor track, gymnastics and a few others. In addition, other activities such as drama, debate, speech and music are a central part of the excitement that surrounds this time of year.
Altogether, tens of thousands of participants in high school activity program received that once-in-a-lifetime opportunity to play for a state title. In girls wrestling, many teams had the opportunity to advance to state for the first time as more states continue to add this event. Just five years ago, only six states had state championships in girls wrestling; today that number is 33.
And there were a number of schools that continued their dominance at state championships, perhaps topped by the girls swimming team at Carmel High School in Carmel, Indiana. Not only did Carmel extend its national record by winning its 37th consecutive Indiana High School Athletic Association state championship, the Greyhounds did it with an exclamation mark. Carmel set one national record in the 200-yard medley relay as well as five state records while winning 10 of the 11 swimming events.
In basketball alone, more than 500 teams (girls and boys) were crowned state champions. And, perhaps, some of the players on these championship teams will be able, down the road, to duplicate the feat accomplished by a few participants in this year's NCAA Men's and Women's Basketball Championships.
Among the teams in the men's Final Four, Donovan Clingan of the University of Connecticut won the Connecticut Interscholastic Athletic Conference Division II state title as a senior at Bristol Central High School.
Three members of the San Diego State Aztecs reached the high school championship stage as well. Aguek Arop won a Nebraska School Activities Association Class A state title at Omaha South High School in 2016. Micah Parrish played in the 2019 Michigan High School Athletic Association Division 2 state championship at River Ridge High School, while Lamont Butler reached the California Interscholastic Federation title game two times at Riverside Poly High School. Butler finished his career at Riverside Poly as the school's all-time leading scorer, passing Reggie Miller.
The other men's Final Four teams – Florida Atlantic University and the University of Miami – each had a player attempting the March Madness Double. FAU's Michael Forrest won two Florida High School Athletic Association state championships at Blanche Ely High School in Pompano Beach, and Miami's Jordan Miller won a Virginia High School League state title as a junior at Loudoun Valley High School. Miller, the school's all-time leading scorer, said his best sports memory is "winning a state high school title."
In the women's NCAA tournament, Louisiana State University's Ladazhia Williams and Sa'myah Smith both claimed state high school trophies. Williams helped her Lakewood Ranch High School (Bradenton, Florida) team to the Florida High School Athletic Association Class 7A title as a junior, and Smith was a two-time Texas University Interscholastic League Class 6A champion at DeSoto High School in DeSoto, Texas.
National finalist Iowa's roster included Gabbie Marshall and Addison O'Grady, who were both two-time state champions in high school. Marshall won two Ohio High School Athletic Association titles at Mount Notre Dame High School in Cincinnati, Ohio, and O'Grady was a multiple state champion at Grandview High School in Aurora, Colorado.
Three members of the South Carolina Gamecocks women's team won state high school titles, led by Raven Johnson, who won four Georgia High School Association state championships at Westlake High School in Atlanta. Other state champions were Kierra Fletcher, who won a Michigan High School Athletic Association Class A state title in 2016, and Zia Cooke, who won two Ohio High School Athletic Association Division II state championships at Rogers High School in Toledo.
Finally, Virginia Tech's duo of Elizabeth Kitley and Cayla King, won two North Carolina High School Athletic Association state championships as teammates at Northwest Guilford High School in Greensboro.
Among the 500-plus high school teams that won state basketball championships this year, the most touching story occurred with the Class 2 champion of the Missouri State High School Activities Association, Salisbury High School, a story featured in last week's NFHS Overtime.
The weekend before Salisbury was scheduled to play Hartville High School in the semifinals of the MSHSAA boys basketball tournament, London White, a junior on the team, passed away unexpectedly. After consultation with White's family, a decision was made to continue with the tournament – and the outcome was truly inspirational.
In support of Salisbury's situation, Hartville players wore purple "Salisbury Strong" t-shirts in warm-ups, making for an emotional start to the game. Tied with Hartville after three quarters, Salisbury scored 20 points – White wore jersey No. 20 – in the fourth quarter to emerge victorious and continue to the championship game.
The next night in the finals at Great Southern Bank Arena in Springfield, with London's No. 20 jersey draped over the final chair on the team's bench and his basketball shoes in the seat, Salisbury broke another tie with – believe it or not – another 20-point fourth quarter to defeat Principia High School.
In an emotional scene following the game, London's mother, Lindsey, was presented with her son's medal and was part of the Salisbury team that accepted the championship trophy.
The excitement and emotion of high school activity programs. It doesn't get any better than this.
Dr. Karissa L. Niehoff is in her fifth year as chief executive officer of the National Federation of State High School Associations (NFHS) in Indianapolis, Indiana.