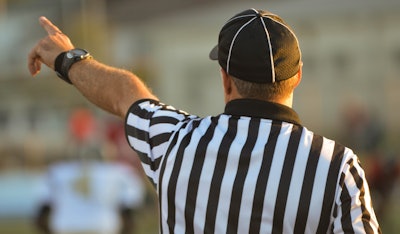 The New York State Public High School Athletic Association has approved a new spectator sportsmanship policy that will go into effect at the start of the 2023-24 school year.
The three-tiered policy established guidelines for the discipline and reprimanding of poor behaviors by spectators. The behaviors range from verbal harassment to racist and sexist behavior to harassment of players, coaches or officials.
NYSPHSAA executive director Robert Zayas said the policy has been debated for at least the last two years.
"As we've seen spectator behavior decline, we realized the need to give some support to athletic administrators and site supervisors, to take action against fans that are making the student-athlete experience unsafe," Zayas told The Buffalo News. "At times, sportsmanship is an issue at games and at events, and it's not fair to the student-athletes. What this policy does, it gives the athletic director and site supervisors a policy to go off.
"In the past, this was done on a case-by-case basis. If one school did it, another school took a different tack. This formalizes what the process is."
The NYSPHSAA policy outlines three levels of discipline.
A first warning means spectators will be directed to refrain from further comments or actions.
A second warning results in a personal discussion that addresses the behavior, between site administrators and the spectators.
The third action results in removal from an event. If the spectator or spectators refuse to leave the facility, then play will be stopped until they have left.
Zayas said the policy doesn't have to be three-tiered, either, and that varying degrees of punitive measures can be used. For example, if someone uses racial and derogatory language at an event, that individual can be ejected without the warnings.
Any spectator who has been cited and wishes to return to events will need to complete the NFHS' Parental Credential course, which involves two, one-hour online programs that address expectations for behavior at events.
If the individual declines to take the course, he/she will be barred for at least one game.