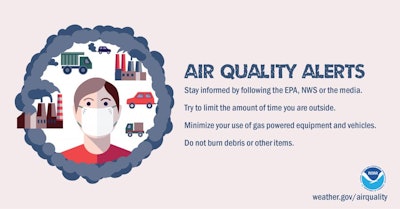 National Weather Service
Professional sports leagues on Wednesday canceled games on the U.S. East Coast due to air quality issues related to smoke from wildfires in Canada.
Major League Baseball postponed games in New York and Philadelphia on Wednesday night, as well as the National Women's Soccer League game in New Jersey and the WNBA, which postponed an indoor game set for Brooklyn. The hazy conditions caused by the drifting fire smoke have raised alarms from health authorities, the Associated Press reported Wednesday.
Images posted to social media showed poor visibility with orange-tinted skies in areas affected by the smoke.
"These postponements were determined following conversations throughout the day with medical and weather experts and all of the impacted clubs regarding clearly hazardous air quality conditions in both cities," MLB said in a statement, as reported by the AP.
In New York City, the National Weather Service issued an air quality alert in effect until midnight Friday, saying "Air quality levels in outdoor air are predicted to be greater than an Air Quality Index value of 100 for the pollutant of Fine Particulates. The Air Quality Index, or AQI, was created as an easy way to correlate levels of different pollutants to one scale. The higher the AQI value, the greater the health concern." NWS said that when pollution levels are elevated, the New York State Department of Health recommends that individuals consider limiting strenuous outdoor physical activity to reduce the risk of adverse health effects.
The Yankees and White Sox played through a lesser haze Tuesday night. A day later, the AP reported that stadium workers and fans arriving early to the ballpark were wearing face masks for protection in a scene reminiscent of the height of the COVID-19 pandemic.
White Sox manager Pedro Grifol said he believed that MLB made the right decision postponing the game.
"These are health issues, right? So this has got to be it. We've been through everything — snow, rain, hail. I don't think I've been through something like this," he said, as reported by the AP. "Today at one point, it was pretty bad out there. We walked out of the dugout and it was kind of orange. They did the right thing. They got all the information. I'm assuming if Major League Baseball is comfortable setting up a doubleheader tomorrow, they have some type of information that it should be better than what it is today, or at least safe."
Minor league teams nearby also changed plans. The Yankees' Triple-A affiliate at Scranton/Wilkes-Barre in Pennsylvania, and the Mets' top farm club in Syracuse, New York, postponed their games for the second consecutive night.
The Mets' High-A affiliate in Brooklyn completed a game Wednesday against Greenville that began at 11 a.m.
The WNBA called off a game between the Minnesota Lynx and New York Liberty, saying the decision was made to "protect the health and safety of our fans, teams and community." A makeup date wasn't immediately announced.
The AP reported that the NWSL postponed Orlando's match at Gotham in Harrison, New Jersey, from Wednesday night to Aug. 9. "The match could not be safely conducted based on the projected air quality index," the NWSL said.
Youth sports in the area were also affected, with parents quick to voice concern about their children's safety outdoors.
In a statement Wednesday, the New Jersey State Interscholastic Athletic Association said schools should understand that all schedules were subject to change.
"NJSIAA is closely monitoring air quality data across New Jersey and local/state health advisories. As start times for athletic events draw near, we will make decisions for each venue and sport based on currently available information," the organization said.
Yahoo Sports reported that the last time MLB postponed games due to poor air quality was in 2020, when wildfires in Washington and Oregon forced the league to move games between the Seattle Mariners and San Francisco Giants. Those games were eventually moved to San Francisco.