After abusive fans fail referees, lawmakers and the courts do, too.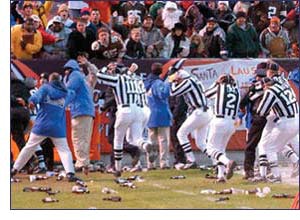 If you attend any sporting event, from the professional to youth levels, it should be clear after only a few minutes that the people with the most difficult job are the men and women working the game as sports officials. This is especially true at the lower level, where sports officials either donate their time or are paid little to work each game. The reason their job is so difficult, however, is not because of the tasks they perform, although seeing everything that goes on during a game and making the right calls are difficult tasks, to be sure. Rather, it's because of the constant verbal and sometime physical abuse that they must endure while working a game.
Sports sociologists have developed numerous theories as to why players, coaches and fans feel that it is acceptable to abuse sports officials: overzealous and overprotective parents, or athletes' and spectators' lack of respect for authority. Whatever the reason, it's clear that there has been a marked increase in the number of incidents involving assault or harassment of sports officials.
An example is Commonwealth of Pennsylvania v. Peter Dukovich [Case # 2004-04-703]. In that case, Ron Bell, a 58-year-old who had been refereeing high school sports for 25 years, was working a basketball game between Deer Lakes and Hampton high schools, near Pittsburgh. The game was being played before a crowd of about 60 people. The crowd was so small because a large fight had erupted between students of the two schools during a game the previous year. As a result, administrators at both schools had agreed to close the game to students and the general public, and to admit only the players' parents and grandparents.
During the third quarter, a player on the Deer Lakes team committed a hard foul on one of the Hampton players. The two players began pushing and shoving, and eventually they started throwing punches. After Bell and two West Deer police officers assigned to the game to provide extra security separated the players, the mother of one of the players involved in the fight, RaeLynn Dukovich, came out on the court and began yelling obscenities at Bell and complaining about how he was calling the game. While police were escorting Dukovich out of the gymnasium at Bell's request, Peter Dukovich, RaeLynn's husband, ran onto the court, picked Bell up and threw him to the ground.
As a result of the assault, Bell suffered a severe concussion, requiring treatment at a local hospital. Even though he was released that night, Bell was so badly injured that even a year after the assault he is still unable to referee games due to symptoms that include headaches, short-term memory loss and dizziness.
Peter and RaeLynn Dukovich were arrested and charged with disorderly conduct. In addition, Peter Dukovich was charged with simple assault, assault on a sports official and recklessly endangering another person. Although Dukovich argued that he was only protecting his wife and son, Common Pleas Judge John Zottola convicted Dukovich of simple assault and ordered him to pay a $1,000 fine, complete 200 hours of community service and pay restitution to Bell. The court also barred Dukovich from attending any high school, college or professional sporting events for one year. RaeLynn Dukovich was also convicted of disorderly conduct and fined $300, plus $121 in court costs, for her role in escalating the incident.
While Zottola convicted Peter Dukovich of simple assault, he acquitted Dukovich of the three other charges he faced, including assault on a sports official. Zottola apparently either believed Dukovich when he testified that he unwittingly attacked Bell in a moment of confusion and did not notice the black-and-white striped shirt Bell wore or the whistle he was using to try to bring order to the chaos on the basketball court, or he believed that nothing would be gained by sending Dukovich to jail for the incident.
What makes the verdict especially difficult to understand, however, is that Pennsylvania is one of only 21 states to have enacted legislation [18 Pa.C.S. . 2712 (2004)] specifically protecting sports officials from assault by fans, coaches and players. Under the law, which is supposed to impose penalties that are stiffer than in typical assault cases, the penalty is a misdemeanor of the first degree, punishable by a maximum of up to five years in jail.
If Zottola had only taken the time to look at some of the newspaper headlines from around the country, he would have seen that assaults of sports officials and coaches are a growing problem and one that should not be taken lightly. This is especially true in light of the death of a youth hockey coach in 2000 in Reading, Mass., after he was assaulted by the father of an opposing player. More recent attacks on sports officials have also occurred:
During an adult recreational soccer game in June in Omaha, Neb., a player punched a referee in the face after being issued a second yellow card. Before the assault, the player had orally abused and threatened the referee. He was subsequently banned from the league and his name given to the police.
5 In May, state prosecutors in Connecticut dropped an assault charge against a minor league hockey team owner who was accused of punching a referee after a game last December. The charges against Danbury Trashers owner James Galante were dropped for lack of evidence, even though there were videotapes of the assault and numerous witnesses.
5 Also in May, a girls' high school rugby coach in Rohnert Park, Calif., was punched and kicked unconscious by a group of parents who were enraged when the coach tried to break up a fight between a parent and a referee.
5 In April, four adult recreational softball players in Odessa, Texas, were arrested after they assaulted two umpires, ages 21 and 19, during a game. The assaults occurred after two players were ejected for using inappropriate language and a third team member was ejected for threatening one of the umpires. One of the umpires suffered two broken bones.
Also in April, Michael Nugnes was arrested and charged with assault after he attacked a referee during an adult recreational hockey league game in Dennis, Mass. The assault occurred after the referee called a tripping penalty on Nugnes. When the referee warned Nugnes to stop yelling and harassing him, Nugnes hopped onto the ice, tripped the referee from behind, jumped on top of him, gouged his eyes, and then ripped off his helmet and repeatedly banged his head on the ice. What makes Nugnes' case even more outrageous is that he is the hockey and lacrosse coach for Barnstable High School.
In most of the 21 states that have passed specific legislation making it a crime to assault or harass sports officials, coaches are also "protected." But such laws are useless if the courts are unwilling to enforce them and send out-of-control parents, coaches and players to jail. Until the courts are willing to treat assaults on sports officials and coaches as seriously as they do crimes against any other public official, sports participants will continue to believe that it is acceptable behavior -- perhaps even part of the game -- to assault and harass officials and coaches.
The judiciary is not the only institution that has failed to protect officials and coaches. As it stands now, most existing laws lack any real deterrent. For example, the maximum penalty for assaulting a sports official in Minnesota is a possible ban from sporting activities for up to 12 months. Even those states with harsher penalties typically only assess a fine not exceeding $2,000, imprisonment in the county jail not exceeding one year, or both.
A consequence of the Dukovich case and the other cases listed above is that it is becoming harder for leagues to find people willing to give up their time to coach and officiate games. If the courts are not willing to enforce existing laws to their fullest extent, the current shortage of qualified officials and coaches will be exacerbated.