Inter-conference partnerships may signal a first step toward football officiating consistency.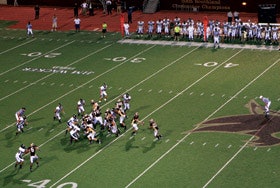 Bob Stoops is paid a lot of money to win football games. So when the University of Oklahoma coach was robbed of a victory at Oregon last September, it left him more than a little bitter. "We can't sit here and say, 'Okay,' " Stoops told reporters three days after an incorrect ruling on an onside kick ultimately cost his Sooners the game. "It's unacceptable and inexcusable, because we can't get it back."
Fallout was immediate. The Pac-10 Conference suspended the officiating crew that worked the game, the crew's replay official received a death threat by phone, and Stoops threatened to pull Oklahoma out of a 2008 commitment to play at Washington if the Pac-10 didn't ditch the practice of using only its officials at non-conference games hosted by Pac-10 schools.
Pac-10 associate commissioner Jim Muldoon defended the conference's officiating policy based on a belief that Pac-10 refs were among the most competent and honest in the college game, telling The Oklahoman, "Every other conference, I'm sure, feels the same way about its officials. It's not that outrageous."
Recent officiating collaborations have sought to blur the lines between conference affiliations, however, with the possibility of one day obliterating them altogether. The most novel among these is a formal partnership taking place this season between the Big 12 and Southland conferences. "We basically combined officials from both under one umbrella and came up with a uniform structure of training methods and review procedures," says Southland Conference commissioner Tom Burnett. "I don't know of another group that has done that in football."
It couldn't happen soon enough for Southland coaches. "Everyone was pretty much in agreement that our officiating needed to improve," says Texas State's Brad Wright, whose team went 3-3 in conference games last season. "Never in our wildest dreams did we think it would step up this many notches, but we're obviously very excited that it has."
The brainchild of Burnett and Kevin Weiberg, who resigned as Big 12 commissioner in July, the partnership benefits both leagues. As a BCS conference, the Big 12 typically hosts more games during the non-conference season than during conference play, thus taxing its own pool of officials. "We had one week last year when I had 11 home games that I had to have officials for," says Big 12 coordinator of football officials (and NFL ref) Walt Anderson. "That would mean that I would have to have 77 on my staff, plus replay officials. You can't keep that many on your staff, because when you enter into conference play and your games basically are cut in half, what do you do with all those officials? The worst thing you can do is work them one week, let them be off two, and then work them again. That's something a lot of conferences around the country struggle with."
Southland Conference officials have for years supplemented Big 12 crews during non-conference games, but this summer they were trained alongside Big 12 refs at a combined clinic (Conference USA officials also participated). In addition, they can now tap into Big 12 resources for video review, something the Southland had lacked. (Its officiating budget has increased by $30,000, in part to help supply the Big 12 with a second video coordinator.) Perhaps most important, the Southland trimmed its roster of officials from 49 to 29, allowing the Big 12 to staff up and still give its officials weekly assignments by dispatching them to Southland Conference games. The select 29 Southland officials, meanwhile, see more consistent action during the Big 12 non-conference season, during which they are groomed for future advancement. "The idea is to have more-experienced officials integrated into the Southland crews, which we hope will improve the quality of officiating there," says first-year coordinator of Southland Conference officials Byron Boston, who also serves as a supervisor of Big 12 officiating and is a member of the same NFL officiating crew as Anderson. "Moving some of the Southland guys up in the Big 12 non-conference schedule gives them more experience on a bigger stage, which hopefully will help improve their skills as well. The Southland was in effect an unofficial feeder conference for the Big 12. Now it's official."
A by-product of the partnership is a 15-page manual outlining the officiating philosophies and mechanics to be shared by the two leagues. "That way, whenever we do integrate the crews there's no difference in the way Southland guys and Big 12 guys work the games," Boston says.
Surprising though it may seem, there can be stark differences from one conference to another, according to Boston. "We train our officials that if there's any doubt whether a pass is complete or incomplete, always rule incomplete, but there could be a different philosophy in another conference," he says. "We say if there's any doubt whether it was a fumble or the runner was down, rule a fumble. Another conference may say rule it down."
But how could this happen? Rules are rules, right? "Some supervisors of conferences have had their own ideas and have diverted from the NCAA mechanics guidelines," says Carl Paganelli, coordinator of officials for the Mid-American Conference. "Instead of going through the proper channels, they on occasion think they have the better idea and decide on their own to change."
In July, 228 officials representing the Big East, Big Ten and MAC met in Chicago for their first-ever training combine to eliminate such discrepencies, and next year's event is already in the works. Meanwhile, the Big 12, Southland and C-USA will welcome Mountain West refs to their clinic next summer, and Western Athletic Conference officials will join them in 2009. Paganelli sees far-reaching implications for these types of get-togethers. "What I think you're going to see happen in football is similar to what's done in basketball," he says. "Officials are going to have no affiliation with, say, the Big Ten or Mid-American Conference. They will instead form a pool of officials who will be assigned to work throughout the United States. And if that doesn't come about, three or four conferences might get together and work among themselves."
This season, in what Anderson calls "another experiment," a hybrid crew of officials representing the Big 12, Mountain West and WAC has been assigned a 12-game schedule featuring four games in each league - though it won't work games pitting teams from any two of those leagues against each other.
The endgame in any of these collaborations is to give officials sufficient opportunities to stay sharp, while improving the consistency of their approach and performance regardless of geographic location or conference affiliation. "I don't think it matters what conference they're in - coaches want to feel comfortable that their games are decided by players on the field," Anderson says.
"All we want is consistency," says Wright, the Texas State coach. "All we want is for the game to be called the same everywhere we go." Adds Burnett, "This is my fifth football season as commissioner of the Southland, and this is the first time that I've had coaches thanking me for what we've done on football officiating. There's just a confidence that might have been lacking before. It's long been a goal that officiating is the same everywhere, that it's not done differently here than on the East Coast or out west. Perhaps this is a step in that direction."