Utah puts boys' soccer on probation and seeks to improve the behavior of all participants.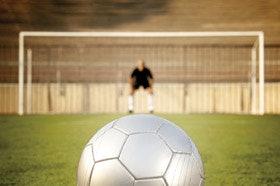 When a senior player's bird-flipping and the blaring of shirtless fans' air horns overshadow the games in a state soccer tournament, something's not right. Administrators with the Utah High School Activities Association recognized that, recently placing the boys' sport on probation for the 2007-08 school year in the wake of four ugly incidents involving player ejections, unruly fan behavior and a coach's misconduct during the boys' tournament last spring.
"We used to have maybe one post-season incident per sport," says Rob Cuff, a UHSAA assistant director. "But to have four in soccer alone that involved more than just profanities or basic unsportsmanlike behavior is new for us."
Here's a tally of the damage done:
After making an obscene gesture to a referee and attempting to spit at him during a quarterfinal loss to Logan High School, an ejected Park City High School senior also gave Logan's fans the one-finger salute.
As time expired in a quarterfinal game between Delta and St. George's Dixie high schools, a Dixie senior shoved a referee, and several players' parents confronted Delta administrators on the field, ultimately refusing to leave.
At the championship game between Sandy's Jordan and Orem's Mountain View high schools, several Jordan students carried posters and took their shirts off (both prohibited activities), an adult berated a Mountain View administrator before handing over a banned air horn, and several spectators ran onto the field and dumped buckets of a sticky sports drink onto the synthetic turf field. Multiple matches were delayed while the grounds crew scrubbed the surface clean.
Ogden's Bonneville High School coach Mike Hickman verbally abused a UHSAA staff member about the officiating after losing the 4A championship game.
Hickman's fate is unclear, pending a sportsmanship hearing this fall, but Park City, Dixie and Jordan schools each were fined $500, sent a letter of reprimand and penalized two games next season - all in addition to the statewide boys' soccer probation. Says Cuff, "The reason for the probation wasn't to pick on soccer, but to bring attention to what we thought was a problem."
Utah's prep boys' and girls' soccer programs spent much of the late '90s through 2003 on probation because of an increase in ejections and unsportsmanlike behavior. But while the number of female players ejected has dropped steadily (down from 28 in 2005 to 17 during the 2006 season), ejection numbers in boys' soccer climbed to a record 111 last spring, up from 88 the previous year.
The UHSAA bolstered its training clinics for officials and coaches over the summer, encouraging more effective communication between them. "Bad sportsmanship arises when teams see physical play in one game and then are not allowed to play physical in the next," Cuff says. "Our intention is to get officials on the same page as best we can to allow coaches to see more consistency. In the world of soccer officiating, consistency between officials is the hardest thing."
Another solution lies simply in finding and training more officials to work soccer games. "We've had schools add soccer faster than we've been able to add officials," Cuff says. "In basketball and football, we have more than enough officials; if we need to discipline officials, we take games away from them. If we take games away from soccer officials, then we can't play the games."
Coaches' education programs, meanwhile, now focus even more on role-model sportsmanship - particularly important in Utah high school soccer, the state's only interscholastic sport in which more than half of the coaches come from outside school walls.
Other steps taken include designating special spectator areas. Because most regular-season soccer games take place on fields without bleacher seating, grounds crews are asked to demarcate areas on the grass where fans are permitted, thus discouraging them from staking claims with lawn chairs right on top of the sidelines. The UHSAA also now requires that an athletic director, principal or vice principal from the hosting school be present at all games; the presence of visiting administrators is recommended, too, as are uniformed security guards or police officers.
Last year, the Alabama High School Athletic Association found a new way to temper player and coach (but not fan) misconduct: Individuals ejected from games are now fined - $300 for the first ejection, $500 for the second (plus a one-game suspension), and $750 for the third (plus a season-long suspension). The organization's punitive response cut the number of ejections during the 2006-07 school year nearly in half, according to outgoing AHSAA executive director Dan Washburn, who estimates that the state's eight district athletic boards collected at least $150,000 in fines in all sports. A portion of that money goes into a "disaster fund," to help schools damaged by tornados or other calamities. About 70 percent of all fines were paid by the schools, while the rest were passed on to coaches, parents and players, Washburn says. In soccer, where red cards can be used for both unsportsmanlike behavior and rules infractions, only conduct-related ejections qualify for fines.
"We saw a trend that began to escalate in some of our sports," Washburn says. "Our conduct rule used to state that the first ejection would result in a warning, which just seemed like an invitation to get the first ejection. Nobody really worried about a warning."
Plans are in the works to create a statewide honor roll for all fine-free schools, as well as an online behavior modification course that can reduce fine amounts. Both programs should be in place by the 2008-09 school year, according to incoming AHSAA executive director Steve Savarese. "Our goal is no ejections," he says. "We're going to set our standards high and work as hard as we can to get there."
If Utah's new standards seeking to improve the behavior of all participants take hold, the probationary period for boys' soccer could be lifted next summer. After all, girls' soccer has already proven that the sport can rebound after probation. "We just need all groups involved to make changes," Cuff says. "If nothing else, what this has done is bring a lot of attention to the issue. People are talking about it and realize they must do their part. They are willing to work together and take responsibility. Soccer in Utah will be better than it was a year ago."