Administrators must prepare for the complexities of student-athlete pregnancy.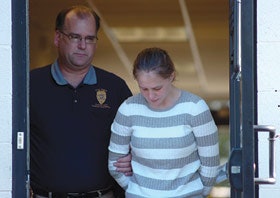 Teri Rhodes was a model high school student and volleyball captain. She studied biology and medical technology while attending college on a partial volleyball scholarship. Her future as a student-athlete seemed secure.
Then, everything changed.
Last November, in the weeks following her freshman season at Mercyhurst College, Rhodes became pregnant. As the pregnancy progressed, so did her secrecy about it. On Aug. 10, she returned to Mercyhurst for a preseason physical, denied that she was pregnant and was cleared to practice. A day later, Rhodes tried to assure a concerned assistant coach that she had recently taken a pregnancy test and that it was negative. The following day, Rhodes left practice early for her campus apartment, delivered a six-pound baby girl in the bathroom, then showered as the newborn suffocated in a plastic bag at the teenager's feet. Police later discovered that Rhodes had conducted Internet searches using the key phrases "herbal abortion techniques," "what can kill a fetus" and "alternative methods of ending pregnancy."
On Sept. 18, Rhodes sat with arms wrapped around her abdomen and wept as a district judge read a four-page criminal complaint against her. As of this writing, first-degree murder charges were not being pursued, but Rhodes faces a host of lesser charges and a state prison sentence of up to 40 years.
Word of the case met with shock and disbelief nationwide. What brought this woman to the depths of despair? Could the university have intervened more forcefully? Was this, indeed, avoidable?
"How tragic for her, as well as the child," says Beth Sorensen, assistant professor in the College of Nursing and Health at Wright State University. Sorensen is as familiar as anyone with the emotional and logistical complexities that arise from student-athlete pregnancy. Upon her appointment in 2003 as one of two Wright State faculty athletics representatives, Sorensen learned that the university had an inconsistent history of handling such situations - revoking the scholarship of one pregnant student-athlete while honoring that of another. She began researching what other institutions had done and analyzing the ethical and legal bases behind their actions. "At the time, I found only about three existing pregnancy policies for student-athletes," Sorensen says, adding that at last count the number was greater than 60. But, Sorensen cautions, "just because there is a policy doesn't mean that it says all the things that it should."
Clemson University women's track coach Marcia Noad had a policy. As recently as 2005 it read, "Pregnancy resulting in the inability to compete and positively contribute to the program's success will result in the modification of your grant-in-aid money." That language, which clearly runs afoul of federal law, has since been scrapped. But damage had already been done. ESPN's "Outside the Lines" reported in May that seven Clemson student-athletes claim they chose to abort their pregnancies rather than risk losing their scholarships.
In 2003, Sacred Heart University settled a Title IX lawsuit filed by Tara Brady, a starting center on the women's basketball team, who claimed her pregnancy was called a team "distraction," and that her request for a medical redshirt was rejected. According to the Women's Law Project, which represented Brady in her suit, "SHU admitted no wrongdoing, but did agree to clarify its existing policy prohibiting all discrimination on the basis of sex and include a clarification in both its student handbook and Athletics Policies and Procedures Manual that a student's pregnancy does not affect the student's scholarship, academic enrollment or team status for that season."
"Title IX is a big driver," Sorensen says of today's policy-making. "If athletics departments are removing financial aid from student-athletes who get pregnant, they are calling a Title IX violation upon the entire university, not just the athletics department."
Clemson's now-discarded approach of leaving pregnancy policies to the discretion of individual coaches was not atypical. The Register-Guard of Eugene, Ore., reported in May that the University of Oregon's lacrosse staff allowed all pregnant athletes to redshirt, while women's basketball coach Bev Smith opted to address the issue on a case-by-case basis. "It's part of the responsibility of a student-athlete and becoming an adult that there are consequences for the choices you make," Smith told reporter Rob Moseley. Says Geoff Rapp, associate professor at the University of Toledo College of Law, "Obviously, coaches bring a lot of talent to their jobs, but that doesn't necessarily include anticipating potential ramifications of questionable policy choices. I think that coaches, regardless of their personal feelings about athletes getting pregnant, would appreciate and benefit from guidance on this subject - not only on the legal issues, but also in asking whether they're doing the right things for young people."
Sorensen's ultimate goal is to help universities create open campus environments in which pregnant student-athletes are encouraged to be honest about their circumstances and to seek counsel and medical care. She presented at the NCAA Gender Equity and Issues Forum in May, then shared her research with the association prior to its Committee on Women's Athletics meeting on the topic in July. She has also consulted with the association as it prepares a pregnancy tool kit for member schools. Scheduled for earliest distribution at the NCAA Convention in January, the kit will likely contain a DVD covering legal rights of student-athletes and institutions, as well as best practices for administrators, coaches, team physicians and athletic trainers.
The latter group is often identified as being on the issue's front lines, since athletic trainers are in such regular contact with student-athletes, and may even be treated as confidants. So how does an athletic trainer deal with a pregnant student-athlete who insists on keeping her condition secret? "You've just outlined the struggle that we face every time we deal with one of these," says Barrie Steele, director of athletic training services at the University of Idaho, who in 22 years at the school has been aware of three student-athlete pregnancies. "When does the health and safety of the student-athlete outweigh the confidentiality laws? That's a tough question."
When dealing with known pregnancies, at least, "Title IX says that you must treat pregnancy as a temporary disability, so that is the overriding umbrella that we're working under," says Indiana University associate athletic director Janet Kittell, who chaired the Committee on Women's Athletics before stepping down Sept. 1. "If a kid who has an ACL injury keeps his or her scholarship, so does someone who's pregnant."
It was not always so straightforward, according to Sorensen. "When I first looked for what the NCAA does on pregnancy, I didn't find what I would call a clear answer," she says. "I found that there were some NCAA bylaws that would permit a university to withdraw financial aid if a student got pregnant. The bylaws mentioned temporary disabilities, and said, for example, that a school couldn't take away students' financial aid if they showed up out of shape and couldn't compete, or if they had a knee injury, but nowhere did they mention pregnancy."
Much of the dramatic increase in the number of pregnancy policies on individual campuses can be attributed to increased media attention within the past two years. Sorensen, meanwhile, continues to serve as a one-person clearinghouse of information. On Sept. 20, AB became the 119th entity - including universities, media outlets, attorneys, athletic trainers, team physicians and student-athletes' parents - to request and receive her research file on student-athlete pregnancy. "We want people to know that they don't have to start from scratch, that they can build from our templates," Sorensen says, adding that policies can be customized to meet the moral codes of faith-based colleges and universities.
Mercyhurst, a Roman Catholic institution, "has a policy that uses the terminology 'medical condition,' but we don't delineate specific medical conditions," says Debbie Morton, the school's media relations manager, adding that the policy was in place well before Rhodes enrolled at the school. "It's applicable to anything from a torn ACL to a pregnancy. And in connection with that policy is our position that no student will have his or her scholarship taken away because of a medical condition."
The university released a statement Sept. 18 that reads, in part, "We are home to more than 4,000 students, and we are committed not only to providing them the best education possible, but to maximizing our resources to ensure their overall well-being. Never can we avert every tragedy. They are a part of life. But we can and should learn from them, deal compassionately with those who are hurting and double our efforts to offer support to those who are in crisis."
No one knows what Teri Rhodes was thinking on Aug. 12. Perhaps not even Rhodes herself. Nonetheless, Sorensen calls her ordeal a sentinel event.
"I think I can say that the worst has finally happened," she says. "Maybe this sort of event is telling us that we don't currently have a safe environment, we don't currently have a place where this young woman could have gone to say, 'I have a problem. I don't know what to do. I don't know what the alternatives are.' I'm not in this young woman's shoes, so I can't second-guess what she was thinking. But I can say it would clearly be a failure of our athletics administration if something like that were to happen at our university. All of the work that I have been doing for these past five years has been directly focused toward preventing something like that from happening."