New fitness-related federal legislation could re-energize the No Child Left Behind Act.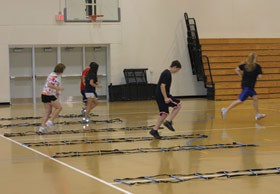 Childhood obesity has become a rallying point for politicians who've proposed countless pieces of local, state and federal legislation promising to make kids healthier, thinner and more physically active. Many of those bills haven't gotten far, often losing their initial support groups, proving too unwieldy for local jurisdictions or simply lacking necessary funds.
But the Fitness Integrated with Teaching (FIT) Kids Act could be different. The recently introduced federal bill aims to better integrate physical education into the No Child Left Behind Act - encouraging at least 225 minutes of weekly P.E. classes for all high school and middle school students (150 minutes for elementary school kids) and requiring schools, districts and states to report on students' physical activity, including the amount of time spent in required physical education courses in relation to the recommended national standard.
"It takes some building up of momentum to reach the critical mass that makes a piece of legislation move," says Kate Spaziani, legislative director for Rep. Ron Kind (D-Wis.), who introduced the FIT Kids Act on July 31 with Reps. Zach Wamp (R-Tenn.) and Jay Inslee (D-Wash.). "You need to have a vehicle to which a bill can be attached, so the pending reauthorization of No Child Left Behind is a golden opportunity for a piece of must-pass legislation like this."
Indeed, NCLB is the new act's best hope for passage and implementation. "Through its multifaceted approach that includes accountability, reporting requirements, professional development, research and support of children and teachers, there is an unprecedented opportunity to bring childhood obesity under control," says Craig Buschner, president of the National Association for Sport & Physical Education and a kinesiology professor at California State University, Chico. The act's suggested total weekly minutes for gym class are based on recommendations by NASPE and the U.S. Centers for Disease Control, and are currently met by fewer than 10 percent of all elementary schools in the United States.
Kind's original legislation would have required P.E. to be part of a school's core curriculum under NCLB (along with math, reading and science). But when teachers in Kind's northwestern Wisconsin district expressed concern that the FIT Kids Act would impose more unfunded mandates, he removed the requirement. "It's not as if we need to convince anyone that this is a pressing issue," says Anne Lupardus, Kind's press secretary. "It's just a matter of how we go about combating it."
At Arrowhead Union High School in Hartland, Wis., administrators began the battle a long time ago. Back in the mid-1990s, staff members started offering credit-bearing physical-education courses during the summer months as a way to help students stay fit and free up their time during the school year to take advanced-placement courses and other electives in Arrowhead's progressive college-prep curriculum. A few years later, they adapted elements of the summer program to an 18-week academic-year curriculum using "selective electives" - that is, offering students a variety of class choices (including aerobic and anaerobic programming, weight training and conditioning, team and individual sports, and nutrition education). The idea was to get kids excited about P.E. and perhaps entice them to take more classes than the school's required three semesters.
"We were among the only schools doing this at the time," says Arrowhead activities director Geoff Steinbach, one of the program's originators. "Our physical education and health department took a risk and stepped out of its comfort zone. We'd had fitness and weight-training classes before. But the big key is the selective elective concept, because that allows us to develop courses that are going to meet the needs of kids. When kids are making choices, they're doing something they want to do. We now have more kids taking physical-education classes - kids who don't have to take them - than ever before."
One of the school's most popular programs is Club Arrowhead, which can be taken multiple times and is designed for students who want to maintain or improve their personal fitness levels through a variety of activities. "Unfortunately, students have had bad experiences with physical education in the past, so they are prepared for those old-school, roll-out-the-ball-type activities," says Jeremy Miller, a physical education and health instructor who has taught Club Arrowhead for three years. "We want to be as far away from that as possible. Our students are getting a different experience each time."
Granted, it helps that Arrowhead boasts its own 56,000-square-foot fitness center, a swimming pool and ice facility, and abundant open space for outdoor activities. It also received a 2007 Carol M. White Physical Education Program grant, which will help add an 18-week adventure-programming curriculum in 2008, and heart-rate monitors and video cameras were expected to be incorporated into P.E. classes this fall.
But Miller, who came to Arrowhead from a small, financially strapped school in northern Wisconsin, says physical-education teachers need to make the most of whatever resources they have available. As Brett Fuller, curriculum specialist for health and physical education for Milwaukee Public Schools, admitted to the Milwaukee Journal Sentinel in September, while the bill "will pose some problems for the district, it highlights a need and is a step in the right direction."
The FIT Kids Act already has the endorsement of at least 14 national organizations, including the American Heart Association, the American Association for Physical Activity and Recreation, and the National Recreation and Park Association. Even though the act's fate was unknown as of this writing, Spaziani says Kind and the legislation's co-sponsors have additional options that include pursuing Senate support or reintroducing the act as a stand-alone bill.
Meanwhile, more than $72 million in PEP grants were recently awarded to almost 150 schools and school districts, YMCAs, Boys & Girls Clubs and other organizations to help initiate, expand and improve physical-education programming - bringing the program's seven-year awards total to more than $325 million. Additionally, the Alliance for a Healthier Generation and the Robert Wood Johnson Foundation in August jointly announced a $20 million expansion of the Healthy Schools Program, which was created by the alliance in 2006 to assist in the development and implementation of policies and practices that promote physical activity and healthy eating in schools. "The research shows we've got issues," Arrowhead's Miller says. "But we've also got support for what we're doing coming from high places. That's exciting."
"I feel like people are really starting to get it," Spaziani adds. "We have a lot of different people from a lot of different sectors coming together to support not just the FIT Kids Act but the idea that we really need to do something proactive."