New fitness-related federal legislation could re-energize the No Child Left Behind Act.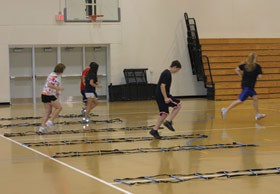 Childhood obesity has become a rallying point for politicians who've proposed countless pieces of local, state and federal legislation promising to make kids healthier, thinner and more physically active. Many of those bills haven't gotten far, often losing their initial support groups, proving too unwieldy for local jurisdictions or simply lacking necessary funds.
But the Fitness Integrated with Teaching (FIT) Kids Act could be different. The recently introduced federal bill aims to better integrate physical education into the No Child Left Behind Act - encouraging at least 225 minutes of weekly P.E. classes for all high school and middle school students (150 minutes for elementary school kids) and requiring schools, districts and states to report on students' physical activity, including the amount of time spent in required physical education courses in relation to the recommended national standard.
Log in to view the full article