A new program from the U.S. Soccer Federation reflects a focal shift from competition to player development.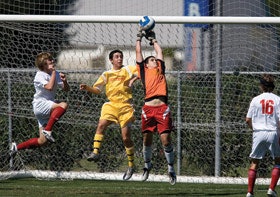 U.S. Soccer's Development Academy, which launched in October, de-emphasizes competition in favor of mandatory training sessions.
Recreational soccer participation continues to flourish. Soccer-specific stadium complexes are sprouting up in major metropolitan areas. Suburban landscapes across the country are increasingly dotted with rectangular pitches. And the arrival of an international superstar on U.S. soil has, if nothing else, sparked more awareness of this nation's professional soccer league.
With all these sunny elements in place, soccer in America would seem to be the picture of health. But a lingering malady plagues the sport - a lack of consistent success in international play, especially on the men's side. For decades, soccer pundits have predicted a five- to 10-year window before U.S. teams would be on top of the world. Five to 10 years keep coming and going while America's international standing remains on shaky ground. The reason, many soccer insiders contend, is a lack of a clear-cut system for finding and developing the country's premier talent.
"Take the parent of a highly talented 10-year-old. What do you tell them will be a probable course for their child's development over the next 10 years?" asks Ian Hennessy, a former professional soccer player and college all-American who is now the head men's soccer coach at the University of Delaware. "What do you do with a 15-year-old superstar player in Wisconsin? He or she is certainly not going to develop playing with other 15-year-olds. We have no clear system for these elite players, and there are all these different people pulling at them."
Enter the U.S. Soccer Federation's new Development Academy, hailed by many as the boldest and most expansive step toward elite player development ever put forth by the country's governing body for all things soccer. To be fair, a minority of other observers are circumspect, wondering if it will be yet another national player development system destined to fall by the wayside. Hennessy, for one, is sold. At least, he believes, it may be a collective step in the right direction for a national amateur soccer community that has historically been fragmented by organizational divides. Says Hennessy, "I think for the first time we have a true vision for youth soccer put forth by our mother organization."
On paper, the construction and operation of the development academy, which officially kicked off in October with some 2,000 players participating, is remarkably straightforward. Sixty-four U-16 and U-18 club teams from across the country have been selected to participate based on their previous team accolades and history of producing talented players. ("There were a lot more applications than there were clubs accepted," notes U.S. Soccer men's national team press officer Michael Kammarman.) There are eight conferences, each composed of eight teams determined by geographic proximity. Each team will play 30 home and away matches throughout an eight-month regular season, with the top team in each conference moving on to the academy finals at the Home Depot Center (home of MLS's L.A. Galaxy) in Carson, Calif.
The academy's stated objective (to focus on player development and give players the "best opportunity to develop to the highest level they are capable of achieving") is bland enough that it could seem to apply to virtually any private sports organization, yet there are specifics in the academy plans that have been the basis for most of the buzz.
U.S. Soccer has been most heralded for applying this simple formula to its academy: More training plus fewer games equals better player development. The recipe has proven successful for U.S. Soccer at its U-17 residency program in Bradenton, Fla., which takes about 40 players annually and grooms them for international play with the U-17 men's national team and, in some cases, the U.S. national team. The "player-centric" program, which began in 1999, has launched the careers of several American soccer superstars, including Landon Donovan and DaMarcus Beasley. Kammarman says the development academy is in many ways an extension of the U-17 residency program, though months of research from a technical committee composed of some of the biggest administrative and coaching names in amateur and professional soccer ultimately led to the new model. "What we're doing here is establishing mini academies, or mini residency programs, all over the country," says Kammarman.
In addition to being limited to the 30-game schedule, each academy team is required to hold training sessions a minimum of three days per week (though more are recommended) with at least one rest day per week. Such regimentation puts the academy's emphasis squarely on training and player development, which U.S. Soccer brass feels has been overshadowed at all levels of the sport by a decades-long emphasis on competition.
"Look what they're saying here," says Hennessy. "They're saying, 'You're playing too many games.' We are a game-mad country. The best analogy I've heard is, 'All exams and no studying do not the student make.' Well, all games and no training do not the soccer player make."
Bill Sage, executive director of U.S. Club Soccer, a nonprofit group affiliated with U.S. Soccer that has prided itself on its own systemic ability to nurture club teams and even produce elite national team players, similarly lauds the less competition/ more training approach. "There is no question that with so many different competitions and tournaments out there, way too many players play way too many games," he says. "With the focus on winning, and not on training, the relationship between skills development and competition has been way out of whack."
Another of the academy's guidelines dictates an exclusivity that's unprecedented in American soccer. Aside from high school play or national team duty, members of the academy's club teams are strictly prohibited from playing in outside tournaments or for other club teams. ("If they choose to do that, they will no longer be part of the academy," explains Kammarman.) The rule conforms with the less competition/more training model, but also seems to tackle a side effect of club soccer's recent surge in popularity that many of the games advocates see as problematic - guest playing. More than ever, highly talented amateur players are bouncing around from team to team and tournament to tournament, ostensibly looking for exposure to national staff, college recruiters and professional scouts.
"One of the things this academy is supposed to do is get that elite player's calendar in line," says Tony Kees, head coach of the Chicago Fire PDA, one of several club teams created by MLS franchises specifically for the development academy in order to breed some professional talent in-house. "Here in Illinois, and I think in a lot of other places, you'll see players even from out of state coming in and playing in the big tournaments. They don't ever actually train with the teams. They just show up for the big games. We're trying to get away from that."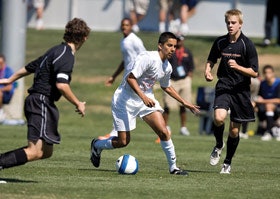 The proliferation of club teams has forced many top amateur players seeking exposure to consider foregoing high school play.
Still, establishing a policy that precludes players from moving freely throughout the amateur soccer landscape could be a daunting task, if only because of an organizational fragmentation in the sport that many see as both uniquely American and detrimental to the nation's top-flight amateurs.
Hennessy, who was born in Ireland but has been immersed in American soccer for more than 20 years, offers a worldly perspective. "If you're a very good young player in Ireland, for example, you're going to be identified by an extensive professional scouting network," he says. "Most often, you'd be picked up by a professional club in England and you'd go into their youth development system. You would stay in that system until you turn 18, and then, if you're good enough, that club would offer you a professional contract."
Contrast that to America's diverse array of soccer player-development networks - whether club teams, recreational leagues, individual tournaments and showcases, or high school and college programs - all of which, to some degree, have claimed a piece of the market, Hennessey contends. "I think part of this country's democratic formation is that everybody has a say, even in soccer. If you have a good idea, you can run with it. But there are some growing pains."
Sage, whose U.S. Club Soccer sponsors multiple events at which talented players from all over the country go for high-level competition and also to be seen, says he's actually pleased that U.S. Soccer has made it clear that the development academy will run independently of its affiliate organizations. "Soccer can get very political, as can a lot of amateur sports," he says. "I think U.S. Soccer is the only organization that can really take on something like this academy program."
For 30 years, the Olympic Development Program, run by another of the sport's leading organizations (and U.S. Soccer affiliate) U.S. Youth Soccer, has been considered a premier breeding ground for the nation's top boys' and girls' amateur talent. The program - in which players have traditionally gathered at the state, regional and national levels to train, compete and, most of all, mingle with professional players and national and collegiate talent-spotters - would seem to be in organizational competition with the U.S. Soccer development academy, given the latter's exclusivity clause. But USYS director of soccer operations Rob Martella sees more congruity than conflict between the programs.
"Ideally, what do we all want? We want success with our national teams," he says. "Realistically, I don't know if we can promise that. We don't know what other countries are doing, and our country has some geographic limitations compared to places such as Spain, say, or Germany. But hopefully our board and the rest of the groups out there can keep pushing the envelope. Depending on how this academy program plays out, I hope it can complement ODP."
Sage believes there's room enough in the amateur soccer world to sustain player development-related programs put forth by virtually any number of private (or club-based) organizations, regardless of whether they have like-sounding approaches (think the U.S. Soccer academy's rather generic statement of objective). "I'm not sure we'll ever develop a fully uniform system of player development," he says. "This country is just too large and too diverse for one system to produce 100 percent of national team or professional players." Sage justifies this assertion by pointing to the proliferation and increased sophistication of club programs over the past two decades. Not only that, he says, club organizations are becoming too savvy for the amateur soccer market to become static. "The successful clubs we're seeing now are more entrepreneurial in nature," he says. "I think over time a lot of clubs will adapt more of a business model than an association model."
As private club teams continue to attract the nation's top talent, where does that leave high school soccer programs? Often in dire straits, laments the Chicago Fire PDA's Kees, who joined the professional organization after 24 years of coaching at one of Chicagoland's top high school programs. The quality of high school soccer may be especially threatened in states such as Illinois, where the high school athletics association prohibits players from participating on club and high school teams simultaneously. "I think the high school game is in danger," Kees says. "As the club game advances, and starts to focus more on what's best for the players developmentally, the high school game is falling behind. It's becoming more recreational. The trend, here anyway, is that the elite player is becoming more likely to play for their club team than for their high school team."
What often gets lost in that decision, Kees says, is the broader developmental impact on the individual players. "The decision to forego high school play is tough on kids," he says. "A club environment can't duplicate the high school environment - the camaraderie, walking through the hallways with athlete status, wearing school colors, having the student body come out to your games." But private-sector soccer can offer elite high-school-age players its own rewards, Kees says, especially in a program that's so closely tied to an MLS team. "These kids will be able to rub elbows with the pros on a daily basis," he says. "They are going to have the best facilities and the best amenities. Everything the pros get, our kids are going to get. That can't be duplicated, either."
Tim Flannery, assistant director of the National Federation of State High School Associations, cautions against the idea that high school programs and clubs are in a recruiting war for top talent, if only because team winning and individual soccer skills development represent only a small fraction of a high school program's "education-based sports" mission. "We are different than clubs, and we are different than professional sports, and we need people to understand that and not have unrealistic expectations," he says. "Clubs want to get kids to the highest possible level of athletic performance that they can. That's not our mission and our focus. And when people come to high school programs and the coaches are not winning at all costs, that causes a conflict for some people."
Another factor changing the course of player development in American soccer is the rapidly improving level of coaching - the result, many experts believe, of a full generation of soccer players who grew up with the sport passing their knowledge down. The USYS's Martella says the previous generation of coaches had a fairly strict "football, baseball and basketball mentality."
"The kids today have more professional coaches - people who truly understand the game of soccer," he says. "We've never really had that in this country before." Adding to the benefits of the generational turnover is the recent weight many soccer organizations have placed on coaching development. Says Martella, "We're putting a lot of resources into that now. We believe that starting kids off with the right techniques and developing their skills will pay huge dividends for soccer in this country."
Still, coaching and player development aren't often done for their own sake. As Kees attests, the collective amateur soccer community's shift of focus from competition to skills development doesn't necessarily unburden top-level coaches and administrators from having to succeed. "We will be judged," says Kees. "But it's not about wins and losses in the development academy - it's about how many professional players we put in Toyota Park," the home of the Chicago Fire.
U.S. Soccer itself is taking a fairly pragmatic view of the academy, which will likely add teams, Kammarman says, depending on the program's success. "I don't think we're going to keep growing just to grow," he says. "The clubs that participate are going to have to keep bringing quality to the table."