As new activities gain traction, industry leaders must work to ensure that they are protected from liability.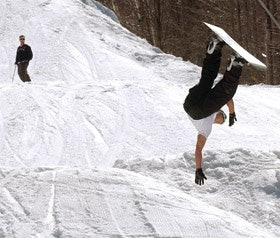 According to the National Ski Areas Association, during the winter of 2006-07 more than 55 million skiers visited the 485 ski resorts in the United States. In order to protect the jobs and tax dollars this multibillion-dollar industry generates, many states have enacted legislation designed specifically to protect the ski industry from a potential avalanche of lawsuits that could arise from injuries suffered while skiing.
However, with snowboarders making up the fastest-growing segment of the ski industry, it is not surprising that the courts are increasingly being asked to determine whether these ski immunity statutes, many of which were enacted before snowboarding was invented, also provide ski resorts immunity from snowboarding injuries. A good example of this issue is Cecere v. Loon Mountain [923 A.2d 198 (N.H. 2007)].
In 2004, Louis Cecere was snowboarding with friends on Loon Mountain in New Hampshire when he attempted the "Tombstone Jump." An experienced snowboarder, Cecere had taken the jump many times. On this occasion, however, Cecere overshot the landing area and was thrown headfirst into packed snow. Even though he was wearing a helmet, Cecere suffered a serious brain-stem injury and died two days later.
As a result of his death, Louis' mother, Beth Cecere, sued Loon Mountain for negligence. In defense, Loon Mountain denied all allegations and moved for summary judgment based on New Hampshire statute RSA 225-A, which states that each skier accepts the danger in the sport of skiing and any injuries that result from the inherent risk of skiing. The trial court agreed with Loon Mountain and granted its motion for summary judgment, dismissing the case.
On appeal to the New Hampshire Supreme Court, Cecere argued that the trial court misapplied RSA 225-A to her son's case. In particular, Cecere argued that her son was not a skier but a snowboarder, and that snowboarding was a completely different sport with different mechanics and maneuvers. Since RSA 225-A as it was then written did not include the words "snowboarding" or "snowboard" - it was amended by the legislature in 2005 to make clear that the statute pertained to snowboarding, snow tubing and snowshoeing - Cecere maintained the legislature did not intend the statute to apply to snowboarders.
The statute, as amended in 2005, now defines a skier as "a person utilizing the ski area under the control of a ski area operator for the purpose of utilizing the ski slopes, trails, jumps or other areas." This definition, the New Hampshire Supreme Court noted, is supported by case law in Sweeney v. Ragged Mt. Ski Area [151 N.H. 239, 242, 855 A.2d 427 (2004)]. In Sweeney, the New Hampshire Supreme Court determined that a patron who was injured while using a snow tube on a track designated solely for snow tubing did not "participate in the sport of skiing" and was not a "skier." In that case (a victory for the injured snow-tuber), the court found it significant that the patron was using a snow tube run designated exclusively for that purpose, rather than an Alpine or Nordic slope, or trail.
Based on the definition in the amended statute and existing case law, the court ruled that prior to 2005, a skier under RSA 225-A is not defined as a person who uses skis, but someone who uses an Alpine or Nordic slope or trail. Using this definition, the New Hampshire Supreme Court ruled that Louis Cecere was a "skier" under the statute because he used an Alpine slope that was under the control of Loon Mountain. Beth Cecere, however, claimed that the 2005 amendments could not be used to clarify whether RSA 225-A was intended to apply to snowboarding because snowboarding did not exist in 1978.
In rejecting this argument, the court ruled that legislative enactments apply alike to persons, subjects and businesses within their general purview and scope that exist at the time of the enactments, and to those coming into existence subsequent to their passage. Therefore, the court reasoned, the relevant inquiry is whether the language of the statute as it existed before the 2005 amendments encompassed snowboarding, not whether this sport existed in 1978. In this way, the 2005 amendments clarified, rather than changed, the meaning of the 1978 version.
Even if snowboarding were covered under the statute, Cecere argued, the jump that killed her son was manmade and thus should not be considered an inherent risk of skiing. The jump was made entirely of snow, but was constructed by Loon Mountain employees. While variations in terrain are an inherent risk in skiing, Cecere argued, the risk only applies to variations that occur naturally. In rejecting this argument, the court held that the meaning of "variation" is simply a change in the form or quality of something, and any variation, whether naturally or artificially occurring, is considered an inherent risk of skiing.
Cecere's final argument was that Loon Mountain was liable for her son's death because it breached its statutory duty to design, construct and maintain the jump properly. In rejecting this argument, the court ruled that because it had already determined that a jump constitutes a variation in terrain, any claims that the ski area inadequately constructed, designed or maintained the jump would fall within the inherent risks identified by the statute and therefore be barred.
While at first glance the Cecere decision may seem to have little importance outside the New Hampshire ski industry, the case should serve as an important warning to all sports and recreation providers. State legislatures across the country have passed numerous laws designed to protect various sport and recreation industries and activities from liability. However, since these laws are usually only updated after there has been a legal challenge involving their interpretation, it is essential that industry leaders continuously examine the wording of such statutes to ensure that they are up to date. If not, industry leaders need to work with their state governments to ensure that these laws are updated as new activities and sports are developed.
Only by working with their state legislatures can industry leaders ensure that their industries are protected from future lawsuits. If statutes are not updated, as Cecere illustrated, it will be up to the courts to determine the legislatures' intent and whether any new activities will be covered under existing laws.