The nuanced culture of athletics brings both leeway and landmines to discussions of sexual harassment.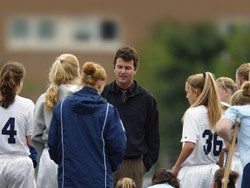 On Jan. 14, former University of North Carolina student-athlete Melissa Jennings won a settlement of $385,000, subtracted from the athletic department's 2007-08 budget, to settle a decade-old sexual harassment claim against legendary women's soccer coach Anson Dorrance. Jennings, a walk-on goalkeeper who had been cut from the team, alleged that Dorrance harassed team members by asking about their sex lives. Former team captain Debbie Keller had joined Jennings' suit and settled for $70,000 in 2004. Dorrance, who has won 19 national championships (and counting) with the Tar Heels, dismissed his inquiries as banter of a "jesting or teasing nature."
A four-month investigation conducted by Florida Gulf Coast University determined that women's volleyball coach Jaye Flood had been involved in an inappropriate relationship with a student and had violated the school's sexual harassment policies. Voted the Atlantic Sun Conference's 2007 Coach of the Year by her peers despite being suspended by FGCU for the final eight matches of the season due to "student welfare" concerns, Flood was savaged by her players in written evaluations and fired on Jan. 22.
On Jan. 25, former cross-country runner and football team manager Lauren Summa filed suit against Hofstra University, claiming she was the victim of repeated sexual harassment. Summa alleges football players taunted her aboard the team bus as they watched a movie depicting interracial sex scenes. "This is what you white women want," said one player, according to Summa. On an earlier trip, Summa claims that players locked her in the bus's bathroom and that head coach Dave Cohen urged her to not report the matter to campus authorities. She did anyway, and was promptly replaced.
On Feb. 13, former Fresno State women's basketball coach Stacy Johnson-Klein accepted a $6.6 million jury award, bringing to a close a discrimination case in which she claimed she was groped by athletic department superiors and retaliated against for advocating gender equity on behalf of her program. Johnson-Klein represents the university's third female athletic department employee within a year to collect on a Title IX claim against the school. Former volleyball coach Lindy Vivas convinced a jury she was fired based not only on her gender-equity views but her sexual orientation, and was awarded $4.52 million in July. In October, former athletic administrator Diane Milutinovich settled her sexual discrimination suit for $3.5 million. Fresno Bee editorial page editor Jim Boren wrote of the former Fresno State athletic director who served as a common denominator in all three cases, "If there is a hall of fame for sexual harassment, Scott Johnson has to be a unanimous first-ballot inductee."
Collegiate athletics administrators everywhere are confronted by the potential individual and institutional devastation posed by sexual harassment claims, for theirs is a domain clouded by nuance not seen in most other walks of life. On the one hand, acts that would be considered harassment in virtually any other setting - a sideline hug, a congratulatory pat on the backside, even a spontaneous massage - are tolerated, if not expected, in the sports arena. On the other, the close-knit nature of teams or entire athletic departments often thrusts individuals into a gray area between what's acceptable and what's offensive.
According to Nancy Hogshead-Makar, a professor at the Florida Coastal School of Law and a three-time Olympic gold medalist in swimming, collegiate student-athletes may spend as much as a third of their waking hours under the direct watch of their coach, who holds tremendous power over the student-athlete in terms of regular playing time and annual scholarship renewal. Moreover, teams spend large portions of their competitive seasons on the road and in hotels, and the sports themselves likely require acute focus on the physical fitness of the student-athlete. "Combine all those things, and you can see why sexual harassment could happen much more easily in an athletic setting than in a normal academic setting," Hogshead-Makar says.
Sexual harassment suits facing collegiate athletic departments are being filed with greater frequency under Title IX of the Education Amendments of 1972, according to attorney Robert Clayton, whose firm Littler Mendelson investigates such claims and provides consulting services for athletic departments. "Title IX now is not only the focus of litigants in terms of equity in the offering of athletic opportunity between the men's and women's programs, it's now a focus in terms of classic sexual harassment allegations," Clayton says. "Individuals are making claims that the harassment has adversely affected their participation in the athletic program. That is uniquely captured under Title IX, which deals with educational benefits of participation. Courts are looking not only at one's participation in sport, but the environment in which one is participating."
Ultimately, it must be determined whether a reasonable person would consider the alleged harassment to be severe or pervasive enough to create a hostile environment that interferes with access to educational benefits. In the North Carolina women's soccer situation, the cumulative impact of Dorrance's conduct on the environment in which Jennings participated came into question. "Remember, there hasn't been a trial on this, so it's 'she says/he says,' but the allegation was that he engaged in sex talk with his athletes and made her feel uncomfortable," says Hogshead-Makar, who was hired per the settlement agreement to review UNC's sexual harassment policy. "He did make a couple of comments to her, but it was much more the discomfort with having this inappropriate talk going on around her."
Clayton, whose firm currently represents FGCU, often counsels athletic departments to think in terms of green-, yellow- and red-light scenarios - and how easily those colors can change. An acceptable behavior may involve a coach telling a player that she has greatly developed leg muscles, which should serve to enhance her stamina on the soccer field. "That's a green light, because coaches are going to remark about the person's physical condition as part of their ability to perform well in the sport," Clayton says.
A yellow-light comment, meanwhile, may simply be, "You have great legs." "You don't want there to be any ambiguity," says Clayton. "Someone could be offended and say, 'He's referring to me in a sexual way, not as an athlete.' " In reviewing sexual harassment suits that claim a hostile environment, courts tend to lend greater credence to the alleged victim's perception than to the alleged harasser's intent.
As for red-light conversation, Clayton offers, "You're an attractive young lady. You could be a model with those legs." The dialog may start as something completely appropriate within the athletics context, but then morph into something arguably illegal in any setting. Says Hogshead-Makar, "You can see how quickly it can go from, 'You really look like you're developing those leg muscles' to 'You're looking hot,' and how quickly it shifts to sexual harassment."
If and when it does, schools must be prepared to go on the defensive. The university's sexual harassment policy can and should serve as the template for what an athletic department does to prevent and react to claims of illegality. (Hogshead-Makar, who serves as a legal advisor to the Women's Sports Foundation, offers a sample policy in a paper she coauthored for the Marquette Sports Law Review in 2003 titled "Intercollegiate Athetics' Unique Environment for Sexual Harassment Claims: Balancing the Realities of Athletics with Preventing Potential Claims.") It's important to provide both staff and student-athletes with an understanding of the relationship leeway and landmines inherent in athletics, adds Clayton, and any policy should be discussed using hypothetical situations or actual case studies during annual or biannual meetings with coaches and players.
"Take the policy and speak not only to what the policy says, but also to what types of situations it covers," Clayton says. "Republish the policy as part of the contract of employment for administrators and coaches, and as part of the grant-in-aid requirements for student-athletes, and then separately educate the administrators, coaches and student-athletes so that they are aware of the conduct that's prohibited by the university's sexual harassment policy. Then you are putting in an affirmative defense for the university to say, 'We did everything we could to communicate the standard of behavior that they are to live up to.' "