In May, the University of Iowa settled two lawsuits filed by former members of its athletic department: Jane Meyer, former senior associate athletic director, and Tracey Griesbaum, former women's field hockey coach. Both Meyer and Griesbaum alleged the university was liable under the Iowa Civil Rights Act, Chapter 216, for sexual orientation discrimination, gender discrimination and retaliation. Further, Meyer's lawsuit alleged wage discrimination and unequal pay based on gender.
Both plaintiffs first filed charges with the Iowa Civil Rights Commission and were each awarded a Right to Sue letter from the commission. After a 14-day jury trial in May, Meyer was awarded $1.43 million by unanimous verdict, with the jury finding the university liable on all claims. This plaintiff victory prompted the university to settle the Meyer case, as well as the Griesbaum case, which was scheduled to begin trial on June 5. The total settlement amount for both cases, including attorney's fees, was $6.5 million.
Griesbaum had been a coach at the university for 22 years, serving as head coach for 14 years. In April 2014, Iowa athletic director Gary Barta received a complaint from the parent of a women's field hockey player regarding Griesbaum's coaching practices. This complaint was investigated in May 2014, with the university conducting more than 40 interviews. The investigation found no policy violations, however Griesbaum was terminated as head coach on August 4, 2014.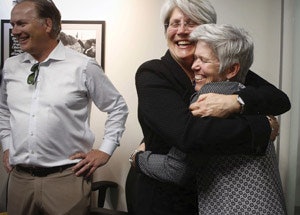 The Meyer and Griesbaum lawsuits both center on this termination.
Further, Meyer and Griesbaum are in a relationship, which the university reviewed and approved according to its nepotism guidelines. Both Meyer and Griesbaum allege that their relationship, as well as a culture of gender inequity, were the basis for Griesbaum's termination, Meyer's adverse employment consequences and retaliation against both former employees.
As a review of both cases will demonstrate, university athletics programs, as well as other employers covered by civil rights legislation, must be mindful of their responsibilities to ensure equity in the workplace and refrain from practices that could be deemed discriminatory or retaliatory.

The Meyer Lawsuit
Meyer was hired as a senior associate athletic director at Iowa in 2001. Throughout her 13-year tenure as the number-two-ranking administrator in the athletic department, Meyer received positive job performance feedback. However, in 2014, when Meyer questioned the potentially discriminatory firing of a female coach (Griesbaum), her work climate began to shift.
Specifically, on August 4, 2014 (the same date Griesbaum was fired), Barta hired Gene Taylor as deputy director of athletics. Barta announced his intent to hire a new deputy director in May 2014, around the time Griesbaum's investigation began. Barta assigned many of Meyer's responsibilities to Taylor, and although Taylor's overall workload was less than Meyer's had been when she was the number-two-ranking administrator, Taylor was paid $70,000 more per year than Meyer.
Further, over the course of 2014, Meyer felt that Barta was becoming more discriminatory toward her and other female employees, as well as female student-athletes. (Her lawsuit cited many instances of such alleged discrimination.) Based on these allegations, Meyer filed a written complaint with Barta on December 4, 2014. On December 5, 2014, Barta put Meyer on administrative leave and removed her from the athletics department, announcing that Meyer had been removed because of a potential lawsuit from Griesbaum.
After her removal from the athletics department, Meyer lodged a formal complaint with the university, alleging wage, gender and sexual-orientation discrimination and retaliation. Specifically, she alleged that the university failed to treat her equally compared to male employees, allowed her to be discriminated against by her supervisor, subjected her to heightened scrutiny while paying her less than a male counterpart, removed her from her position one day after she made a complaint of discrimination, and retaliated against her after her partner, Griesbaum, went public with a potential discrimination lawsuit of her own.
Meyer claims that her complaint was ignored by Barta, human resources, the University of Iowa Equal Opportunity and Diversity Office and the Board of Regents, thus prompting a lawsuit.

The Griesbaum Lawsuit
As stated, Griesbaum was a coach at the university for 22 years. During her tenure, she maintained a competitive program, leading the team to multiple Big Ten and NCAA tournament appearances, including the 2008 NCAA Final Four. Despite her coaching success, she contends that she was a victim of continued inequality, gender bias, gender stereotypes, and gender and sexual-orientation discrimination from 2006 to 2014.
Specifically, Griesbaum alleged that she was improperly fired because of a double standard in coaching. She claimed that the university had never fired a male coach because of a student-athlete complaint, and that Barta used his own biases and stereotypes about how women should coach when making the decision to terminate her. Further, Griesbaum alleged that Barta held her sexual orientation against her, as he had other female coaches. Griesbaum claimed that Barta had a history of terminating gay female coaches once their relationships were made public.
Griesbaum cited six instances where Barta undermined, forced out or terminated a female coach, and one instance where the same was done to an administrator (Meyer). Griesbaum alleged that the adverse employment decisions were based on a "lack of support or interest in women actually being competitive, female coaches requesting more equal facilities, overreaction to complaints of female student-athletes toward female coaches, and responses to women who directly challenged the administration."
The lawsuit provided very detailed accounts of how each of the six coaches were treated unfairly or unequally compared to their male counterparts, as well as a thorough description of the treatment Meyer received.

Analysis
The Iowa Civil Rights Act, Chapter 216, makes it unlawful for an employer to discriminate against an employee on the basis of gender or sexual orientation, pay employees differently on the basis of gender, or retaliate against an employee for engaging in activity protected by the statute. Meyer and/or Griesbaum claimed a violation under every category of Chapter 216, and through either trial verdict or settlement, both plaintiffs were successful in their discrimination lawsuits.
While the settlement agreements contain standard non-admission of guilt clauses, and do not provide a legal analysis of the individual discrimination claims, those who advocate against gender discrimination in collegiate athletics see the settlements as a victory for the plaintiffs and a milestone achievement.
Further, these cases are unique in that the jury verdict in the Meyer case prompted the ultimate settlement of both cases. (The Meyer case was settled to increase the damages awarded.) Instead of appealing the court's decision, the university took the verdict as a sign that it was not likely to succeed in the forthcoming Griesbaum case, and moved toward settlement. The interwoven facts of both cases — and allegations of pervasive discrimination spanning almost a decade — were likely too much for the university to overcome. Thus, settlement was the university's best option.

Recommendations
Both the Meyer and Griesbaum lawsuits requested equitable relief in the form of orders requiring the university to take certain remedial actions relative to discrimination. Athletic departments (or other employers) seeking to ensure they are operating a workplace free from gender or sexual orientation bias can use this example as the basis for best practice strategies.
Specifically, as requested by the Griesbaum and Meyer lawsuits, employers should consider the following:
Collegiate Athletic Departments
• Create a standard coaching methods handbook that applies to all coaches regardless of gender or sexual orientation.
• Provide implicit bias training and monitoring to prevent bias or stereotypes from affecting female coaches regarding hiring, assessment, pay, performance, investigations or termination.

All Employers
• Provide training to supervisors regarding how to avoid engaging in gender-discriminatory practices.
• Monitor the workplace environment to ensure that employees are not being treated differently.
• Test and evaluate supervisors to ensure they do not act upon bias or tolerate disparate treatment. Even if these specific strategies are not implemented, employers must be mindful of potential discriminatory practices in the workplace.
The Griesbaum and Meyer cases do not represent a new area of concern for employers, as equity and discrimination issues have been common for decades. More uncommon, however, is the outcome of the Meyer case and the resulting dual settlements, particularly in the area of collegiate athletics. These cases may signal a shift in the landscape of collegiate athletics regarding gender bias and other related claims and should prompt athletic departments to re-examine current practices.
---
Kristi Schoepfer (schoepferk@winthrop.edu)is chair of the Physical Education, Sport and Human Performance Department at Winthrop University.
---
This article originally appeared in the September 2017 issue of Athletic Business with the title "Iowa discrimination cases costly, and easily avoided" Athletic Business is a free magazine for professionals in the athletic, fitness and recreation industry. Click here to subscribe.