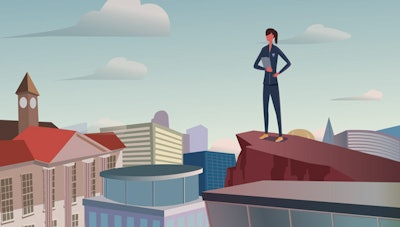 In recent years, several female college coaches have filed notable lawsuits resulting from perceived discrimination under Title VII and Title IX, as well as state anti-discrimination laws. In multiple instances, these coaches have been awarded multimillion-dollar verdicts or settlements, sending clear messages to university athletics departments and athletic directors that disparate treatment and discriminatory practices will not be tolerated. Most recently, Shannon Miller, a highly accomplished women's hockey coach at the University of Minnesota-Duluth (UMD) received a $3.7 million jury verdict for discrimination under both Title VII and Title IX, and Beth Burns, the former women's basketball coach at San Diego State University, settled for $4 million.
Shannon Miller v. University of Minnesota-Duluth
Miller was one of three self-identified lesbian coaches at UMD who either did not have a contract renewed or resigned as a result of a perceived hostile work environment. Prior to her non-renewal, Miller had been the women's hockey coach at UMD for 16 years. In that time, she accumulated an overall winning percentage of .707, had the fourth-highest number of wins among active Division I women's hockey coaches, and had only one losing season. Further, her teams made seven Frozen Four appearances and won the national championship five times.
Despite Miller's overall success at UMD, she was told on Dec. 9, 2014, that her contract, and the contracts of her coaching staff, would not be renewed, effective June 30, 2015. The reasons cited by athletic director Josh Berlo and chancellor Lendley Black were first said to be "strictly financial." Black later cited additional factors, including declining academic and athletic performance from the women's hockey team.
However, Miller alleged that she was never made aware of concerns related to academic or athletic performance, and that the financial hardship reasoning posed by Berlo and Black was mere pretext for intentional gender discrimination, as well as retaliation under Title IX.
The three plaintiffs filed joint claims of discrimination under the Minnesota Human Rights Act, Title VII of the Civil Rights Act of 1964, Title IX of the Education Amendments of 1972, the Equal Pay Act, and the Minnesota Whistleblower Act. In pretrial motions, 22 of the original 24 claims were dismissed for lack of jurisdiction. The federal judge in U.S. District Court determined that the District Court did not have jurisdiction to hear the state law claims, nor could the District Court hear the Title VII claims of two of the plaintiffs, as there is still dissention in the federal circuit courts regarding whether Title VII protects against discrimination based on sexual orientation.
Of all the claims filed, only Miller had traditional gender-based Title VII claims, as well as Title IX claims, and those claims were permitted to proceed. It is worth noting that the state law claims dismissed in federal court are likely to be filed in Minnesota State Court. The initial dismissal for lack of jurisdiction is in no way determinative, or a victory for UMD.
Among Miller's remaining claims, she asserted sex-based discrimination under Title VII. Specifically, Title VII prohibits an employer from discharging or discriminating against any individual with respect to their compensation, terms, conditions and privileges of employment on the basis of gender. In her complaint, Miller asserted multiple instances that support her discrimination claims, including the following:
• A pay disparity existed between Miller and other similarly situated male coaches, namely the men's hockey coach, who earned $93,241 more than Miller annually despite having a significantly lower winning percentage as a head coach
• UMD cited financial reasons for the decision to not renew Miller's contract, yet the male men's hockey coach was retained despite earning more than Miller
• UMD declined to take remedial measures to minimize harassment by UMD employees in the athletics department
• UMD denied support related to important job functions that had been provided to male athletic coaches at the university
Miller also asserted Title IX retaliation claims. Specifically, Title IX prohibits retaliation against individuals who engage in protected activity, including good-faith complaints of sex discrimination, opposing illegal practices under Title IX, opposing discrimination through internal school communications, and voicing concern to supervisors at the educational institution. Miller asserted that she engaged in protected activity, and that her non-renewal was, in part, based on the following:
• Complaining to the university that its treatment of the women's hockey program may be in violation of Title IX
• Raising issues to the athletic director regarding the lack of funding and services for the women's hockey team:
– The men's hockey team recruiting budget was unlimited; the women's hockey team recruiting budget was $26,000
– The men's hockey team had a full-time director of operations; the women's hockey team had a part-time director
– The men's hockey team had a full-time equipment manager and a full-time strength coach; the women's hockey team had one individual who served as both equipment manager and strength and conditioning coach, among additional responsibilities
– The men's hockey team received two meals on weekends; the women's hockey team received one meal
– The men's hockey team received funding for players to attend May term and summer school; the women's hockey team received no similar funding
• Complaining that the operating expenses for the men's hockey team exceeds that of the women's team by $273,590
• Filing formal complaints within the institution
• Initiating a formal investigation into sexual harassment and discrimination of another female coach at UMD
On March 6, 2018, two and a half years after the initial case was filed, a jury heard Miller's claims. After a trial lasting just over one week, the jury deliberated for four hours and returned a verdict for Miller, awarding her the full amount requested by her attorneys. While the evidence favoring Miller and the efficacy of the jury verdict infer that the case was easy to decide, an appeal from UMD is certainly possible and likely. The university maintains that the non-renewal of Miller's contract was motivated by financial concerns, along with concerns related to team performance.

Similar outcomes and future cases
As noted, Miller is not the only female coach in recent years to successfully assert Title IX retaliation claims.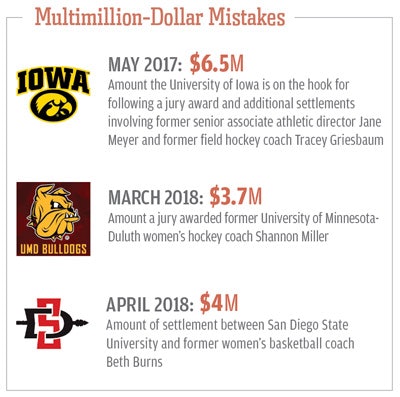 In April 2013, San Diego State University fired women's basketball coach Beth Burns, who had four years and $880,000 remaining on her contract. Burns had been the women's basketball coach at SDSU for 16 seasons, and was the winningest coach in SDSU women's basketball history. Further, Burns had a track record of academic success with her athletes — 100 percent of players who played for four years graduated from SDSU.
SDSU claimed that the firing was for cause, related to an incident with a subordinate assistant coach, while Burns claimed her firing was retaliation for complaining about potential Title IX violations at the school, and that any for-cause assertions were pretext for retaliation. The case went to trial in 2016, and a jury returned a $3.35 million verdict for Burns (plus $1.9 million in attorney fees). SDSU appealed, which triggered mediation and an ultimate settlement in April 2018 of $4 million total.
Last September, AB analyzed the University of Iowa's $6.5 million in combined settlements awarded in May 2017 to longtime field hockey coach Tracey Griesbaum and senior associate athletic director Jane Meyer, who alleged the university was liable under the Iowa Civil Rights Act, Chapter 216, for sexual-orientation discrimination, gender discrimination and retaliation. Meyer's lawsuit further alleged wage discrimination and unequal pay based on gender.
Also, as previously noted, the state law discrimination and wage-based claims in the Miller case that were dismissed by the federal judge for lack of jurisdiction in federal court are arguably some of the strongest claims presented by any of the three women plaintiffs in that case. Specifically, the allegations related to sexual-orientation discrimination are particularly disturbing, and support that Miller, and the other self-identified lesbian coaches, were forced to work in a hostile work environment, and were discriminated against based on their sexual orientation. Future adjudication of those claims may result in additional liability for UMD and may set precedent for future plaintiffs that sexual-orientation discrimination is prohibited by law.
The Miller and Burns cases, as well as the potential future cases against UMD, demonstrate that athletics departments need to be particularly cautious regarding decisions related to compensation, terms, conditions and privileges of employment, as well as decisions that impact compliance with Title IX and equity among sports programs. On April 19, a law firm tasked with reviewing Iowa's employment policies in the wake of the Meyer and Griesbaum settlements released a report indicating that it felt the university set the bar too high in its definition of illegal workplace harassment, and that employees could therefore "erroneously believe that harassment that falls short of this standard must be tolerated and not reported."
Athletics departments are unique landscapes that often include complexities in managerial decision-making and intricate financial considerations. However, the unique challenges present in athletics departments, and the balancing that is often necessary between gender-specific sports, are not license to operate a department that is discriminatory or has a disparate impact on those in protected classes or those advocating for equity owed under federal law. As these decisions demonstrate, university athletics departments should be on notice that verdicts and settlements like the ones described here are fast becoming the rule and not the exception.
---
This article originally appeared in the June 2018 issue of Athletic Business with the title "Discrimination continues in collegiate athletics at high cost." Athletic Business is a free magazine for professionals in the athletic, fitness and recreation industry. Click here to subscribe.