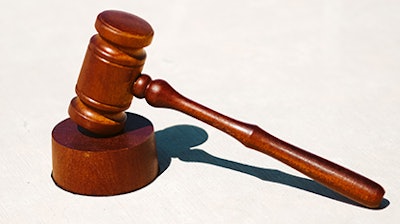 Attorneys representing thousands of former Division I athletes are seeking monetary damages for their clients in a new antitrust lawsuit filed against the NCAA.
According to Courthouse News Services, plaintiffs in the suit include former Oklahoma State running back Chuba Hubbard and former Auburn track athlete Keira McCarrell, as well as all current and former Division I athletes as far back as 2018.
In a 30-page complaint filed Tuesday, attorneys allege the NCAA and the Power Five conferences owe their clients millions in damages.
The NCAA lost a previous 2021 antirust case in the Supreme Court, which unanimously ruled against the NCAA. That court ruled that the NCAA's rules against allowing "academic or graduation awards or incentives" for student-athletes violated antitrust laws. The association then revised its bylaw to allow all Division I college athletes to receive academic achievement awards each academic year.
The members in this most recent lawsuit were not part of that judgement, as they include current and former Division I college athletes whose damages were not litigated in the previous case.
Hubbard claims that he was deprived of receiving $5,980 awards that he would have earned each year at college.
"While the injunction striking down the NCAA's restrictions on education-related compensation, which was unanimously affirmed by the Supreme Court in Alston, unlocked life-changing benefits for NCAA Division I athletes moving forward, it did not rectify the harm suffered by thousands of Division I athletes who were unlawfully prevented from receiving education-related compensation before the injunction was issued," attorney Jeffrey Kessler said in a statement.
The student-athletes in the most recent suit allege that after the previous ruling, the student-athletes were in even greater demand, but they were still denied receiving academic achievement awards beyond their NCAA-capped "scholarships."
"As monopsony buyers in these labor markets, the NCAA and its members had (and still have) the ability to control price and exclude competition. Nor are equivalent labor market opportunities offered by the professional leagues," the plaintiffs say in their lawsuit.
"Should the court permit defendants to relitigate these issues, and it should not, any argument that banning academic achievement awards preserved consumer demand for college sports fails as a matter of law," the plaintiffs continue. "Any arguable procompetitive benefit from banning such compensation would only be felt in any product markets for college sports, not the relevant labor markets at issue here."
The student-athletes are demanding a jury trial, and they are seeking to recover damages for economic injury.