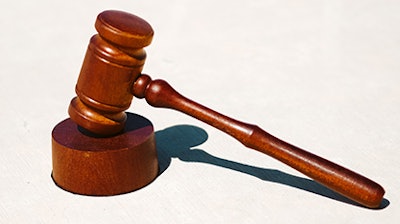 A Florida gym teacher has been arrested after video emerged that appears to show the teacher encouraging two students to engage in a physical fight.
Melbourne police said they were contacted about a fight that occurred on April 21 in a boys' locker room at Lyndon B. Johnson Middle School. Video showed gym teacher Paul Eller, 58, along with a group of students watching the fight.
One of the students was injured in the fight, but Eller could be heard in the video encouraging them to continue fighting.
The two students continue fighting, but Eller only stepped in to break it up when a third student joined in the altercation.
Eller faces charges of child neglect, culpable negligence and disruption of a school function.
Last month, Johnson Middle School principal Marina Saporito-Middleton in a letter to student families promised the allegations would be thoroughly investigated by both law enforcement and Brevard Public Schools' human resources office.
"It was reported that the teacher allegedly played a role in allowing students to fight on our campus," Saporito-Middleton wrote. "Please know that upon receipt of this information, swift action occurred which involved contacting all necessary parties from Law Enforcement to District personnel. There is an active police investigation which means there is limited information that can be shared. I can tell you that the teacher has been placed on administrative leave and is currently not allowed on campus."