Locals in southeastern Louisiana call it the "Battle on the River," the annual football rivalry between Destrehan and Hahnville high schools.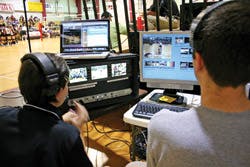 Destrehan and Hahnville high schools in southeastern Louisiana live-stream every sporting event in which the two schools play each other. (Photo courtesy of St. Charles Parish Public Schools Satellite Center)
Locals in southeastern Louisiana call it the "Battle on the River," the annual football rivalry between Destrehan and Hahnville high schools. Up to 6,000 fans squeeze into the host school's sold-out stadium every year to watch the two teams, representing nearby communities separated by the Mississippi River, compete in what is billed as the state's most heated gridiron matchup. And as many as 500 more watch a live stream of the game - complete with up to five cameras, four announcers and pregame, halftime and postgame shows - produced and staffed by students from both schools who are each paid $25 for their efforts.
"There's a wide variety of experience, so it's a little rough at times," admits Albert Dupont, who oversees streaming operations as the advanced TV broadcasting facilitator at The Satellite Center, a facility established by St. Charles Parish Public Schools to provide hands-on experience to help Destrehan and Hahnville juniors and seniors pursue career goals. "It's not perfect, and it doesn't look as professional or polished as ESPN or Fox Sports. But, hey, we're a school system, and we're supposed to be teaching kids how to do things."
With the assistance of companies such as GrandStadium, PlayOn! Sports, SchoolTube and uStream, which provide an array of video streaming services, more high schools are choosing to stream sporting events live for the benefit of parents unable to attend games, deployed military friends and family members, alums who have moved away and any other interested fans. Dupont claims that his students were the first in Louisiana to provide more than a live audio stream when they began producing online coverage in 2007. For now, the schools only live-stream athletic contests between each other, because those are the ones that generate the most interest, Dupont says. Students from both schools also record all home games, which are not streamed live but air later on a local cable channel.
No more than 20 percent of all U.S. high schools today actively live-stream sporting events, graduation ceremonies, schools news broadcasts, guest speakers, musical performances, plays, dance recitals and other events, estimates David Rudolph, chief executive officer of PlayOn! Sports. Rudolph's Atlanta-based media company has exclusive-rights partnerships with 16 state high school athletic associations to produce and distribute games across television, the Internet and mobile devices, as well as individual streaming contracts with several schools in those states. He estimates that about half of all U.S. schools are receptive to the idea but lack the infrastructure - typically a media/technology department or a teacher willing to oversee streaming operations.
In fact, the practice of live streaming appears to be moving at a slower pace than originally predicted, in part because the technology and its audience weren't quite ready for prime time. Randy Luedtke, founder and president of Crystal Clear Sports, a Fridley, Minn.-based high school streaming provider, told AB in 2007, "Three years from now - I'm not saying five or 10 years from now, mind you - people will be following high school athletes' careers by watching them grow up on the Internet." The following summer, Crystal Clear Sports folded.
"If this were a baseball game, we would still be in the first or maybe second inning," Rudolph says. "The true ability to live-stream web video is just a couple years old. But it's a viable platform. Within the next 10 years - and that is a legitimate timeline, in my opinion - every single high school sporting event will be produced and distributed in some capacity. It's an inevitability."
While Destrehan and Hahnville students limit their live sports stream to specific games (their work can be seen on www.stcharleslive.com in partnership with SchoolTube), students at New London-Spicer (Minn.) High School live-streamed more than 100 home and away football, basketball, volleyball, wrestling and gymnastics events between August and March. Now in its third year, the streaming program combines multi-camera video footage produced by approximately 35 students in an after-school club, often using the audio feed from local radio broadcasters, on the school's own streaming website, www.cateyenls.com. DVDs of games and other events are sold on demand for $5 each to fans who wait in line for them before exiting the venue, a practice that consistently nets the school $9,000 annually, helping cover fees to service provider GrandStadium and equipment costs (including replacement of a few dropped cameras).
Unlike Dupont, Aric Harrier, the school's streaming advisor, has no formal broadcast training. "I'd love to bring someone in who could train the kids how to be good announcers," says Harrier, an industrial technology instructor who coaches boys' golf. "I can't always just give a kid a headset and say, 'Go ahead, start talking about sports.' Plus, most of the kids I get don't know a whole lot about sports."
But that's the beauty of live streaming, Rudolph says. Student-produced streaming provides new educational opportunities for kids who want to learn such real-time skills as framing a camera shot, conducting interviews, inserting graphics and managing a crew (which typically ranges from 3 to 10 people, depending on the type of event and number of cameras). One of Dupont's student announcers has worked five different sports - experience that many college students don't even have - and members of Harrier's film crews have attended training sessions during Minnesota's state baseball finals at Target Field, football finals at the Metrodome and wrestling championships at the Excel Energy Center. (Wrestling is PlayOn!'s biggest online draw, notes Rudolph, whose company announced plans in February to launch a 24-hour television channel devoted exclusively to high school sports. Swimming, diving, and track and field also attract a high number of web viewers, he says.)
Live streaming also allows for additional branding opportunities and helps a school's community stay more engaged in sports programs and other activities. "As it becomes more common and easier for these events to be distributed across all devices, including mobile, streaming will continue to grow and become more relevant and more top-of-mind for more people," Rudolph says.
Additionally, schools can use live streams to create new revenue streams, by selling DVDs - New London-Spicer students burn 10 discs every six minutes - or soliciting banner ads or commercials to insert into broadcasts. Some streaming providers limit the amount of customized advertising and branding that is allowed and require viewers to pay a fee; others have very few restrictions and even give schools the equipment necessary to live-stream. Dupont contributes to School Video News, an online publication for TV/video and film teachers, and he wrote an article last year explaining the options available from multiple service providers. "You need a service you can send the stream to, and then it sends it to the masses - unless you want to host it yourself," Dupont says. "And our IT department just doesn't want to tackle that."
Nor should it have to, as many providers' services are free. "It is extremely rare that we come across a school that doesn't have the basics they need to do this," says Rudolph, whose company charges an annual service fee with no limits on the number of streams, graphics or viewers. "If you don't have a lot of resources, start basic. But do basic really well, and it'll look good. Start with what's comfortable and then go from there." He cautions, however, that unless the principal, the athletic director and a designated streaming advisor all are in agreement about a school's live-streaming goals, the program is doomed to fail.
Harrier agrees that all a school really needs to get started is a single video camera, a microphone and headset, a laptop computer and at least three students willing to participate. "I think any school can do this," he says, adding that he's fielded calls from teachers at schools that don't even own a single camera but want to know more about live streaming. "The biggest obstacle is when we go to other schools where we can't control things and don't know things, like the location of Internet connections."
To that end, Harrier spent one of his summers contacting athletic directors at all of New London-Spicer's opponents to ensure proper connections would be available to his students at away games. Now he's working on recruiting more crew members. "The more students I can get involved," Harrier says, "the more things we'll cover."