The beach volleyball doesn't go by the name, "Beachwear Volleyball."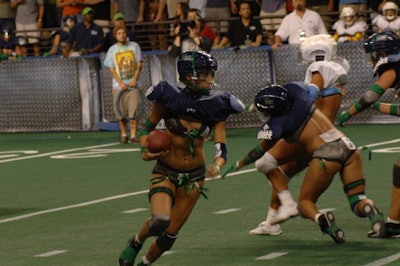 Aside from that, it's hard to know whether to expend any energy on this one. The LFL's maiden season opened Sept. 4 with a Chicago Bliss win against the Miami Caliente at the Sears Centre in Hoffman Estates, Ill., and the fans in attendance presumably got a closer look at some of the nation's "most athletic and beautiful women," as the site's host (an inches-tall tight end, or something) says. The league's Facebook fan page has comments both helpful (one clued the league in that it hadn't updated its standings in the three days that had elapsed since the game he saw) and predictable ("i wanna see these sexy ladies play in the rain now that would be hottt," wrote one).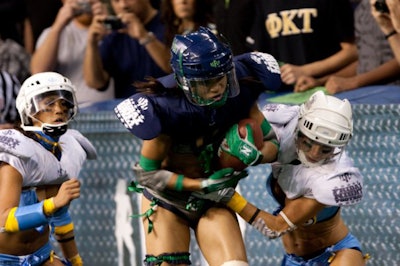 Photos posted there by the league show fairly good crowds, whereas photos posted by some of the league's 14,000 fans show large swaths of empty seats. The demographic looks about as you'd expect - I found this picture to be the most telling, with its backdrop of cameras and Greek letters. It was taken at the debut of the Seattle Mist, one of three teams that didn't get the memo about choosing a sex-related nickname. Will it catch on? One can only hope. Not. One thing's for sure, Bobby Riggs is cackling right about now, wherever he is.