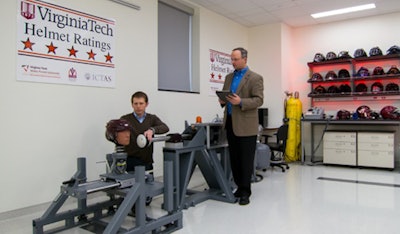 Hockey helmets may soon be getting hit with some big changes, but hopefully they'll be able to absorb the impact.
According to The New York Times, hockey sees the second greatest rate of concussion, behind football. And while hockey helmets have improved in protection in recent years, they still resemble something closer to a cycling helmet than football headgear, something the team of researchers at Virginia Tech responsible for the STAR system, a five-point scale that rates the effectiveness of football helmets, hope to change.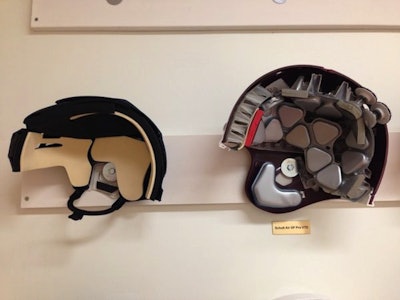 Virginia Tech professors Dr. Stefan M. Duma and Dr. Steven Rowson are leading the research trials, which involve pendulums crashing into helmets at fluctuating directions and speeds in order to mimic game-time scenarios. Sensors within the helmets measure the impact those motions have on the head.
RELATED: Inventors: We've Developed Safer Hockey Helmets
Hockey currently has the lowest protection standards for their helmets, requiring that they only protect against accelerations of 300 g's. According to Duma, most concussions occur "when the head is subjected to 80 to 120 g's of acceleration."
RELATED: Study Shows Concussion Risk 'Dependent on Helmet'
Virginia Tech began applying the STAR system rating to football helmets in 2011, and five-star-rated sales took off. A paper recently co-authored by Duma and Rowson reported that "N.C.A.A. football players wearing the high-rated Riddell Revolution helmet between 2005 and 2010 faced roughly half the concussion risk of players wearing the low-rated Riddell VSR4."
Representatives from helmet-makers Bauer, Easton and CCM have been closely following the testing, a good sign that hockey is not only using its brain — but wants to protect it too.
---
Andrew Brandt is an intern with Athletic Business.